ChazBuckeye
---
Member since 25 July 2013 | Blog
Been a fan since I was a youngster. Born and raised in Ohio. Moved all around the state but never loved any area more than Central Ohio. Glad to be back ;-)
Favorites
SPORTS MOMENT: 2002 National Championship game...I've been waiting a long time to see it happen again. Trust in Urban Meyer...build it and he will come;-)
COLLEGE FOOTBALL PLAYER: Too Many to say just one...
COLLEGE BASKETBALL PLAYER: NA
NFL TEAM: NA
NHL TEAM: NA
NBA TEAM: NA
MLB TEAM: Detroit...at least they win
SOCCER TEAM: Really???? Def. NA
Recent Activity
The Terminator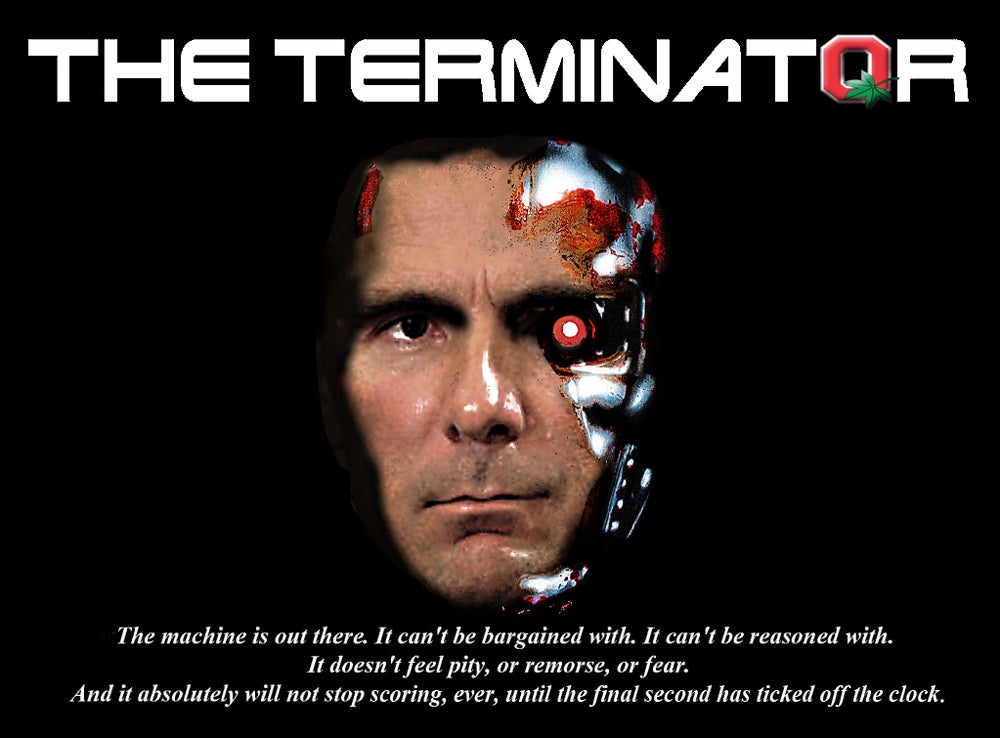 I'm not nervous about any B1G team as long as OSU plays with passion and stay hungry in all three facets. If that continues, NO ONE will beat this OSU team. If they start to read the press and internet articles like the 2015 team...then look at for MSU at their place. However I don't think that transpires.
As for Iowa...why in the HELL did they schedule the Bison who have won the last 100 FCS titles??? They stand to gain nothing from a win but reap the whirlwind from a heartbreaking lose. Looked HORRIBLE for tB1G and I am still to this minute questioning their AD, or whomever does their scheduling. Dumbest scheduling decision of all time! Well besides TTUN scheduling App State in 2007 ;)
Will they run more of that horrible wild-cat with Dontre?
Will Demairo McCall see the field more?
Keep in mind, most of BG's passes were 1 or 2 step drops. That doesn't give the DL or LBs much time to pressure the QB. Despite the quick passes, OSU still had 2 sacks (not to mention one from Lil Bear). I'd expect the sack total to rise this week...
I actually took my 12 year old to his first OSU game last weekend. He mentioned what were they saying, so I just told him. His response was, "That's kind of weird." So to each their own...good luck stopping over 13 to 15 thousand kids in the student section...not to mention whoever else participates.
To me, it's over the top at age 40. But then again, I would have done it when I was their age.
Tulsa and The Game. Row 30 A seat 30.and 31
I love the fact that OSU's '17 class looks absolutely amazing. That said, some players pan out and some don't. Not trying to be Captain Bring Down and the Buzzkillers, but lets see how they do suited up before we say they are the best ever. As far as 5 stars and 247 rankings this class will end up being the best ever, that seems pretty obvious. Pump the breaks on the Championship talk imho.
Shhhh Your trying to bring me down with your GD negativity. I just don't need it! What I need is the big fella ;) Wedding Crashers... You can never say we don't need a 6'5 receiver from Cleveland, Ohio. They don't just grow on trees there Stu...
I didn't realize ttun fans were still trying to have arguments with OSU fans. There's just no defense for their school's football team. It's eerily similar to before Bo was hired away from Miami of Ohio...sad days for ttun fans.
We'll find out after week 3 if the assistants moving to the box was really the issue... I feel motivation and complacency had more to do with it before the inevitable MSU lose. We'll see when OSU plays a team with an actual pulse in Norman, Oklahoma.
I could see him beating out Michael Jordan or Prince bc of his experience on the field and in the weight room.
So how about the great recruiting classes OSU is assembling...??? Great update. Thanks for your hardwork!
No white out will save PSU and Franklin this year. Meyer will not call off the dogs now, you watch...
I personally see Clark ending up like Sibley and committing elsewhere. This is just the beginning of that separation. Or he transfers after one or two years...
What!??? No fire Urban comments? So about 40-50 comments about firing Schiano from yesterday just vanished, real quick like ;)
Those are the exact individuals who don't want to continue to have their wounds opened by hearing about the depositions. Not to mention others ignorant opinions on it. Just saying....
I wish this story would just go away...for good. It's just opening old wounds imo. LIG... And to those saying fire Schiano on these three threads, unless you were there, stfu please!!! Greg didn't covery anything up...Joe Paterno and the PSU administration did!
Good luck Lord of the Whispers for Buckeye recruiting. You and Alex were why I joined and stayed with this site for up to date recruiting news. You will be missed, just as Alex was. You both leave shoes that will be tough to fill...
I stand corrected. My prediction was a Cavs lose in 5, they proved me wrong. Go Cavs and bring one home for NW Ohio!
I am.growing tired of this childish twitter war bs. Just win on the field...who cares about winning twitter wars??? IMO it's like a bunch of junior high bs!
Next up...Tyjon Lindsey, please! That's just one of the things this commitment means ;)
Cavs lose tomorrow either way, debating over whether Green plays or not is irrelevant.
They are going to TTUN
Wait till you see the faces of Cavs fans once they get swept at home. Should priceless... Not to mention once LBJ heads to the LA Lakers. lmfao @ Believeland!