charles
---
Member since 07 November 2013 | Blog
Helmet Stickers: 718 | Leaderboard
Favorites
SPORTS MOMENT: January 3, 2003. Close 2nd - OSU/Xavier 2007 Gus Johnson Call "Lewis has been awesome, lets it go.....(INDECIPHERABLE GUS JOHNSON SOUND)!!!!!!!!!!!"
COLLEGE FOOTBALL PLAYER: Troy Smith
COLLEGE BASKETBALL PLAYER: Evan Turner
NHL TEAM: Pittsburgh Penguins
Recent Activity
Uh oh. You just hit Sea Bass.
Melvin Gordon has 8 yards on 9 attempts. Solid.
If Bert was still at Wisconsin, a part of me would be enjoying this embarrassing display of football.
But this is just sad.
It's understandable. Unless it's the red river rivalry, I usually don't expect ABC to have a noon game.
Try ABC if you aren't getting it on ESPN
+1 for your point about Auburn
-1 for your use of commas
Yeah, but not when those high quality opponents have something very annoying in common.
Not gonna lie, I think I'd rather have Michigan's list of winless. Quite a few on OSU's list are difficult to come to terms with.
I second this request. Random stats like this probably need some comparables. Maybe make a list of the top 10 winningest schools?
Weird scores also happen when teams don't convert the 2-pt conversion.
How often do you see 16 pts like the Packers last night?
Edit: I just attempted to fact check myself by looking at the 2013 NFL season. A team getting 16 pts happens about once a week. Nice try Charles.
A couple thoughts watching PSU / UCF...
Bill Belton is one of those players that seem like they've been there for 10 years.
Kenny Mayne is the best thing to come out of ESPN.....by a mile.
How to ruin a mock fantasy draft
This had me laughin out loud early in the morning. Thanks for that WMD.
It's gonna take a stroke of genius to get the cocks back to performing how they want to in this one.
Those "The MAC deserves more respect!" arguments just took a bit of a hit.
There is no such thing as an awful beer. Just beer that doesn't taste as good as other beer.
1. There's actually someone in Arkansas with a Prius?
2. That might be the first Chevy Avalanche I've seen with a luggage rack.
Would love it if these guys did an actual broadcast...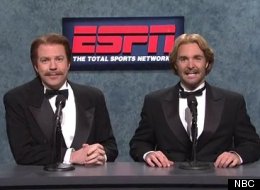 The "free site/go somewhere else" argument is fine, but I think there's always room for suggestions for the staff.
No sense in becoming complacent with the content, even if it's free.
TIL: There is something called a Marlins Charlie Hough Good Guy Award, and D-Train snagged it in 2006.
Edit Add: You could also argue that he was a decent offensive weapon too. Career numbers include .244 AVG, .287 OBP, 9 HR. Definitely nothing to sneeze at. And it was a competitive advantage being in the NL, where managers wouldn't have to take him out later in the game to sub in a better hitter.
D-Train?
What is $100 worth in each state
Looks like you get more bang for your buck in the SEC PAAWWWL!!
Cowherd's formula....
1) think of an opinion
2) find some obscure fact that supports that opinion, while at the same time ignoring other more pertinent facts
3) integrate it's correlation with tv ratings
4) dismiss all other opinions
That skull session photo tho....
Medicine ball game looks like a great time. A bunch of dudes in their jockeys slappin a big ol ball around. Sign me up.
I agree with Patriot. The fun of sports is hating on other teams. But when stupid people do stupid things, and it ends up screwing things up, that's not something fans deserve.
penn state fans suck, but they don't deserve sanctions on their team due to a piece of scum pedophile.
Jonathon is my favorite internet star....bar none. I always pull the reference whenever I see a turtle, and end up getting the ol' eye roll from the wife. Hope she's ready for another 50 years of it.