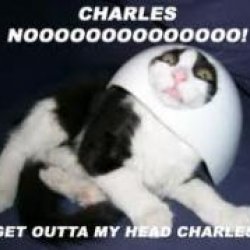 charles
---
Member since 07 November 2013 | Blog
Helmet Stickers: 238 | Leaderboard
Favorites
SPORTS MOMENT: January 3, 2003. Close 2nd - OSU/Xavier 2007 Gus Johnson Call "Lewis has been awesome, lets it go.....(INDECIPHERABLE GUS JOHNSON SOUND)!!!!!!!!!!!"
COLLEGE FOOTBALL PLAYER: Troy Smith
COLLEGE BASKETBALL PLAYER: Evan Turner
NHL TEAM: Pittsburgh Penguins
Recent Activity
It took me a while too.....got confused thinking the true Archie
Dear Broncos Fans,
We know how you feel.
Regards,
OSU Fans circa 1/8/07
P.S. That Percy Harvin is a big doo doo head!!!
This just in....someone leaked the plans for the refs uniforms...
I propose that storming the court be reserved for:
a) .500ish or lower team who beats the #1 team
b) the rare team who hasn't beat their rival in like 30 years or something absurd like that.
c) the team who knocks off the undefeated team towards the end of the year (OSU/Illinois 2005) - i assume we stormed?
Thought it was interesting that the Indiana students stormed the court last night (although very gingerly).
I know its a bit of a down year for you guys, but if you want to call yourself a basketball school, act like you've been there before.
Pretty good call on the SI preview cover of Rise of the Nerds for "even Duke"
But probably gets canceled out by Florida as #9.
Nothing strikes fear into the heart of your opponent like a corn cob pipe.
Bravo Appalachian St.
Turkey sandwich with.....mayonnaise, mustard, and onion?
The choice and combination of condiments sounds awful. Remind me not to go to the Les Miles House of Sandwiches. Plus the post-Thanksgiving turkey sandwich must have the stuffing on it as well.
Half of me agrees with you on the dislike of the #NORESPECT picture, but the other half of me believes that each side has their fair share of bulletin board material at this point. Seems like both coaches let their players talk smack before The Game.
At the end of the day, The Game always comes down to coaching and execution.
Johann Strauss.....FTW!!!
This looks like one of those Highlights magazine type deals where you "Find the 10 differences between the two photos". Except the f'ed up photo is reality.
Is it just me, or is the NW field a little more trim than it was for our game?
I'm on to you Fitzgerald!!
I think GSS was referring to one of his favorite songs.
-1 for Herbie's goober hat.
I think he looks more like the John Daly logo...
"You got it! You got another one right there! That's another one pal! You through?"
There's gotta be an explanation for the Lamar game. Maybe free brisket. Or Brandon Weeden bobble head day!!
Actually, Kate Upton was doing her Cat Daddy dance right in front of him. He got lost in the moment. Happens to the best of us.
I think there's an argument for Minnesota. But maybe the issue is with the Kill/Claeys split, and who would really get it.
If you click on the Football Outsiders S&P link, and look at the expanded rankings, its pretty obvious things like "being a good footballl team", and "common sense", and "reality" aren't factored into the equation.
But if you change the year to 2007, GUESS WHO'S #1???? OHIO STATE!!! And that's even after the LSU loss. So take that buckeye haterzzzzzzz!!!
Is my memory fuzzy or do we usually struggle on road nooners?
::thinks of urban's focused stare. Immediately slap my own face::
Cant wait to dominate!!!!
Not complaining. Just really, really, really, stunned. They've looked shaky in their wins, and the talk last week was about the ship sinking. I'm all for a good Michigan team, but it that team deserving of a #28?
Just looked at the expanded rankings for the USA Today/Coaches.....
Michigan is ranked 28th.
Um........wat?