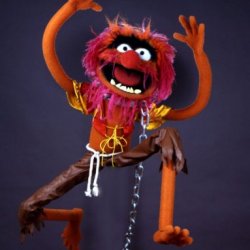 Chark
---
Member since 30 October 2013 | Blog
Helmet Stickers: 52 | Leaderboard
Born in tsun. Raised in Ohio as a Buckeye. tOSU graduate. Life is good!
Favorites
SPORTS MOMENT: 2002 National Championship
COLLEGE FOOTBALL PLAYER: Carlos Hyde
NHL TEAM: Columbus Blue Jackets
Recent Activity
Strangely, I feel compelled to say, "These aren't the droids we're looking for."
For a second, I thought the good Doc was channeling Kerry Coombs - not that there's much difference between the 2 faces...
Speedy recovery!
This is the perfect level of detail. Jim Bollman can understand it, but it's just beyond Brady Hoke's reading comprehension level.
Neither one should pose too much of a risk should they accidentally navigate here. I've been told Brady is especially fond of the eleveninchwarriors web site.
Just a reminder that there were no guaranteed wins with Braxton healthy. Yes, he's a human highlight reel and one of the most explosive players in all of college football, but the team last year had most of the offense in 2 guys, Miller and Hyde.
This year, I think there will be much better balance, leading to even higher scoring - especially on big plays from our playmakers that J.T. will be getting the ball to in open space.
This year, we will not have a sorry excuse for a secondary and 10 yard gimmees on every passing play. We barely stopped ttun with a 1-legged QB.
I expect this team to win all 15.
I am fired up for this season!
Defense wins games. Sure you have to score at least some points to win, but I don't see scoring points as the problem this year or last. I get the feeling one-legged QBs from ttun won't pick us apart with 5-10 yard gimmees every play to keep it close.
This is the year the Silver Bullets release the Silver Kraken!
Yes. I was struck by how open lots of players were in the recent Spring Game footage of J.T. on this fine site.
As long as he doesn't make big mistakes, we will be better than fine. The offense was more balanced when Kenny Guiton was starting in place of Miller. I see more of the same, except with a lot more weapons and a much better defense.
Zero. Zilch. Nada. Nichts. Nie, Zip, etc.
Why?
More weapons across the board on offense and JT Barrett to distribute the ball much like KennyG did.
Top 10 defense this year means teams like Michigan State and Clemson don't score as much.
This team is hungry
The Braxton injury will bring this team together.
Let's get it on!
The tools at JT's disposal are much better than what Braxton started with. It's helpful that JT/Cardale have gotten a lot of reps with the first stringers in the spring and fall. This team will exceed expectations.
Next man up!
It's slightly puzzling, all of the doublespeak, but on the bright side, our backups are getting some priceless reps with the first string offense. I'm not worried.
I had no idea Kevin Kurgis was Purdue Pete!
Don is a great person. The first person baptized at Messiah Lutheran (the church he founded in Reynoldsburg) was the child of the very famous wrestler, Gorgeous George, who was traveling and staying in a nearby motel. Here's the Wiki on Gorgeous George:
http://en.wikipedia.org/wiki/Gorgeous_George
Don also provided the local intro to the national Lone Ranger radio broadcast and was offered Jimmy Crum's job before Jimmy accepted it.
Thanks for sharing a great story!
It was the best of times, it was the worst of times. It all happened in the same game. It happened all season.
Strangely relieved the season is over. It's a winter sport, anyway.
Come on Spring and Spring Football!
Love the obscure reference to This Is Spinal Tap. An 8 inch x 11 inch cell would be too small for a normal sized human.
I think this team misses Chris Jent on the coaching staff. As much as I want them to win it all, I just can't imagine it happening this year.
Just for the sake of argument, lets suppose that the marketing credo of "there's no such thing as bad publicity" applies here. What you have done is taken a lame app and given it unwarranted publicity due to the scandal (!) of excluding TOSU students. If you would have ignored it, no one would have known and it would be relegated to the dustbin of history. OSU students are smart enough to recognize a lame app, but now that it's verboten, that makes it just a little bit cooler than it would otherwise be.
I stayed at a Holiday Inn Express last night. While I'm not a doctor, I can now vouch for what Otrain2416 has said.
Get well soon, Vonn!
These past 3 years have been ones marked by an obvious desire to "not make mistakes". How often did we hear how explosive the offense would be, only to see a relatively simple game plan? Why, oh why were so many talented players redshirted last year when they could have helped with depth issues, especially on defense?
This year, Urban has said that he won't redshirt nearly as much this year. He also admitted that there can't be a fear of making mistakes among the players or the coaches. We have more explosive players at the skill positions. Let's release the Kraken this year and let the chips fall where they may. I can't wait! Go Bucks!