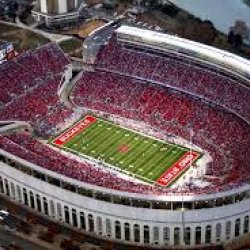 CentralFloridaBuckeye
---
East Coat, Florida
Member since 13 March 2013 | Blog
Helmet Stickers: 4,159 | Leaderboard
Grew up on the Ohio side of the Ohio/Penn boarder. Went to OSU. Currently living on the east coast of central Florida doing reconnaissance work for the Bucks in SEC territory! Go Buckeyes!
Favorites
SPORTS MOMENT: When the Buckeyes won the 2002 National Championship.
COLLEGE FOOTBALL PLAYER: Chris Spielman, James Laurinaitis, Randy Grandishar, Eddie George and Archie Griffen, Dick LeBeau
COLLEGE BASKETBALL PLAYER: John Havlicek, Jerry Lucas, Sullinger
NFL TEAM: Pittsburgh Steelers
Recent Activity
TBDBITL kicks ass! Enough said!!
Go Bucks!!
JT has been outstanding. Probably won't get the consideration he deserves in the Heisman race this year.
However, the future is very bright for the Buckeyes!!
Go Bucks!
The fumble on the goal line was also a great hit put on by the Minnesota player. It happens sometimes. The punt muff was a mistake. Unfortunately they happen. I still support Marshall and think overall he is a great player. He will make a lot more outstanding plays than mistakes in his career.
Go Bucks!
Great stuff! Nice to get the win and see the team celebrate!
Go Bucks!!
Tough game. Minnesota is a good team. We made too many turnovers to keep it closer than it should have been, but overall the Bucks proved their dominance. Keep rolling and get those wins!!
Go Bucks!!
We should put no one back for punt returns from now on. Too many bad things have happened this year in the return game.
Seriously! a muffed punt.
Just let it go into the endzone.
Seriously! a muffed punt.
Just let it go into the endzone.
That should do it. Now just make them eat the clock up - no quick scores.
Run the ball on an outside sweep!!
C'mon O! Put the nail in the coffin!!
Let that clock keep ticking!!!
Yeah, I don't know if I see Miss St going into Bama's stadium and winning. Can they stay within 9? Good chance they can do that. I don't think I'd put too much on it though.
Is there anyway that both can lose?
Go Bucks!!
Nice to see Russell do so well in his first game. May it be the start to a long and great Buckeye career!
Go Bucks!!
Time to go to work. The Gophers are 7-2 and should be ranked higher. This should not be a trap game. It's going to be a battle. May the best team win, looking at you Buckeyes!!
Go Bucks!
Recover fast and heal well Dontre! We look forward to having you back!
Go Bucks!!
Great news! Matta getting it done!!
Go Bucks!!
Thanks for that....now as to next year...."LET'S GET READY TO RUMBLE!!!!"
Go Bucks!
Still a lot of football left. There will be upsets. I like our chances!
Go Bucks!!
He's got a point. Need to bring in some rough and tough players if you want to compete. The hood has got them. They can be found elsewhere too, but Detroit is right there. Many of those kids are looking to go elsewhere. MSU is looking better for the past couple of years. We've also gotten a few from the area as well.
Go Bucks!
It's all starting to take shape. Just keep taking care of business and there is a good chance that the Bucks will be in the playoff!
Go Bucks!!
very interesting Jason. I would have thought noon kickoffs went back further than the 80s.
Hey as long as I get to see the Buckeyes whoop some Wolverine ass I don't care what time the game is!
Go Bucks!!