CCatanzaro
Pee Pee, OH (via Waverly, OH)
Member since 24 September 2012 | Blog
Helmet Stickers: 2,038 | Leaderboard
Voting Record: 243 / 15
Favorites
SPORTS MOMENT: 2014 Playoff National Championship
2014 Playoff Semi-Final Sugar Bowl Championship
2002 BCS Championship
1990 World Series
COLLEGE FOOTBALL PLAYER: Every young man that proudly wears a Buckeye uniform and represents the university with honor.
NFL TEAM: Cincinnati Bengals
NHL TEAM: Columbus Blue Jackets
NBA TEAM: None
MLB TEAM: Cincinnati Reds
SOCCER TEAM: None
Recent Activity
It would take 3 vines to show my entire 40.
Can't leave a good man hanging: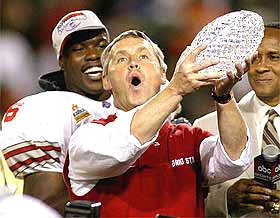 I wouldn't care if I had an exam right after spring break. It would give me time to casually look stuff over a bit over break as opposed to trying to study while also preparing for/going to regular class.
I'm aware of the commenting policy. What's your point?
I can't say that your comment left this thread in better condition than you found it.
He looked a little banged up after the game.. Do not draft this kid, he's fragile!!!
I knew I shouldn't have opened this thread. I have an appellate brief due on Monday, oral arguments over it on the following two Wednesdays. My weekend is awful; I just want to drink, and eat ribs, and overseed my lawn, and have a baby, and watch basketball like you guys..
Most of the major players have already been represented, but, if we're counting Five Guys, yeah, I love Five Guys. Oh, some are claiming Chipotle? Then, Chipotle. But if we count Chipotle, don't we also have to count Piada? Ok, Piada.
If it's traditional style fast-food, Sonic is my favorite burger out of the pack. #2 Super Sonic Size with Chili Cheese Tots. If it's one of the more famous group, then I'll take Wendy's over BK or MCD any day of the week. I worked at Steak N Shake for years and still love their burgers.. Especially the Garlic Double, that thing is ridiculously tasty.
Worst: Tough... I'm not really picky, and I can usually find something I like anywhere. I'd say McDs are my least favorite burgers though. I thought In N Out was very over-hyped by the hipster crowd. I did the animal style and everything, and it was decent, but not earth shattering like the guy who just watched The Big Lebowski for the first time always seems to think.
At first I wanted to get mad at you for the Seinfeld comment, but, I can see the argument despite his show being one of my favorite sitcoms of all time. An argument can be made that Larry David was the creative force behind what made that show so good, especially when you bring in Curb Your Enthusiasm as evidence of his brilliance. You're still wrong about black jerseys and Skyline though.
I had Whataburger once, and it was incredible.
I worked at Steak N Shake for 6 years, what's wrong with the chili?
Why would that be raining on his parade? Having Tate longer is a good thing, right? You mentioning Della Valle just reminded me of the pic of him at the free throw line with a booger the size of Italy coming out of his nose.
EDIT: you're welcome guys!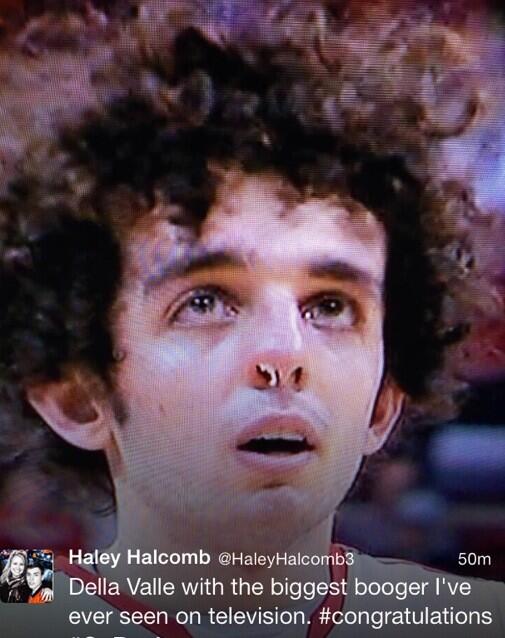 Going to take some players stepping up that have not done so thus far. Bucks will need Amir-acle to pull this off.
"That's all you guys do good! Either it's a leg thing! Or a spiritual thing!!! OR A PSYCHOLOGICAL THING!! OR A HEEEART ATTACK!!!!!!"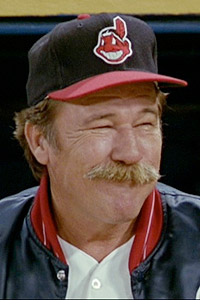 I gotta say, with no disrespect, that your wife has eccentric taste.
edit: lily is probably on my list as my "maybe have a shot" girl since she's not so crazy famous like some of the others.
the other 4, unlaminated:
1. Jennifer Lawrence
2. Adriana Lima
3. Scarjo
4. Emma Stone
It was a gradual one for me. I saw the first commercials, didn't think much of her. Gradually noticed the curves under that goofy blue shirt, and she grew on me. Definitely looks way better in her non-commercial get up. She was on an episode of Californication and looked spectacular too.
I was suffering from a hangover from 2006, 2008 still, so I was a bit more cautious. But when I saw how easily OSU carved up Bama in the first half (albeit while settling for field goals) I felt a lot more confident in their chances against Oregon. And now, AJ Hawk is a Bengal. I'm going to sleep with a smile on my face, one day closer to the 2015 title defense!
How about that punt from Johnston at about 6:30 left in the 3rd quarter that D. Smith downed at the 1 foot line? The Aussie isn't called on often, but when he is, he delivers.
Edit: this drive is the one that resulted in the Steve Miller Band pick six.
And the drive to end the first half.. My god, the run from Cardale was insane, but the pass from Spencer and the catch by Thomas.. It's tough to top that play. Shifts the momentum, and with the ball back to start the second half.. An absolute joy to watch.
Well, unfortunately I returned him after the Orange Bowl the following day...
That play was a game changer. Insane awareness on Apple's part; a huge benefit of having guys on the field who are not only freakish athletes but are also football players to the bone. Instinct.
Good call. I meant more 2014 season, but, I'll always appreciate the 2014 Sugar Bowl too because the son I mentioned in the OP was literally born during that game.. I remember holding him for the first time in the hospital room and looking up at the TV thinking "well hell, Bama goes down to OK during your first moments of life... You're alright, kid."
There were some insane plays in this game that I had forgotten about. Like Jones almost getting called for a safety on the second or third offensive drive of the game. Forward progress ruled him down at the 1, but it was close... Could have been a game changer! Also, Evan Spencer made a one-handed catch that was ruled incomplete, but the announcers didn't really have time to analyze it because of the tempo of the OSU offense... Superhuman effort that really may have been a grab.
Seeing Bama go up 21-6, be honest, how many of you had an "oh &$#!, not again!!!" moment? *raises hand*