causeicouldntgo43
---
Member since 04 December 2011 | Blog
Favorites
SPORTS MOMENT: Watching Cardale Jones say "We just took down the big bad SEC"
COLLEGE FOOTBALL PLAYER: Cardale Jones
COLLEGE BASKETBALL PLAYER: Cardale Jones
NFL TEAM: The team formerly known as The Cleveland Browns
NHL TEAM: 1980 USA Olympic Team
NBA TEAM: The Cleveland LeBron's
MLB TEAM: Reds
SOCCER TEAM: Cardale Jones, Cardale Jones, Cardale Jones
Recent Activity
Beilema at breakfast after seeing that hog steak:
Guns ablazin with JT as Sheriff, but please, someone sign him up for Uber so he doesn't do any driving this season.
......but his hair was ....perfect.
Whenever I hear discussions started by, or about Wisconsin football fans and writers, my mind conjures up a Lucas Oil stadium scoreboard with 59-0 on it and I can't process what the original conversation was about.
I think we were talking about night games. As long as I'm on this side of the dirt, I don't care when the games are played, just that they are played, and that I can see my Buckeyes.
"They bring a knife, you bring a gun. They send one of yours to the hospital, you send three of their to the morgue." Said in Sean Connery voice.
Annual maintenance might be a bitch. Better go digital.
In my opinion, to be overrated, means you were initially some type of media darling, with sky high expectations, you had swagger, contacts, pedigree, experience with some of the best and brightest, you were highly paid, in advance, your fan base thought you were going to bring them back to glory, and then you went out and just shit the bed, year after year while still getting the benefit of the doubt.
So maybe Charlie Weis was the very definition of this at one time, but not as much anymore because I doubt anyone thinks his chronic long term coaching failures make him eligible to be classified as overrated these days.
I could not agree more that the Meyer Secret Sauce is his ability to see talent not only in recruits, but in assistant coaches as well.
"Top People" are working on it Dr. Jones: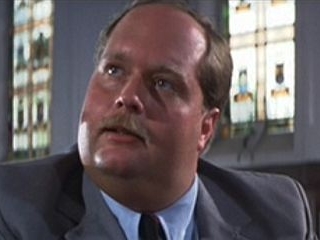 I'd rather hear an FU from LeBron than sit through a 45 second boner commercial that mentions 4 hour erections in the middle of a golf telecast whilst huddled with family around the TV. I suspect every man on the planet, even the Japanese guy holed up in a cave since WWII who still thinks the war is going on knows that boner pills are available.
You're on a roll today 68. Regarding Marshall, I remember when he had a severe case of fumble-itis returning punts during a late season game in 2014. The day after that game, he was on a snowy practice field alone, except for one other dude punting balls to him, practicing for hours while the rest of the team had the day off. Glad to see that kind of effort and persistence is paying off for him.
Dammit Urban. Now I have to pay attention on Sunday's to all the teams that have Buckeyes who will be playing. So now I guess I will somewhat care about the Cowboys and the Bills. I feel dirty.
Smells Like Victory
I bought mine through the Indiana Sports Corp, not the B1G. Looks to be a separate entity - see 3M's letter below. If you buy via Ticketmaster, you don't get the opportunity to renew every year before they go on sale to the general public.
Thanks Niblick, I made a few hundo off of some corporate Iowa fans last year, which eased the pain a bit. I bought the $60 per ticket seats three years in a row (the Hawkeye dudes paid triple that), so hope they continue to offer me first dibs on them every year for being "loyal". These are on the 50 yard line, up in the D section, kind of like Shoe lower-mid C, so great view for the price.
I don't mind "renting" them out once in a very, very blue moon, but hope I don't have to do that for a long time because that means the Bucks are once again in Indy for the B1G championship.
Navy, since It's USC, I have to take it one step further and "see" your lucrative, and "raise" it to filthy lucre.
I envision Urban in his secret video room at home, watching Gronk light it up and thinking "is he just a freak of nature that only comes along once every 30 years, or is there something here I can borrow from?"
These two misunderstood and fun-loving guys should not be punished, they should have their own reality TV show. They can drive around SEC country and pull over when they find a great spot to leave the AC on while they get high and play with their guns.
Every week, a new spot to pull over for some AC, weed, and guns. Think of the scintillating conversations, the great views of Louisiana lowlands, the discussions of primo Devil's Lettuce, their disappointment in the use of composites in 9mm Glocks.
Catch 5 can produce it.
......For more passing in 2016............ and the only prescription........... is more Tight End.
I'm encouraged that Fox will get better with their football coverage after watching their US Open golf telecast this weekend - it was exceptional with some nice technology touches, and great commentary by Zinger, Faxon and Strange. They didn't linger on people lining up putts and there was a welcome absence of corporate ass-kissery and I didn't miss the syrupy hushed tones of Jim Nance.
Blu Whine has been in style in Ann Arbor for quite some time.
Looks like scenes from a TTUN game, doesn't it?
Next Up:
TTUN fans might want to duck when that pendulum whacks them in the side of the head.
I want the truth coach Beck. Did you order up that code red on Zeke in the MSU game?
This really should be considered the default feeling regarding any possible Cleveland sports team's championship success, especially until the spell is officially broken. That said, Go Cavs.