causeicouldntgo43
---
Member since 04 December 2011 | Blog
Favorites
SPORTS MOMENT: Watching Cardale Jones say "We just took down the big bad SEC"
COLLEGE FOOTBALL PLAYER: Cardale Jones
COLLEGE BASKETBALL PLAYER: Cardale Jones
NFL TEAM: The team formerly known as The Cleveland Browns
NHL TEAM: 1980 USA Olympic Team
NBA TEAM: The Cleveland LeBron's
MLB TEAM: Reds
SOCCER TEAM: Cardale Jones, Cardale Jones, Cardale Jones
Recent Activity
With Paulie Walnuts as the Secondary coach.
How YOU doin?
So UC Berkeley is #1 at something. Haha - remember when some of those idiots were talking about their superiority of "winning at life" after getting pounded by those "hicks from the cornfields of flyover country"?
I know there are new restrictions on showing sideboob, but I couldn't resist.
Sounds like a 30 for 30......"What if I told you"
Wish I only had to think about "real life" on Wednesday's for a few hours. Although I'm lucky I don't have to endure Marotti seal training-like workouts.
I feel sorry for Stephen Ross - he's not getting a very good ROI.
Brilliantly executed Beat, and during the long, slow, off-season good humor is much needed!
Give him credit. Finebaum has figured out how to troll and get exposure for his show by picking a fight with H-Baugh. He likely thinks Buckeye Nation will at least silently cheer him on as we go about our business of competing for, and winning National Championships. Keep it up Pawl, and may you find your "Phyllis from Flint" soon.
"I'm too busy to respond to what I started"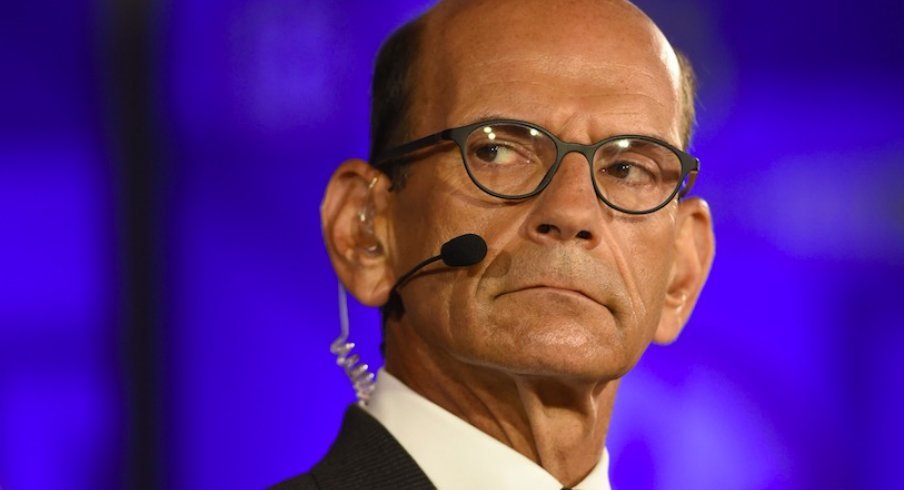 Yep - No Kardash and no jiggle - that gif has both as the fries were jiggling.
Katy's not wearing pants - either that or he really wants a corn dog. Or both.
I guess Katy Perry and a plate of corn dogs weren't enough to attract all that 5 star talent.
Thanks BP - it got me consulting with Prof. Google - found this interesting link (with a nice graphic even!) on plural "you" usage differences in the US:
I do think Y'all is perfect - I suspect we Buckeye fans just may not like the close association with all things SEC.
Time and change
will surely show
How firm thy friendship
T
P
Zee
The wins since 2001 do look more impressive when they are laid out horizontally like that.
I like it better than the soporific "you guys", or the New Jersey version "youse guys", although both of those work fine if there are no women being addressed. I like the Oklahoma version "you 'un's" also, but "y'all" is the clear winner to me. I suppose it could be Northernized into "you all" when addressing a group of men and women.
So the whole town of Marion Ohio is taking today off, except for it's 11W favorite son who brings the lunch pail to work every damn day (as Samuel L. would say)?
"Mistakes Were Made". Remember that one Harley?
So Belichick wasn't that much different, personality wise, in his Cleveland coaching days, from where he is now, with 5 SB rings. He clearly does not buy into the notion of prima-donna players running the show, it's all about what's best for the team, so I can see how he views players as "cogs in the machine". Still, a little humility and grace, and post-game concern for your players would go a long way (interestingly I have read a few articles that say privately he actually is this way).
Of course he has learned a lot since 1991 when he wore those sans-a-belt slacks he is pictured with, as he is a student of the game (like our favorite son Urban). I do recall hating the guy back in the day for his seeming dismissiveness of Beloved Bernie, but Belichick was right about "diminished skills" to some extent, and Kosar "not following the script"? Well, that usually gets you fired no matter what job you hold.
So thanks to that Communist Modell leaving town and Belichick moving on........oh what could have been for Cleveland.
Great share and quite a mystery as to why his Dad just took off and drove to TX, MN, and finally back to VA with just a 9MM. Maybe related to a former cop case, and out to "right" a wrong?
I'll be rooting for Billy whenever he tees it up.
Crispy Feet
And tight hips
Damn those NFL scouts are geniuses.
Agree on Finebaum's strategy with this - he's not a dummy by any means, and somewhat entertaining. He's one of the few not afraid to rile Saban's feathers either.
PSU:
BUT, you are no where near being our mother****ing rival, mother****er.
Well said and agree that Franklin got lucky bringing in the new OC - he's worked out VERY well for them this last year. Hackysack wishes that dude woulda been around when he was there. I also agree that Franklin is not as adept at attracting and picking great assistant coaches to make up for his overall lesser-ability to scheme, coach-up, and make the right in-game coaching decisions, or correct game/clock management. Franklin appears to be strongest as a recruiter/seller of the PSU brand - whatever that is these days.
Bad ass move to punch a face mask.....Shoulda gone for the stomach Dontre.