causeicouldntgo43
---
Member since 04 December 2011 | Blog
Favorites
SPORTS MOMENT: Watching Cardale Jones say "We just took down the big bad SEC"
COLLEGE FOOTBALL PLAYER: Cardale Jones
COLLEGE BASKETBALL PLAYER: Cardale Jones
NFL TEAM: The team formerly known as The Cleveland Browns
NHL TEAM: 1980 USA Olympic Team
NBA TEAM: The Cleveland LeBron's
MLB TEAM: Reds
SOCCER TEAM: Cardale Jones, Cardale Jones, Cardale Jones
Recent Activity
All I know is Verizon sucks. That's all I got.
That show was way more sophisticated than people realized - one of my favorites. You had to love the talking pig Arnold Ziffel, and Hank Kimball. Mr. Haney was the ultimate salesman. And Eddy Albert was the center of sanity amidst all the craziness. I miss that show - thanks for the share.
Ramzy contemplating writing this article in his man cave:
The Grimes brothers run a nice little course there in Green Acres outside of Marion. Scarlet it ain't, but its cheap, you can walk it, its low key, and the people are nice - what golf is supposed to be in my book. Bring a cooler of Yuengling.
Pitiino's going for the two pointer in that pic. He's not a trey guy.
"Fifty bucks says the Pitino kid eats it".
For me, the word "interesting" is best used in person where you can really decipher the meaning of the user by the tonality that is employed. Kind of like the word "dude". "Gee grandma, this casserole is interesting" really means it sucks when you say "interesting" very slowly and in a monotone. But watch your tone with Grandma, she's been around for a while and knows a smart-ass when she hears one. That next casserole might have Ex-Lax in it.
The Sooner we beat them the better. Bah-dum-dum.
The Dude, however lax he may appear on the subject of Oxford Commas, abides.
Wonder what's behind Okie losing Big Game Bob? The timing seems odd. Is he burnt out after being a head coach for what, 20 years? Maybe he just thought this was a good time to take a pause and do some commentating before he moved on to other things like the NFL.
Or, is it the Urban effect? By that I mean after Urban kicks your ass soundly in a big game you "re-evaluate" everything, as Gary Anderson did after that 59-0 masterpiece Urban and the lads laid on him (yes - I am painfully aware that Tress didn't take a dive after that Disaster in the Desert in early 2007, but stay with me).
Sonny Dykes, Head Coach at Cal, which OSU humiliated at their home stadium (but they supposedly won at life) is now out of coaching, although it took him a few years. 2014 saw big victories over Rutgers (Kyle Flood), and Cincinnati (Tommy Tubs) - both head coaches are gone. Frank Beamer of VT retired after the 2015 season that started with a big time loss to starting QB Cardale Jones and Urban. Big Game Bob gets embarrassed last year in Norman by Urban and has now quit before the rematch he knows he will lose.
I know confirmation bias is rampant these days, but I'm starting to see a pattern here.......
T'would appear Ramzy has found the hole in the Ozone.
Nice catch Squirrel, forgot that a ginger should play a ginger - Good thing I'm not a casting director.
DJ lost all internet connectivity but managed to get this SOS out:
And maybe Kathy Griffin could play Jay Paterno......
Nice article Zach, but you left out Jimbo's Crableg's Sweep Package he installed especially for Jameis Winston: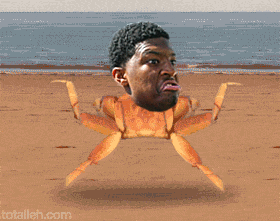 If Millennials are in large part killing mediocre chain eateries, then it should be seen as a badge of honor. The food culture in the USA is changing, and for the better. Any restaurant needs to either improve it's offerings, methods, suppliers, and processes, or risk extinction. Younger generations have driven the beer culture to improve, so the same thing is happening with food. It's all good, unless you own stock in Brinkers, et. al.
Gotta love the attention to detail in this scene on the wardrobe with Dad wearing the cheesy Members Only jacket.
If I can have an office with a door that closes and a couch, I'm happy to just have one martini for lunch.
Still get chills every time I hear Nessler say "can they catch him.....................no they can't" as the Crimson Tide recedes and Elliot splashes in the beachy end zone foam.
Love seeing that players coming from the Heart of the Midwest, namely Ohio, are still the bulwark of the team. The perception is that Meyer has players coming from all 50 states and only a few from Ohio, so facts are friends for those that think Ohio recruiting soil is not being tilled enough.
Nicely done - I love this comment.
Yeah - another D Lister (and that's being kind) trying to get some publicity, any publicity, no matter how execrable, so she can appear culturally relevant.
I view Desmond as comic relief, although he really isn't funny, he's just not that good at his analyses and his lack of reasoning makes me chuckle. Maybe the Espin folks want some kind of a "villain" on the panel? I think he's pretty similar to Pollack's schtick, not sure they need them both.
My understanding is that it was emailed to you, but in a PDF that is unopenable. Ramzy can be passive-aggressive sometimes......
If Butch Jones could come up with just one song other than Rocky Top for the band to play, I'd say his work was done there and he could successfully retire to join Desmond on the male version of The View.