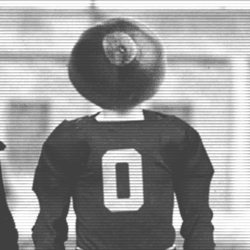 cal3713
---
Member since 03 October 2010 | Blog
Helmet Stickers: 509 | Leaderboard
Recent Activity
Also from Saban...
"The fastball guys [up-tempo coaches] say there's no data out there, and I guess you have to use some logic," Saban told ESPN.com. "What's the logic? If you smoke one cigarette, do you have the same chances of getting cancer if you smoke 20? I guess there's no study that specifically says that. But logically, we would say, 'Yeah, there probably is.' "
Wait... what?
Yeah, nice to see that. OSU will change you, even if you only do two years.
Also, if you go down south by the medical buildings, that Sycamore tree is still there... but a lot bigger. Someone should create and post a then & now side by side image.
I believe it is a statistical fact that Miami has gotten fewer wins out of their NFL talent than any other program.
"As of the 2013 NFL season, UM has the most players active in the NFL of any university in the nation."
And what have they won with those players??
http://en.wikipedia.org/wiki/List_of_Miami_Hurricanes_in_the_NFL
It may not have lived up to expectations, but I have a hard time calling a college career that ends up with an NFL signing a bust. The kid's about to go make money playing football...
I know, everyone on here is so anti-Smith is ridiculous. Public perception aside, the man is one of the most powerful, important, and successful athletic directors in the country. This is a simple fact.
Probably because it's not "an announcement." I suspect it went something like this... CD: "Gene, what are Chris Ash's position coaching responsibilities on the team this year?" GS: "He will coach both safeties and dbs."
Just a man answering a question, not holding a fucking press conference to "reveal" some special private information.
...and after it ran, she had to move to Indiana.
There is research, and there are personal anecdotes. The former tells us something about the world in general, and the latter tell us something about you in particular. Both can lead to flawed conclusions.
Also, there's certainly significant overlap in the distributions of non-drinkers and moderate drinkers in that study, such that some nondrinkers live longer than their drinking counterparts, and visa versa. It's just the overall means of the two groups that differ.
Ahhh... one of my favorite stadium memories. So happy to re-watch that play. The shoe just lost its shit when Miller hit that pass.
We do have Heacock on staff, right? I wouldn't mind seeing him step back into the role...
Is this the same OC they had when they won the three national championships? Or is he a recent replacement?
I thought our D was going to be alright after watching the second half of the Iowa game. I was clearly wrong, and unfortunately I've joined the people thinking we need a new defensive coordinator. With the exception of the second half of last year, our defense has been on a steady downward trend since Pryor's (next to) last game. This year we witnessed multiple QBs and WRs have career days, the second worst defensive performance in the ~125 year history of OSU football, and gave up the most receiving yards in the ~80 year history of the Orange Bowl. Those are historic lows and to me, that's clear evidence of a coaching problem.
That all said, what a fun two years of Buckeye football. Congrats on all the wins and thanks for the good times...
Our run game succeeded against what should be a much better run defense in MSU's. Should have "tested" it more...
Shazier actually had 20 tackles in the Indiana game... 16 solos. What a beast.
I believe she's actually from 2012 (or maybe even 2011).
Just to reiterate... "if you can read only one of these [links], read Holly Anderson's college football dictionary."
http://www.grantland.com/story/_/id/9599552/holly-anderson-college-football-grantland-dictionary
Really happy we played them last year so that we have some ingame experience against their scheme.
Someone should make fatheads of Corso and Brutus, and then make it so you can put Brutus on Corso's head. And then replace one giant eye with the 11w seal.
Loved it, including the tunnel section. That's the way it should be folks.
Good catch indeed... I'd already missed it.
No shit. App St certainly went against the current trends when they decided, "yeah, let's add some drug use to our mascot." Why not encourage the students to use one of the most addictive drugs in existence?
I read in one of the game summary posts that Wilson had gotten into a verbal altercation during pre-game. If true, I suspect that's why they singled him out...
I actually felt pretty good looking at this. We're a solid #2 in every poll, computer or human, and we've got a strong opponent next week. Looking at this all made me think that we will indeed be in if we win out. I think it'll take a mutiny by human voters to change that.