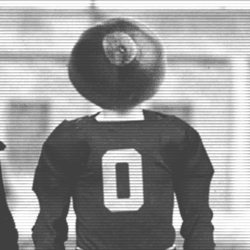 cal3713
---
Member since 03 October 2010 | Blog
Helmet Stickers: 606 | Leaderboard
Recent Activity
And there are also some possibilities (a bit more artsy) here:
http://fineartamerica.com/art/all/ohio+state/canvas+prints
I don't go crazy for it, but here's one:
http://www.laminatedvisuals.com/college-ohio-state-buckeyes-scarlet-out-the-shoe-CD54G.html
Sharks and bulls don't mix. Everybody thinks they're in charge.
+1. The variation in the comments here clearly demonstrates that we do not, in fact, have a secondary rival. As you point out, if we did, then there would be a consensus.
Exactly. Two years ago I would have hit yest in 10 seconds and then immediately listed Wisconsin. But when he left, so did all those feelings...
Exactly. People always pretend that spreads represent the true skill of the teams when they actually represent betters' perceptions.
I think it depends what section you're in.
What twitter account do I need to follow? Thanks.
Awesome, thanks so much man. May you receive a plethora of upvotes on your comments.
Btw, is there some OSU e-mail list I can join to get this information as it is released?
Any word on the non-promotional sale date for single-game tickets?
For out of state athletes going to OSU, they are currently being paid at least $36,526. That's just tuition, room, & board for a standard student...
http://undergrad.osu.edu/money-matters/tuition-and-fees.html
Yeah, this sounds like both a bump, and an illegal providing of benefits to a recruit. It's probably the combination that got him.
Didn't this already get investigated like 3 years ago (and blew by with little media attention)?
In my limited opinion and experience, it seems very likely that that was the loudest the stadium has ever been. Definitely beat out OSU vs. Michigan 2006. My best sporting experience as well...
Are there really 186 trees in the Grove?
I especially liked the heavy panting by the filmographer.
I don't want people to be able to lose two games and win a national championship. What keeps the regular season so exciting is the excruciating feeling that your team just blew the entire season by losing. Maybe you can keep that feeling with 8. Certainly you can not with 16.
I didn't know they were replacing the fieldturf... glad to know that happened. The past couple years it's started looking pretty bad on TV... I hated the two shades of green they had alternating every 10 yards.
I like that the cat not only scares the dog off, but also chases it.
God, this comment section turned into a shit show. Some good opinions and information, but still...
Also, Gene Smith is, quite simply, one of the best athletic directors in the country and he certainly works his ass off for all the money he makes. The hate for him that gets thrown around this site is inane and misguided. This university would be worse off without him.
Clearly that's what the PO thought. That is the only possible reason you can get charged with an OVI if you're below the legal limit.
Whether its true in this case or not, it is true in some instances, hence the support. Google "driving while black." I've been pulled over for being white in a black neighborhood. The white police officer accused me of trying to "buy drugs from those xxxxxs." I can't remember what derogating term he made up, but he was essentially replacing the N word with something home grown. I wasn't cited and the only suspicious behavior I exhibited was being the wrong color.