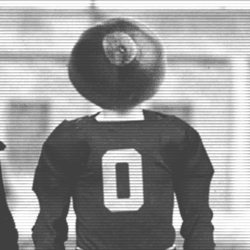 cal3713
---
Member since 03 October 2010 | Blog
Helmet Stickers: 567 | Leaderboard
Recent Activity
Yeah, Tupac can't rap. ??
Dude, you don't think the folks at SI, or Vogue, or Rolling Stone, or every other magazine in the world use Photoshop? Just point, shoot, and publish?
Thank you for alphabetizing the options!
Didn't hire you twice? There's only one response at this point. Fuck 'em. Glad we get to keep him.
He also played 1/2 the game with a broken foot that required crutches.
Clearly that dude above was a threat to society.
Or that goal line stand against Wisconsin in 2012, or that goal line stand against Penn State in 2011.
I knew I shouldn't have read the comments for this article. Everyone loves to trash Gene Smith even though he's one of the most successful ADs in the country. It's almost as stupid as voting for Drew Carey over Dave Chappelle.
What perimeter players? We don't have any shooters to find...
Really a great game by him.
No, you're just getting downvoted because you've been an asshole in this thread. Being realistic and telling people "I told you so" are two completely different things... the former gets upvotes (see some of the "disappointed but not surprised" comments) and later leads to reactive downvoting.
Anyone watch that Iowa game last night. *uck the entire SEC. I can't believe they chant SEC at the end of the game.
Actually, Bo Jackson is an avid bow hunter, so when he says he's deadly, he probably means he'd put an arrow in you.
http://www.iowadnr.gov/portals/idnr/uploads/Iowa%20Outdoors%20Magazine/Hunting/files/BoKnowsBucks.pdf
*ucking bullshit. Come on Chappelle.
Anyone know if there's a replay of this on TV tonight? I had to leave the radio broadcast when NU was up 16...
Wow, glad I got in at the half after finally finding a radio station to listen while at work. And it's a nebraska channel too. This dude says "MONEYBALL!" every time NU makes a jumper.
It could have been prevented.
I do not like Crean, but I do have some respect for how he turned around IU.
There appears to be a pretty heavy concentration in the second deck, upper right. Best seats in the house.
Also from Saban...
"The fastball guys [up-tempo coaches] say there's no data out there, and I guess you have to use some logic," Saban told ESPN.com. "What's the logic? If you smoke one cigarette, do you have the same chances of getting cancer if you smoke 20? I guess there's no study that specifically says that. But logically, we would say, 'Yeah, there probably is.' "
Wait... what?