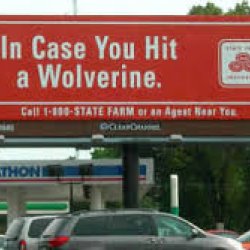 c92996p
---
Atlanta (via Columbus)
Member since 17 February 2014 | Blog
Helmet Stickers: 68 | Leaderboard
Favorites
SPORTS MOMENT: Ohio State - Wisconsin 2011
COLLEGE FOOTBALL PLAYER: Dane Sanzenbacher
COLLEGE BASKETBALL PLAYER: Dallas Lauderdale
NFL TEAM: Cincinnati Bengals
NHL TEAM: Montreal Canadiens
NBA TEAM: Brooklyn Nets
MLB TEAM: couldn't care less
SOCCER TEAM: Newcastle United
Recent Activity
You nailed it on the head. What makes college football, and every other college sport special, is that athletes are driven by pride and passion instead of money (think Aaron Craft as opposed to Jadeveon Clowney). The only thing that compares is the Olympics.
However, at the end of the day, money always wins. Many programs will end up losing big, but those at the top will only get more powerful. Such is the nature of capitalism.
Supply and Demand: People are still buying the tickets at ridiculous prices (the last time OSU didn't sellout was 2007 vs Akron), so why would Ohio State lower them?
I've tried rooting for the Big 10 in Bowl Games and non conference games. I can't do it, not unless its like Northwestern or Indiana playing. I guess I'm just too used to hating every other B1G team other than the doormats and OSU
Despite his heart and grit, I can't see Craft making an NBA roster next year. The athletes are just too elite. Maybe a couple years overseas and (fingers crossed) he ends up back at OSU as an assistant
Basically, you don't believe Manziel can end the Browns' quarterback curse. Don't worry, neither do I
I'm all for replacing Seven Nation Army with another song, but you've actually got to pick something that fans can get pumped for. Black Keys aren't going to cut it.
From a talent perspective, I can see where the Bengals were coming from when picking Hill. He's essentially a slower, fatter, stronger version of Hyde. However, I think the two backs are close enough talent wise that it would've been a much better move for the Bengals to take Hyde as it would've sold more tickets and given a fanbase that is at least partially made up of Buckeyes a huge boost. Even though I would definitely have rather gotten Hyde, I'm still happy that we've got a replacement for BJGE waiting in the wings.
The whole 8 player platoon at captain seemed a little ridiculous to me. Hopefully thats cut back a little more this year
As long as Franklin Howard can play defense, I would love that athleticism here. Is there any chance he commits to OSU or is he assuredly going to stay East?
Maybe its just me, but I felt a whole lot better about Matta choosing Lenzelle over Sibert after this game
I can root for Izzo, but I tried yesterday to be a Bo Ryan fan- nope couldn't do it.
And I think every Buckeye is on the same page for the third team mentioned here
-3 Craft, Smith, ADV
+4 Russell, KBD, Tate, Bell
9-3+4=10 (Lorbach and Goldstein don't count)
So yes we would have 2 scholarships available with a third one up for grabs if Q went pro
Love the artwork, but I think Scott will probably be keeping his number 3, dontcha think?
The question is: whose hands are worse, Amir's or Rod's?
I would hate to play all four of these teams in the same season. We would definitely lose to either Bama, Florida, and Oregon especially if we were playing them back to back to back, and Pitt is a lose lose as they are a perceived inferior team that would damage our rep and directly steal local talent if they were to upset us. BUT you didn't ask for my opinion on this, you asked for teams. So here mine are:
Football: Georgia, Notre Dame, Duke (I love watching Duke lose regardless of sport), and Arizona (Rich Rod)
Basketball: Florida, Notre Dame (I know I already got that wish this year), Duke (reason stated above), Georgetown, and Oregon
Am I the only one who loves Della Valle's name with all of those other studs?
Totally looks like a Kennard-lite, except this guy is hoping for a Buckeye offer instead of just leading us along
I know I'm supposed to click on pictures in order to vote, but what should I do if no pictures are appearing on the page (I've tried Chrome and Firefox)??
How exactly are you supposed to vote?
I'm no expert on the situation, but I don't think Brown is nearly as high on OSU as Giddens is. Also, I don't think the package deal is completely set in stone, they just hinted at the prospect of it. I could be completely wrong though, so take my word as a grain of salt
Unfortunately, every kid looks like a 5 star recruit on a highlight tape
Am I the only one who thinks Della Valle should sell those earrings and invest in some braces?