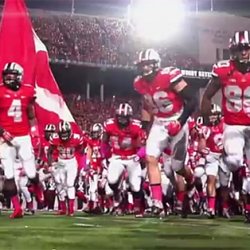 Byaaaahhh
---
Member since 23 April 2014 | Blog
Helmet Stickers: 805 | Leaderboard
Favorites
SPORTS MOMENT: Solomon Thomas picking off Ryan Mallett in the Sugar Bowl to seal an Ohio State victory. This actually occurred, contrary to what the NCAA would have you believe.
COLLEGE FOOTBALL PLAYER: Troy Smith
NFL TEAM: Chicago Bears
NHL TEAM: Chicago Blackhawks
NBA TEAM: Chicago Bulls
SOCCER TEAM: Columbus Crew
Recent Activity
man, that is a sick shot. May look into buying that soon.
Maybe there's more either before or after your quotation, but the term "rising _____" doesn't exclusively apply to scholar athletes. Just means he was a freshman last year and will be a sophomore this year.
1. If you're ridiculously fat you cannot under any circumstances show up to the game halfway through the first quarter and try to squeeze your fat ass into a seating situation that's already sort of worked itself around and adjusted without you being there (happened to me - pissed me off).
Kind of sounds like you want this person to not be able to sit in the seat they purchased. Shame on them if they show up to the game late, but the seating "worked itself around" is not enough to not let someone get to their spot.
Well... that was a waste of time.
Oh, this writer's name is Ryan Nanni? He should be a registered nurse because RN, right?
Bruce Lee is incredible, but most of the clip you just posted is fake and comes from a cell phone commercial...
If the outcome is allowed to be part of the "tailgate scene," I'd go to Ann Arbor to see everyone deflate as The Game slips from their hands.

If not, then I guess Auburn and Wisconsin.

Where I'll never tailgate? Penn State. I can't stand their fans when sober and I probably wouldn't survive the day if they were drunk.
Do it fully decked in OSU stuff.
Whaaaaat, you mean these alternate scUM jerseys weren't the best in the B1G...?
I'm familiar with that, but why did OP write it like an acronym? Does it also stand for something...?
I actually did read it that way at first. This person is no Sammy :)
OSU FB page just posted this. I guess they're testing them out in advance of this Friday?
Is there anywhere we can actually cross-reference with Sammy's work? These are obviously very similar, but judging by some of his other works, he has some talent as well and could actually just be inspired by the official pieces. It's pretty ballsy to have plagiarized work on your professional portfolio. As much as I'm a fan of Sammy's work, I also have to admit that many of them can be done pretty quickly and don't really take very advanced skills once you have the resource images. I think the difference is just the eye for design in the composition and typography.
I thought it was strange to make a video with a redemption theme by only showing clips prior to the shortcoming that needed redeeming. I sort of feel like you should show the actual redemption...
If I assume that Ash fixes our secondary, I would say our run game as a whole. Lot of questions on O-line, as everyone knows, but I'm not very confident in our backs. Right now it seems like we have a lot of "potential," but not enough realized potential. Who on our roster would you take over Carlos Hyde? Until I see the OL and an RB emerge and just dominate, I don't know if we'll have as effective a run game, which will hurt the rest of the team as well.
It was a big game. Just wanted to say it was only sold out because of the number of OSU fans. It would probably still be about half-empty otherwise.
I guess they might be looking at Kentucky's recent success. We've heard about them pulling Ohio recruits recently so they're at least building the talent and get to play in the most competitive conference. No track record of success to speak of, but yeah, that's the only thing I can think of that is attractive to recruits.
"I just gotta listen to my butthole."
Would you say that when you stick to larger metropolitan areas, people are more moderate/intelligent?
The founder of The D Zone is actually an ITT Tech graduate, which is nothing to feel bad about.
http://www.thedzone.net/p/history-staff.html#.U8l1Q_ldWSo
It's funny that the word it actually stands for is the worst one of all: Detroit.
Based on the other time this was written about, it seemed pretty clear to me that they exaggerated everything. I'll believe that UFM brought up *ichigan and our continued domination, but look at the *ichigan program now; it's hardly something we would brag about for 10 minutes, as the last article about this claimed. They're giving themselves way too much credit. Maybe if the school in question were Akron, Uconn, or App St., who are about on their level.
And if nothing else, it's extremely obvious the iPad point is exaggerated. Yes, Urban probably mentioned they're getting iPads, but the focus was most likely that they'll get it to learn the playbook, not to harp on the fact that they get a shiny new Apple product if they come to OSU. How is it believable to anyone that with the history and current elite level of play that OSU exhibits, the coaching staff has to resort to parading around a tablet as a primary selling point? Jealous people will hear what jealous people will hear (I'm talking on the writer here, not the recruit).
I truly loved the sense of seething bitterness while reading the work of a writer who must have been choking back tears while composing this swill.
Ahh you're right. Well either way...
It's like a rabbit band under a beach umbrella.