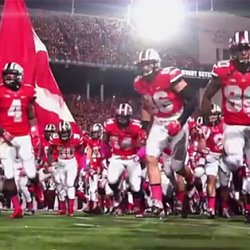 Byaaaahhh
---
Member since 23 April 2014 | Blog
Helmet Stickers: 2,111 | Leaderboard
Favorites
SPORTS MOMENT: Solomon Thomas picking off Ryan Mallett in the Sugar Bowl to seal an Ohio State victory. This actually occurred, contrary to what the NCAA would have you believe.
COLLEGE FOOTBALL PLAYER: Troy Smith
NFL TEAM: Chicago Bears
NHL TEAM: Chicago Blackhawks
NBA TEAM: Chicago Bulls
SOCCER TEAM: Columbus Crew
Recent Activity
I recognize their putrid fanbase, but there's nothing to recognize about their team.
We sort of did when they were good. Then they went ahead and proved they weren't worthy of the label. Treating them as such would do nothing more than trivialize the term "rival."
When will we stop posting about this blowhard? I couldn't care less about his opinion. He is a literal troll.
I'm with Franklin; they don't need alternate unis and actually just shouldn't have them. It's not Penn State's thing. You know what helps recruiting more than unis? Winning championships. Focus on that before wasting time on this. We all know how difficult that is for them already; they can hardly afford to waste any focus.
Well Colorado's chief export IS mimes, so I can understand your confusion.
I thought it was hilarious. Doesn't negatively impact my impression of him at all.
He's still under the delusional state of mind that made him think it was a good idea to rush the field in the first place. His smile left his face quickly after that photo was taken.
Sorry, I meant:
Hangover Easy.
Every time people say "Roundtree" I just think of Roy Roundtree. (Do not want.)
Johnny Football totally paid the price though. He had to sit out an entire half against Rice. I think that might have actually been too harsh.
Hadn't paid too much attention to him cuz it seemed like our targets were Scott, Weber, and Harris. But he sounds like a great recruit to land.
You know what? I support this decision.
Wow, WTF? There were probably more people at UM's spring game... which is really saying something.
Relative to us last year, they were definitely worthy of fear, but not unbeatable. We simply didn't have the secondary to match a Connor Cook on a hot streak. Offensively, we didn't have the WR talent. I'm not sure we do yet, but we're better and they're worse so we've got a good chance.
Wow, is this seriously what the state of their program is like? This is unreal.
It's gotta be much earlier than kick-off, right? There aren't even teams on the sidelines yet.
...or are they? 24-14 right now.
Been against this idea since the beginning.
I don't think the writer knows to separate gothic and goths.
Birm, have you ever spoken to Harris about his expectations from UK if he goes there? It's probably a difficult question to ask without sounding biased as a Buckeye site staff, but I just don't get what they have to offer.
I'm sure if you weren't a star football player, that would be pretty rough, but... I think he was probably alright.
In only my opinion, forecasting is a waste of time. I think it's pretty pointless, but that's just me.