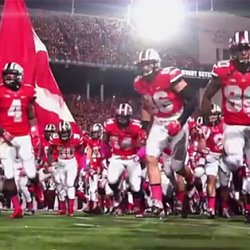 Byaaaahhh
---
Member since 23 April 2014 | Blog
Helmet Stickers: 1,602 | Leaderboard
Favorites
SPORTS MOMENT: Solomon Thomas picking off Ryan Mallett in the Sugar Bowl to seal an Ohio State victory. This actually occurred, contrary to what the NCAA would have you believe.
COLLEGE FOOTBALL PLAYER: Troy Smith
NFL TEAM: Chicago Bears
NHL TEAM: Chicago Blackhawks
NBA TEAM: Chicago Bulls
SOCCER TEAM: Columbus Crew
Recent Activity
And look where that got Aaron Hernandez.
You ever try tweeting at recruits?
Hey, I can provide you with a lot of feedback about these designs. I'm not a graphic designer; I actually have a chemical engineering background, but I've done a lot of graphic design as a hobby. Let me know if you're serious about learning because I don't want to type everything out and be met with a defensive attitude. I'm a pretty critical person, but only if it's constructive.
If I were a girl, I probably wouldn't admit it here.
Seems more like 14 million why he should.
He knows it's El Guapo, he was just explaining that it is Spanish for "the guapo."
Guiton was only 24 yards away against Cal. Getting 300 yards on Kent St. and getting 300 yards on *ichigan are pretty different.
Are you new to the big ten? There is no such thing as "middle tier."
Sound like a pretty young guy, not realizing that things are cyclical. Big Ten is not done, even though the next cycle feels far away. Maybe you're not that young, but you should still realize that the SEC won't be on top forever.
I think losing against VT won't be as big as everyone thinks. Knowing more about our team now, we would have dropped a game sooner or later. We just know where we're at earlier now.
Yep, Roby played great last night. I'm among the crowd of people who felt animosity towards his performance at the end of his Buckeye career, suspecting that he was reserving himself for the draft. That feeling has since faded, realizing some of his production we criticized came against receivers like Jared Abbrederis, otherwise known as an unstoppable monstrosity. We could have used some of last night's defense last season, but regardless, I'm glad to see him succeeding and hope it's just the beginning of an outstanding career.
Congratulations. You picked the one coach that makes the LEAST sense to criticize. Go sit in the corner and think about what you've done. Go ahead and unplug your computer too because you should hold off on commenting for a while.
Because bad seasons happen. And given how incredible young and unproven our team is, it's not surprising. Why don't we watch how they develop first?

The coaches should feel the pressure though. They have a lot to answer for because even though our team is young, they should have done better. We'll see how it goes.
Too many times when Brewer was hurried but made it to the outside. Better job of collapsing the pocket could have resulted in more sacks. We had them on the ropes many times and because he had time, was able to convert a 3rd and very long. Maybe it wouldn't have helped much on quick passes, but that wasn't the whole game.
RIP Kent State next week.
He probably actually did, since he was in attendance today. Too bad it wasn't in a uniform.
I thought we had an agreement not to mention that miserable scumbag around here anymore.
Get to the gates like 30 minutes before kickoff, high five everyone after touchdowns and BE LOUD.
Didn't we see a post in the forums where a guy's youth booster football team designed jerseys exactly like that? Not sure if they ever made them for real, though. Either way I'm not a fan of that for buckeye football.
He chose his side and chose it clearly.