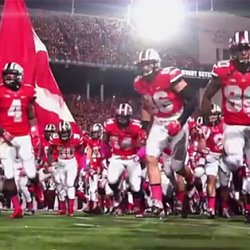 Byaaaahhh
---
Member since 23 April 2014 | Blog
Helmet Stickers: 1,693 | Leaderboard
Favorites
SPORTS MOMENT: Solomon Thomas picking off Ryan Mallett in the Sugar Bowl to seal an Ohio State victory. This actually occurred, contrary to what the NCAA would have you believe.
COLLEGE FOOTBALL PLAYER: Troy Smith
NFL TEAM: Chicago Bears
NHL TEAM: Chicago Blackhawks
NBA TEAM: Chicago Bulls
SOCCER TEAM: Columbus Crew
Recent Activity
Did you really go hipster over the the use of a single word?
Even a case of 99 $1 bills?
To also be fair, there weren't many people before the delay.
Mack Brown just called Brady Hoke a good coach and the right guy for Michigan.
Yeah, pretty disgraceful. I'm genuinely curious though; how full were the stands throughout the VT game? hopefully not as bad as this.
The leg on that Utah kicker...
The only time I want Michigan to win is to demonstrate to the other team how awful they are to be beaten by even Michigan.
Punt returner just made a Heisman pose after returning a touchdown. Suck it, Desmond Howard,
Better than asking for a cup for water and filling it with soda. Those people...
Yeah Mariotta needs to get better to reach Barrett.
It's definitely kind of a weird spot to put NFL games, but I don't have cable, meaning I don't get NCAA games on Thursdays anyways so I welcome any type of football broadcast Thu nights.
All the crab you can get your hands on... and fit under your jacket.
"Heavens! These chaps are running roughshod on the pitch!"
Uh... his being a redshirt means the exact opposite of what you said.
Didn't Tennessee do one with Beyonce a while back? I feel like it was either in a buckshot or skull session.
They play Stanford football on a professional level. They play professional Stanford football.
You just broke the iron rule of helmet stickers...
I always felt like people overhyped Thurman cafe. The Thurman's a good burger, but on quality alone, it's average. It's a huge portion and I guess a Columbus landmark though, so when people visit I take them there, but honestly the burger's far from amazing.
And look where that got Aaron Hernandez.
You ever try tweeting at recruits?
Hey, I can provide you with a lot of feedback about these designs. I'm not a graphic designer; I actually have a chemical engineering background, but I've done a lot of graphic design as a hobby. Let me know if you're serious about learning because I don't want to type everything out and be met with a defensive attitude. I'm a pretty critical person, but only if it's constructive.
If I were a girl, I probably wouldn't admit it here.
Seems more like 14 million why he should.