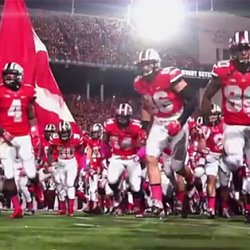 Byaaaahhh
---
Member since 23 April 2014 | Blog
Helmet Stickers: 3,301 | Leaderboard
Voting Record: 1275 / 216
Favorites
SPORTS MOMENT: Solomon Thomas picking off Ryan Mallett in the Sugar Bowl to seal an Ohio State victory. This actually occurred, contrary to what the NCAA would have you believe.
COLLEGE FOOTBALL PLAYER: Troy Smith
NFL TEAM: Chicago Bears
NHL TEAM: Chicago Blackhawks
NBA TEAM: Chicago Bulls
SOCCER TEAM: Columbus Crew
Recent Activity
Ahh, I love watching grown men bicker.
Thank you-- I had no idea who he was. We've been needing a TE pretty badly, right?
I don't know, I heard the only suit Braxton wears these days is his birthday suit. Plus a hat.
I won't, but only because that's the nature of recruiting. Kids that are good may go elsewhere. Absolutely nothing to do with concerns about him or questionable character. He wants to be a Buckeye. Urban and the staff want him to be a Buckeye. Let me know if you really need any other criteria.
Man, this guy really loves Heuerman.
Raise your hand if this worries you in the slightest. lol.
Someone needs to make some version of a "30 for 30" on this whole thing. Too hard to follow when everything gets deleted. It's like if you're off 11W for one hour, you miss everything...
Same trophy, different criteria? Or has it always been that way?
He ain't gonna be under that contract much longer. I don't care how long it's been extended till; people in Iowa are tired of him.
You don't need parties when you already possess enthusiasm unknown to mankind.
So picture 2... do we also get a crystal football still, or what? Where is that crystal football trophy from, 2002?
Ugh, making it all about himself again...
I think it's interesting almost all these submissions are trying to make it something that starts with 's' because of the 's' in sixteen. Dream '14 and Elite '15 don't even follow that pattern.
<Insert every eye-rolling gif in existence>
Thanks for the clarification that it wasn't a visit to UGA. That would have just been really awkward and disrespectful. I guess I can't say that there's anything wrong with him wearing Tennessee clothes then, but he must have known Richt was coming.
Totally agree and actually, I think his shot at getting significant playing time really wasn't that far off. I don't see any reason to say he wouldn't be able to make up ground and move up the depth chart to at least getting good back-up minutes and then proving himself from there. A lot of things can happen during the season and he has the ability to take advantage of it. Disappointing if true, but well wishes to him no matter what the decision is.
Oh man I am really terrible with names so I just now learned that that whole debacle with the sex offender and the dad getting creeped out involved Anzalone, who I only knew from his brash remarks about going to Michigan to beat OSU.
Hey man. This is what happens every time you try and force a nickname.
The song had absolutely no impact on me and bears no association with OSU football for me either. I hated the song before and ESPN cramming it in my ears did nothing to change that.
Is this the same BucksFan that changed his icon?
Relax, it's not like he killed a guy with a trident.
Undefeated out of conference.
I actually thought last year's was alright.
The posts that are about PSU have nothing to do with their football team's ability and everything to do with their sanctions lol.