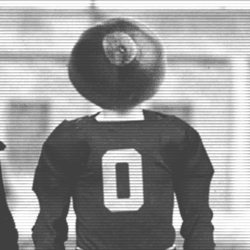 bux_booster
---
Member since 16 October 2011 | Blog
Helmet Stickers: 41 | Leaderboard
Recent Activity
Get a technical? Treat it like hockey, you play a man short for two minutes.
2:16pm, over six hours since posting ,and it still shows only 4 sold.
Gardner, 32 of 45 for 451 yards and four touchdowns. Sorry Luke, we've decided to go in another direction.
Perhaps Brady's was gold-plated?
Ring Bottle Opener - http://tinyurl.com/o82c66q
UFM's rings don not open anything for a recruit except great futures.

Please don't flame me, but part of me would rather go to the Rose Bowl and beat a Pac 12 team and keep the streak going. I do not feel we would be Alabama at this point given our issues at LB. It might keep Braxton for another year too.
Sounds like LSU will be giving Les a raise to keep him away from TTUN. The question is would TTUN be willing to get into a bidding war with LSU?
Well, Shannon Heacock is now Shannon Boeckman. Congrats Todd and Shannon!
TP has such long legs, he doesn't seem so speedy. But watching Troy Polamalu trying to keep up really amazed me.
Walt, if this effort does not lead to another source of income for you, I'd be shocked as these are really outstanding.
I am a traditionalist and want only minor changes. I like the Woody-era 68 and 72-75 uni's the best. I did not realize until someone else pointed out that Woody was a trailblazer with the stripes on the sleeves and how TTUN would stay away from these for their uni's. I also love how our classic helmets change throughout the year with the progressive addition ofBuckeye leaves but last year's TTUN game with the green leaves didn't work.
I would like to see your design for one game, but back to the standard after that. But, the addition of gold pants/Buckeye leaves for Michigan wins resonated deep in my kidneys and would like them to be part of all uniforms going forward. But never something additional, even a national championship. One strong feeling I have though is I would like to see them moved to the front of the uniform. I want our players to see the TTUN players eyes drop down to check the count on our jerseys. That could be an inspiring moment. When our player has his fair share of symbols, it will be a sense of pride to see the eyes of the opponent recognizing the count. Likewise, if we have had a series of losses, the lack of insignia will likely illicit a response from that TTUN player of trash talk that could very well inspire our player to rise to a higher level. Perhaps their players will try to keep "eyes up" and not look at our jerseys which would be a distraction to them. Ask any guy who works with ladies that like to show cleavage. Personally I prefer the pants as I believe they are a bit more humiliating to TTUN than Buckeye leaves.
For the comment to utilize a watermark of sorts like the basketball team has on their uni's, I think that complicates the clean look of this design by Walt. I would like to propose Ohio State take a page from Apple Computer's original Macintosh computer from 1984. Molded into the inside of the plastic e case of each of these computers is the signature of each member of the Macintosh team. Not every Mac owner was aware of this or saw it, but it was there. How about something along those lines inside the helmets? Perhaps having an all-American, past captain or Heisman winner or a top player who had the same jersey number use a Sharpie to write something. I realize that the pads will cover these up, but the individual player will know it's there and it will be a reminder to the past. The press and fans will want the players to reveal "what's inside the helmet" and perhaps they do share or they do not. If the player remains until graduation they get the helmet for keeps. Of if that is not allowed, the school can collect these and auction them off at some point to help line the coffers of the athletic department or to fund a scholarship program.
I would like to hear if anyone has a thought on such an idea and... GO BUCKS!
Bux_Booster
I would love to see the students arrive earlier. I do feel though that the section in the soutch stands is fantastic and the pregame cali's between the students and the players has really helped. How would this affect the pregame liquid libation rituals of the students? Will this cut down on the drunkeness during the games (good). What about students that want to sell their seats? Would this GA seating lower the value of their tickets as non-students may be hesitant to buy them? I know that much of my "4th meals" in winter were paid from the proceeds of my sale of my students tickets in Fall.
I am more suspecting of the non-students that arrive late. Albeit most of the empty seats are in the far reaches of the stadium hugging the press box. I think the university should drop the price in half for those seats with limited views.
Thanks heavens for 11W to get us through the FB off season...
You can order a shirt that is similar with Buckeyes around the back of the collar. To arrive 11/27 though.
http://shop.ohiostatebuckeyes.com/COLLEGE_Ohio_State_Buckeyes/Nike_Ohio_State_Buckeyes_2012_Rivalry_Helmet_T-Shirt_-_Black
Perhaps they needed to hold off a bit as another conference realignment maybe coming, good bye Penn State?
In watching the end of the Wisconsin / Oregon game, the situation was very similar but different coaching decisions and urgency showed between the two games.
I know it did not seem like there was much of a chance, but as Jimmy V says, "Don't give up... don't EVER give up." Even with Braxton not getting out of bounds and keeping 30 seconds more on the clock, Florida kneed the ball on 3rd down with about 28 seconds left. We should have called out last time out forcing them to turn it over on fourth down to us with maybe 15-20 seconds left. This wasn't a blow out, there was time for 2-3 plays and with them in full prevent, things could have gone our way. I know it was a long shot, but still, it is our last bowl for two years, don't EVER give up.
"And yes, it's going to be miraculous when Jim Tressel is anointed as the head football coach of Ohio State this spring. It will be Gordon Gee's biggest power move yet. I already have goose bumps thinking about it."
DJ, Are you and I the only ones that are considering this??
I think it was great that we got Vrabel. I think Doc is a great coach, but I fear that he will be considered too much tied to the old ways and would be let go with a house cleaning. I have not been a fan of Bollman's for a long time, even going back to the 2002 season, but each year, just when I am ready to really want him gone, the line surprises me and has a solid game.
If Fickell does stay, and I hope he does, and he cleans house, how hard will it be for him to get real assistant coaches? Are the best ones former HC's that got let go somewhere and are not very experienced asst's elsewhere? How will the dynamic be with those how may have coached for 3+ years elsewhere and young coach Fickell? Also, would a top asst who has never been a HC be interested in an asst job with tOSU with such an inexperienced HC as Fickell, especially if the coaching ranks have been cleaned out and it will be a year or two before the dust settles? Our asst's in the past have moved on to better jobs elsewhere due in large part having been mentored by our very experienced HC's of the past and not due to the fact we are tOSU and have great athletes. Sadly, Fickell cannot offer that.
If Jeff Rapp's report that there is dissention within the coaches room with the new guard and old guard, SOMETHING will have to be done. In either case, I think it would be wise to shake Bollman's hand for many years of shared success and say goodbye. I think that there must be a offensive line coach in the NFL that has recently been let go or tried their hand at an offensive coordinator position that did not pan out who might like taking high schoolers and taking them to NFL-level skills in 4 or 5 years and would be seen as a 'savior' at tOSU.
I also wonder if reaching further into the NFL experience pool might artificially prop up our likely drop in recruiting we will have for the next three years as we can point to the potential NFL skillset and pipeline. I am not convinced that a great player will be a great coach, but I am sure that there are some former tOSU players that do have that capability. It would be an interesting approach that allows Fickell to be HC, still be a mentor as he brings them aboard and would prove for soem VERY motivating pregame and halftime lockerroom speeches from the coaches. By them being former tOSU players, I would hope that love for tOSU would help temper potential ego issues. If not, Fickell could literally wrestle them for who gets the final call (just kidding).
I can actually live for a down season or two as lng as I see good play calling, execution and enthusiasm. My enduring image of Bauserman will not be his cheerleader and coke vendor-threatening passes, but instead the brief camera shot when we are getting woodshedded by Miami in the fourth quarter and he is yucking it up on the sidelines. That is not a leader or competitor.
How about Greg Frey, Tomczak or Kent Graham (that would be interesting with Taylor) for QB's? (I wouldn't 'bet' Schlichter is available). Tim Spencer is definitely loving Da' Bears, but wouldn't that be interesting to have him coach RB's with Evan there? And coach Archie coach, with son Adam on the team. What about our DB's from the past? Mr. Doss, are your missing the game? He obviously is a leader. Mr. Springs, last year you were released, want to move back to Columbus? Antoine, are you tired of the NFL yet, you are doing great but is have been 12 years? Dustin Fox, tired of radio, do you have some interest? Mr. Gamble, we know you love to multitask, but it seems maybe you have some more freetime since exiting the NFL last year. And Ray Griffin, nephew Adam is a CB, what are you doing, care to play? Could we find another motivated tOSU alum in Columbus who has some HC experience who loves tOSU and has intesity that may be unmatched that could work with Vrable and the Dline and LB's? Don't get me started on wide receivers. Punters? Andy? Tom? Kicker's, Vlade, would like some side work while your deli does its job? It might only be a couple of years until the Nuge leaves Cincy although he is doing great.
I know this seems like a ridiculous approach, I just want to throw the idea out there and let the warrior nation have fun with it.
Also, what if the NCAA's harshness towards OSU as of late becomes so apparent that they actually back off a bit for the final sanctions? What if Gene is shown the door? What if 'show cause' does not get thrown on Jim Tressel. Would you want tOSU to bring him back and have Fickell step back into his previous role and not losing face as a result?