bukyze
---
Cincinnati
Member since 09 June 2011 | Blog
Favorites
SPORTS MOMENT: I'm a highschool senior visiting a friend at OSU who just started his freshman year. I go to the OSU - Iowa game, when Iowa was #1. We're in the south stands. Byars, Carter, Pepper Johnson, Spielman. Rained quite a bit. Spielman gets a 4th qtr interception. We run down onto the field afterwards, patting the football players on their shoulderpadst. Goalpost comes down right on top of us. I actually have a hand on the goalpost as we carry it out of the stadium and down to Papa Joes. (I had no clue where I was at the time). I knew where I would spend the next 4 years of my life after that night.
COLLEGE FOOTBALL PLAYER: Chris Spielman
MLB TEAM: Cincinnati Reds
Recent Activity
I think Matt is going to RhUlE the day he accepted this job.
The second picture of the Army uniforms, the one focusing on the helmet - is that guy rocking a bob style haircut?
Wiltfong CB'd Munford to UK. Hopefully that's good news regarding Trey.
Wait, isn't it protocol to leave during the middle of a dinner with recruits without telling anyone?
I heard the strangest sound right after Washington's victory last night. Oh wait, that was the 2nd to last nail being pounded into tSUN's playoff coffin. Hahahahahaha !!!
Very true. But I hate PSU too much to have them in the playoffs.
Rooting for chalk, only to make sure tSUN doesn't get in. In an ideal scenario, Washington would lose, Wisconsin would win, and Bucky would be selected ahead of the wolverines for the final spot. The gnashing of teeth up in AA would be glorious.
"I'm a loser." LOL. It's funny because it's true.
Thank God he didn't kill anybody. Sounds like the OSU officer did a great job. Thoughts, prayers, and speedy recoveries to all the victims.
Everyone who has come from that state up north. The country is called Hell.
That look on Urban's face - it was so crowded, he knew he wasn't going to make it anywhere. Awesome video!
The first thing I thought when Samuel scored the game winning TD was how much his pose looked like Darron Lee's.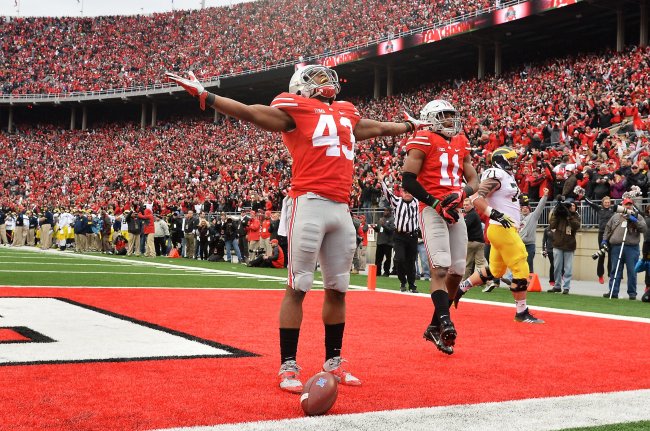 168
Sadly, if the story was real, it would surprise absolutely noone.
Any idea if what's behind the Game Day Buckeye Legging is included?
I would've thrown a Molotov cocktail at their car as they were driving away.
I think these 2 win the championship of life.
Denial is not a river in Egypt.
Wow. I really feel bad for him. He knows the fate that awaits him.
Secondary shoutout to everyone who tweeted me this week that Mike D'antoni coaches the Houston Rockets. If y'all keep telling yourselves that, maybe one day it will come true.
LOL. I'm willing to bet you'll be writing the same thing this time next year. Maybe we should add the meaning of this to the "About / Oral History" section at the bottom of 11W. Nah, it's too funny reading the comments.
I sure hope he heals up in time for their last game, when they play Penn State.
If you think eating crabs scraped from the disgusting-ass Atlantic Ocean is good, please move to Maryland and never talk to me or my mediocre son ever again.
Don't forget your dipshit grandchildren too :)
That Eminem song is absolutely perfect for highlights.