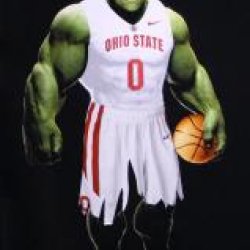 BuckWylde
---
Member since 12 February 2013 | Blog
Helmet Stickers: 134 | Leaderboard
Favorites
SPORTS MOMENT: Mo Clarett taking the football out of Sean Taylor's hands in 2002 Championship game.
COLLEGE FOOTBALL PLAYER: Braxton Miller
COLLEGE BASKETBALL PLAYER: LaQuentin Ross
NFL TEAM: Browns
NHL TEAM: Blue Jackets
NBA TEAM: Cavaliers
MLB TEAM: Reds
SOCCER TEAM: Crew
Recent Activity
That's called Growin' Up!
Only if you say it with Tennessee Pride . . .
Wow, that's one that I was unaware of . . . knew he won 1, but did ET actually win national POY TWICE?!!! How long was I asleep that year?
No, it's the dreaded off-season and this article is what pigskin-anemia produces! . . . along with nausea, vomiting, club feet, irratable bowels, clap, memory loss, enlarged heart, cycle-sell, memory loss, night sweats, PMS, liver spots, frequent urination, shortness of breast, tax evasion, gout, blue balls, halitosis, pattern baldness, tinnitus, hammer toe, tooth decay, ruptured spleen, memory loss, hangnails, erectile dysfunction, seborrhea , trichinosis , apostasy, occasional nose-bleeds, shortness of dick, and memory loss. . . c'mon Season Opener!!!!
For anyone who thinks Mr. Feder might actually be TOO tall, some of the older fans might remember a guy named Ed (too tall) Jones of the Dallas Cowboys who was a D-lineman with a pretty distinguished All-Pro type of career.
From the information that's available on this young man, we just nabbed a diamond in the rough who's very likely to bring the nickname "Too Tall" back to prominence in a BIG way. . . . Get 'em Urban!!!
Yep, . . . thanks BTN. Man--this is the toughest part of every year for me--it's what I call no man's land. Basketball's over except for the draft, Buckeye recruiting news helps somewhat, but since I'm not a baseball guy it seems like football season is years away, and even though I have tremendous respect for the athletes involved, soccer ain't quite my thing so even these little BTN replay tidbits are much appreciated by a starving football junkie like me.
Wow Kyle, you actually used the .2 ypc. difference! Ok, let's try this . . . do you think Brax compares as a power, yards after contact runner for a forth down situation in a championship game? IMO Urban made a bad call on 2 counts: 1) He was quoted numerous times declaring our "Hogs" to be the best O-line in the country, but in the clutch it was like " . . . mmmm-maybe not so much.
2) It's widely accepted coaching wisdom to go north/south rather than east/west in short yardage.
Please forgive any perceived blasphemy, but I have yet to see anything remotely similar to the offensive scheme or the play-calling that I saw when Meyer's Florida squad dismantled Troy Smith and company. So if I seem to be a bit lacking in hero worship it's because I am. For my money both Urbs and Herman are on probation until on-field performance says otherwise.
What "wounds" are there for time to heal? The pious attitudes of most of the posters here border on sickening. TP was one hell of a buckeye QB that did the university proud with his on-field performance. His 31 and 4 record as a starter remains the best ever at OSU. The "Tat Gate" scandal is just the result of 5 kids (who got caught) suffering from the dreaded congenital disorder called "young and dumb" that has plagued college campuses throughout history. But please, . . . don't regard the 5 year ban as anything more than a school covering it's own booty-crack from potential NCAA sanctions by making sure that there was no room for administrators under the proverbial bus. If things play out as hoped, Terrelle and crew will someday be seen as the unwitting anti-heroes that were indirectly responsible for ushering in the golden age of Urban Meyer. In light of recent comments by the NCAA investigator that covered "Tat-Gate", Gene Smith would look real good if he reversed the banishment of Pryor and the others and welcomed them back "home." As a Buckeye fan that attended my first game in 1964, I can run down a long list of rule violations that were dealt with much less harshly by the school, . . . welcome home, Terrelle
Krenzel was a man of destiny, on a team of destiny. My first reaction to this post was that "Block O" should be renamed Block Head, but as I read the comments of my fellow Buck-a-holics it became increasingly clear that Block is simply a victim of E-SPIN's hyper-analytic, Sports Science reasoning. IMO Krenzel's greatness is similar to Aaron Craft's greatness on the hardwood; both are game-smart and heart driven winners. Measurables don't begin to tell the story of why these guys prevail against bigger, faster, stronger opponents whose mechanics are picture perfect, . . . they just do. I'm just happy that a bus filled with future NFL stars had Craig Krenzel at the wheel as they drove through Wolverines, Boilermakers, and Hurricanes to get that crystal football for the Buckeye trophy case.
Warren Ball has shown more "wiggle" and is the shiftiest of the backs I've seen, in this playing-time derby. I just hope that the chip on his shoulder brings out an ability to run with an angry edge. Ball has every tangible quality needed to be a big-time back, at this level and even on Sundays, but what I think he needs to show this season is a "Beast Mode" refuse to be denied attitude to coaches. Man, I'm sure there are lots of coaches that would LOVE to have Stan Drayton's problems this year!
" . . . And which one of those guys has accomplished as much as Thad? You must be trollin'. . . "
Why must I be "trollin'?" . . . and what might you be rollin'? Kevin Ollie just coached UCONN to the NATIONAL CHAMPIONSHIP and Archie Miller just took kids that weren't up to TOSU's lofty standards, called them Dayton Flyers and proceeded to out- coach Matta and send his former boss and my Buckeyes home from the big dance with Jordan Siebert's Nikes firmly wedged in their butts. Understand that you're talking to one who, as a 9 year old kid, watched Fred Taylor coach OSU to it's ONLY national title so please forgive my reluctance to anoint Thad as the best ever 'cause he aint!
What I'm saying is that coach Matta needs to prioritize continued growth as a coach so that he might someday win the NCAA title for Ohio State, and actually become what you seem to think he already is.
Greg Marshall, Shaka Smart, Archie Miller, Kevin Ollie, Shaun Miller . . . how much time you got? Thad has a lot of groupies here, for a guy who coaches a one dimensional system and lays defeat at de' feet of his players. (which I've seen in several interviews)
I know, I know--defense wins championships; . . . yeah B1G Ten championships. I'm not saying that Matta needs to go, but he definitely needs to grow; attend a few coaching clinics, listen to his assistants, learn a discernable offense to go with his trademark "D". Thad Matta is undoubtedly the Moses of modern OSU Basketball. But keep in mind that it was a coach named Joshua that succeeded Moses and took his squad to the promised land.
Damon B, despite your post getting off to a rocky start, the questions you pose about Thad are ones I've had for some time. Players don't seem to grow in this system and recruiting seems to hinge mainly on NOT coming from Columbus and whether the recruits have ever worked at a McDonalds in America.
It's been confirmed, so congrats young man; and once again I get to sing my twisted post draft version of the Queen classic " . . . another one 'vites the Bucks! . . . " (I know it's corny, but so is white lightnin'!)
NO!!! . . . continue to sleep and prophesy success!
Ahhh, a ray of light and reason pierces the darkness of unfounded gloom goblin prattle, and incessant nayspeak! . . . fact and logic almost seen out of place here. Good points Furious George!
Preach and teach, while the doubters screech . . . The Browns just got relavent!
Yeah, there's just TONS of bad teams in the SEC . . . (SMH)
Really good to get a shooter who looks like he can get his own shots. Now, if we can get a brutish big like Elijah Thomas to go with Austin, AJ, Mickey and the VT transfer the '15 class will be a great group of newbies to add to next year's holdovers and the b-ball Buckeyes will be dangerous once again!
Now, If memory serves me correctly Mr.Galloway (4.18) and Mr.Ginn (4.16) have run sub 4.2 unofficial 40 times. Their 2/100ths of a second time difference qualifies as a dead heat in my opinion. In a race, I guess whoever had the longer nose would win!
I just hated watchin' all the Ohio guys in the Big Dance that didn't have on scarlet and gray (including Siebert and the 2 Northland bigs). Would somebody tweet Thad and share the breaking news that Kasich just made it legal for kids from Columbus & vicinity to play for TOSU again!!! Sorry guys, I'm just gettin' a little tired of seeing guys like Payne, LeVert and Aaron White get overlooked in favor of "studs" with McDonald's credentials who play like their true skills are on the french fry station and the drive-thru window! I refuse to accept that there's no talent worthy of the Buckeyes to be found along the 3-C highway(Cleveland, Columbus, and Cincinnati) and especially after this past season.
Watchin' a few recent replays of the '02 championship game reminded me of what a hungry Tressel was like, as opposed to the "Fat Cat" rich guy mentality that years of success had inevitably produced by the time our beloved Senator departed. The same is true of coach Meyer in watching replays of the ass-whuppin' his Fla. team inflicted on us in the '06 NC game, where he was the underdog with something to prove. Both men are very good coaches.
For me as a fan that paid six bucks to go to The 'Shoe and watch Buckeye football in the '60s and experienced Woody's, then Earle's, then Coop's interview styles as well, they're all guys that have mastered the art of feeding Pablum to the media, per their job description as HC. For me this is the year to see if Urban is gonna be the same coach FOR us that he was AGAINST us. I've heard lots of hype regarding spread offense, but witnessed Woody 2.0. I've heard rumors of being speed oriented and innovative play calling, but what I've seen from coach Herman is far less creative than he showed at Iowa State, and makes me understand coach Drayton's tongue-in-cheek questioning of plays that were called in the spring game last week.
When you look at the measurables, these players are as gifted of a group of athletes as we've had at OSU . . . EVER!--so for me this year's team needs to justify the level of ballyhoo that's been spoken regarding the highest paid coaching staff in school history. We've got the best schedule we've had in a while, the returning 2 time B1G offensive player of the year, a receiver corps that should feel the need to respond to Mike Thomas's challenge to make plays, and a defense that will be better with a simplified but more agressive scheme, and a 2 game losing streak in high profile contests against ranked teams. Urban, . . . it's time to " do unto others going forward as you've done unto us as the coach at Fla." let's shock the world THIS season and win a NC with the guys you have right now, and some GREAT coaching! Now THAT would set the table for some interviews that everyone can love (except the haters at E-SPIN).
But maybe if the coaches did, he'd be stronger around the hole!
I really don't think ANYBODY saw BJ Thrive in Thad's system.