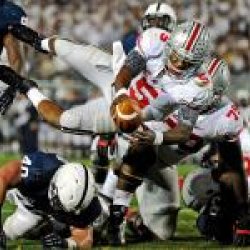 buckupnorth
---
from Columbus
Member since 28 October 2012 | Blog
Helmet Stickers: 180 | Leaderboard
Favorites
SPORTS MOMENT: Winning the '02 national championship
COLLEGE FOOTBALL PLAYER: Braxton Miller
COLLEGE BASKETBALL PLAYER: Aaron Craft
NFL TEAM: Bengals
NBA TEAM: Spurs
MLB TEAM: Reds
Recent Activity
I think you can watch them online
These are the kind of guys other big ten teams need to start getting. He's from Maryland, tOSU was interested but he winds up in Kentucky... could have at least gone somewhere like Penn State, Maryland, etc.
Do they scrimmage or anything? what's the significance of these rosters?
Interesting, wonder if he plays WR at this camp? I don't exactly know how these things go
Are you still looking for somebody now that Jeremy has been hired?
How are our guys getting called for touch fouls on the perimeter (craft, scott) but then not getting any calls inside on shots? I can stand when they officiate so tight on the perimeter, also can't stand the inconsistencies
a little nervous about this game, Zona looked good the past couple games (albeit against bad teams) and was once regarded as a top 5 team, so the talent is definitely there. Bucks need to get out to a fast start and play lockdown d and keep rolling
Don't like these at all, someone already said it but I'll say it again they look just like practice jerseys. Saw Gonzaga wear these and thought they looked awful
Don't let them back in it, extend this lead to 20 bury them, I'd be lying though if I didn't say I was at least somewhat surprised with this start
valid point, it's tough because he is great on defense but not aggressive enough on offense. Now I'm not saying I want him to aggressively look for his shot, but aggressively push the ball up the court and push the envelope to get his teammates easy points
One other observation: Q and Sam are both very capable of getting into the lane and scoring easy buckets, but are often too quick to pass the ball right back to scott/craft. I think (and hope) that Q's finish to that half will help him realize that he can be very good at getting easy buckets when he's aggressive.
I really like craft but he is playing way too tentative right now, at least scott is aggressive and fearless on the court. Scott makes things happen and still doesn't turn the ball over, Thad needs to find a way to better utilize craft's skill set and craft needs to be more agressive on the offensive end like scott is. I really like how scott pushes the ball up the court and I wish craft would push it more often
Original Pax Stoneburna article, funny to go back and reminisce about how good we thought he was going to be.
http://www.elevenwarriors.com/2010/06/pax-stoneburna.html
Must win game tonight with scUM and MSU coming up. I'm gonna go out on a limb and say the Bucks get out to an early lead tonight and roll. We play well against less athletic teams and I expect that to continue.
marshall just broke a pair of ankles
annoucers gave credit to poggi... smh
is anybody else surprised by the poor punting? Hopefully Townsend has a better showing at the army game
I agree with cowcat, very proud of the team as camp randall is never easy to win at
Good work and thanks for doing this. Overall pretty fair, I think Florida and Stanford are too high but based purely on resumes I don't have any huge problems with them.