BUCKtuckian
---
Lex, Ky
Member since 23 November 2011 | Blog
Helmet Stickers: 776 | Leaderboard
Voting Record: 152 / 0
Love Buckeye sports and Chicago Bear football.
Fair weather Reds fan..... new ownership has helped my loyalty...
Favorites
SPORTS MOMENT: the GAME 2006.
Ron Lewis jumper at the buzzer against Xavier in the second round NCAA bball at Rupp Arena
COLLEGE FOOTBALL PLAYER: A.J. Hawk / Eddie George
COLLEGE BASKETBALL PLAYER: Sully
NFL TEAM: Chicago Bears
MLB TEAM: Cincinnati Reds
Recent Activity
Love, Bruery stouts & old ales. Avery Barrel aged beers and 120. Bourbon neat, bring the heat son,
It was just released in the last month or so around Cincinnati. Citra High is going to be canned soon.
Revolution UNsessionable was one of the best hop beers I had last year.
Anybody going to Dark Lord Day next weekend?
Christened a new vessel with this years release. Drinking great already. Doesn't need age IMO
Checking in from Lexington, Ky. These SEC dickriding fans finally shut the F up. They hate OSU because UK is TERRIBLE at football. Someone at work tried to troll me after the Alabama game with a Quack, Quack comment. I said wait till we get our 8th Natty, you know the same number of BOWL WINS UK has EVER! He mad!
Most have been congratulatory and moved on cause you know, basketball....
You can order the port barrel finished from here.
http://www.binnys.com/all/angels+envy
Rum barrel finished rye is harder to come by and is close to double the price. I did see some rye a week or so ago after a hiatus.
I just read that entire thread. Thanks for the link and lunch time entertainment.
Would read again/10
BARTSCOTTCANTWAIT.gif
4) Sorry the cupboard is empty, I was hungry.
Runs in the family......
Absolutely true here in Lexington, KY. These fools lamely try and troll OSU fans with the SEC bullsh!t. I always say: I bet Alabama, LSU and Miss St fans root for UK in basketball huh.... or your football team finally became bowl eligible after 3 "combined" seasons.... which is extra funny since they collapsed this year from 5-1 to 5-6 and weren't bowl eligible. It's easy to squash the conference chest pounders here.
Absolute Classic !
Never not Funny !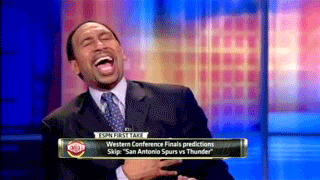 NO!!
If you go downtown, go EARLY! Last year we tried to get into several bars/restaurants 5+ hours ahead of kick off and found 2+ hour waits. We walked around outside. There were food trucks and beer sales outside.
We also went to the fan experience for the pep rally at the convention center, Also to use the bathrooms and get warm. I was COLD last year.
They didn't sell beer the last 2 years at the game either as an FYI if that kinda thing is important?
Seems like this is appropriate place for this gem. *WARNING**NSFW*
41-20 Bucks
"I'm ticked," Rodriguez said. "What, do you want me to go jump out there and hold hands with all the Buckeyes fans and sing Kumbaya? I mean, I wish we'd played better. Our guys played hard, and that's to be expected. But I wish we'd executed better. As coaches, we've got to try to put them in a position so they can make some plays. I'm gonna be mad for a while."
I enjoy Elmer T Lee, Sazarac rye, Four Roses single barrel, Elijah Craig 12, Blantons and Weller 12yr for that wheated bourbon. All are economical purchases. I agree with the longer age is stated the smoother and more complex they usually become.