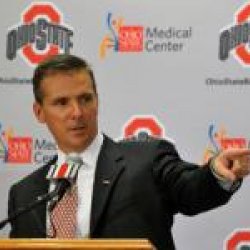 BuckToAsT
---
from Columbus, OH
Member since 30 July 2013 | Blog
Helmet Stickers: 4,165 | Leaderboard
Voting Record: 803 / 230
Favorites
COLLEGE FOOTBALL PLAYER: Joey Bosa and Braxton Miller
COLLEGE BASKETBALL PLAYER: Aaron Craft; Mike Conley, Jr.
NFL TEAM: Cincinnati Bengals
NHL TEAM: Columbus Blue Jackets
NBA TEAM: Chicago Bulls; Cleveland Cavaliers
MLB TEAM: Cincinnati Reds
SOCCER TEAM: Columbus Crew; USMNT
Recent Activity
Hot Chicken Takeover!!!
Highlight of the week!
Ohio State (flag) Football. 2004-08. WR/CB.
This may be obvious, but don't count on being in the top 5 of your class. I'm not saying it won't happen, but remember that respectable law schools are full of smarties. I thought I would smoke my classmates going into my first year, but I was humbled very quickly. I worked my ass off -- studied almost every waking moment. I did well, but did not crack the top 5. I went in being used to being #1 in everything academic.
I hear people tell me that they plan on going to a "decent" school and then transferring to a T14. Well, doing that is damn hard--probably harder than getting into the T14 to begin with.
Just a thought.
Sounds like you're well-informed. Remember, take your time preparing for the LSAT. It is a very masterable exam; just put in a ton of hours. Take a year off if you need to; whatever it takes to crush that beast. The LSAT is about 70-80% of the admission decision, with your GPA being the rest. (Everything else matters very little, with the exception of your personal statement.)
Best of luck!
I was in your shoes years ago. Luckily, there are 10-11 schools that are ranked higher than UM for law. Just crush the LSAT and go to one of those instead. If UM is the highest ranked school you get into, then you should go there. The legal market, while slowly rebounding, is very difficult. I would not go unless you get into a top-tier (Top 14) law school, or earn a full scholarship at a top 30 school. I don't mean to sound elitist, but law school debt is crushing. I know so many people that are really struggling to make ends meet. Unless you go to a top school and get a prestigious job, you don't want that kind of debt over you. It will never go away--not even in bankruptcy.
I declined acceptance to UM law by writing a "thanks but no thanks" letter to their admissions office. I closed the letter with a rather large "GO BUCKS!"
best of luck.
Paula diagrees.
Kidding aside, I've only been to Paris. And quite frankly, I didn't seek out the best culinary experiences (as I would today). I was poor, so I drank a lot of wine and ate baguettes !
Their discovery of using 3 butter sticks for everything and sautéing it with garlic is one of the top 5 discoveries by man.
As soon as they get an application from anyone other than Jon Waters...
A staple of my childhood. Sad to hear. Very entertaining man! RIP, Rowdy.
Oh, ok, then. At first glance this seemed unreliable. As long as he's "very" close and not just close.
Only $280 if you're a member! That's less than $100 per hat!
Yup -- we'll be without QB#1 and #2.
Guys -- I've been saying that ALL ALONG!
Mo Williams.
http://espn.go.com/nba/story/_/id/13212088/mo-williams-returning-cleveland-cavaliers-2-year-43-million-deal
Columbus holding down the fort:
Because PhDs are available only for the sciences??
Gotcha. He's old! Great show, though!