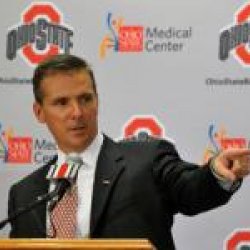 BuckToAsT
---
from Columbus, OH
Member since 30 July 2013 | Blog
Helmet Stickers: 1,992 | Leaderboard
Favorites
COLLEGE FOOTBALL PLAYER: Joey Bosa and Braxton Miller
COLLEGE BASKETBALL PLAYER: Aaron Craft; Mike Conley, Jr.
NFL TEAM: Cincinnati Bengals
NHL TEAM: Columbus Blue Jackets
NBA TEAM: Chicago Bulls; Cleveland Cavaliers
MLB TEAM: Cincinnati Reds
SOCCER TEAM: Columbus Crew; USMNT
Recent Activity
What's Jalin's Twitter handle?
i have a few words to say to that kid...
YOURE THE MAN!!!!!!!!!
It's a win-win.
If they improve, good for OSU.
If they continue to burn, good for OSU.
Dude, get a job!
No-seriously. Go to Nike, and get a job doing this for a living. These are f'n sick.
Slander requires a falsehood.
Depression being the Michigan Difference is not false. Just ask any Michigan Man right now.
I coach the Buckeyes from my couch. I also read 11W while on the toilet (as in now).
I should get at least what Kyle Flood's making.
The only thing they proved was that they had the ball last.
That at game was a joke. No defense.
But we probably wouldn't have ended up with Urban. We'd have one more title under Tress, but Urban is going to get us multiple titles in the coming years. I'm a believer.
I bet Bosa eats two gargantuans and a bag of jalapeño kettle chips. (I also bet he wipes the jalapeño dust from the chips on his eyeballs, just to prove that pain does not bother him.)
We'd wipe the floor with them. Just ask Evan Spencer.
Kidding aside, a victory over Bama would put all anti-OSU commentary to rest. That is the matchup we need to legitimize our claim as a college football powerhouse.
Man, I'm drooling just thinking about it . . .
Ditto -- throw FSU in there and it's my trifecta of hatred.
Clever. I do like this idea.
Didn't GeorgiaSouthern from the lowly Sun Belt take down SEC-blue-blood Florida?
yes. Yes they did.
Busted by 11W for being a douche? Call me:
Nah. We'll sneak our way in.
I used to think no way we jump a Big12 team without them losing.
I think we'll jump an idle Baylor this week due to schedule. And, though it won't happen this week, we'll jump TCU if we win the B1G Championship game. Wiscy won't be a top-10 team when we play (probably), but they'll be close. (A ton do teams in front of them lost this week, so they'll be top 15 on Tuesday.)
I think we're in if we win out.
5-6 in SEC = UNDEFEATED in any other conference. Duh.
This kid needs to pick the guys, and my gut says he will.
I hope the Canes curb-stomp these fools.
Leave Jalin alone!