BuckToAsT
---
from Columbus, OH
Member since 30 July 2013 | Blog
Helmet Stickers: 3,895 | Leaderboard
Voting Record: 718 / 226
Favorites
COLLEGE FOOTBALL PLAYER: Joey Bosa and Braxton Miller
COLLEGE BASKETBALL PLAYER: Aaron Craft; Mike Conley, Jr.
NFL TEAM: Cincinnati Bengals
NHL TEAM: Columbus Blue Jackets
NBA TEAM: Chicago Bulls; Cleveland Cavaliers
MLB TEAM: Cincinnati Reds
SOCCER TEAM: Columbus Crew; USMNT
Recent Activity
Well damn. I have to go on a cruise now. . .
Land octopuses.
Another reason why I'm staying the hell out of Australia.
My two cents: Thad has made OSU relevant in basketball, and I don't think we're turning back. We're always a tournament team, and it's only a matta of time before he brings a title home.
He's earned the right to remain our coach as long as he wants to.
Winston: "So, I know this great seafood joint. You like crab legs?"
Hairball: "You had me at joint."
Perfect gif.
"We're going to have, 'try-outs.'"
Yeah--don't you know that's the only way we can get them to come here?
Easy.
Kerry Coombs after 3 red bulls. Ain't nobody gonna catch him.
I want to know more about the serious report Barb was about to share with us...
Scrubs
Friends
The Simpsons
Modern Family
Happy Days
What? What? Oh, the picture? That's just some white dude with a beard. What you talking about?
I want to be an underdog every game next season.
I'm with ya! No comment from me, either, but:
No.
This is all you need to know about the movie: (trust me, it's a pretty funny read)
http://www.newyorker.com/magazine/2015/02/23/pain-gain
you should win a Nobel Peace Prize
There is nothing humanitarian about what Zeke did to Wisky's, Bama's, and Oregon's defenses.
Agreed -- and more bleu cheese crumbles . . .
He is. The problem is he is ordering "Ohio salads" (i.e., a little bit of lettuce with half a bottle of Ranch).
Fifty Shades of [Scarlet and] Gray?
I'd see it.
Would a second one of these change his mind?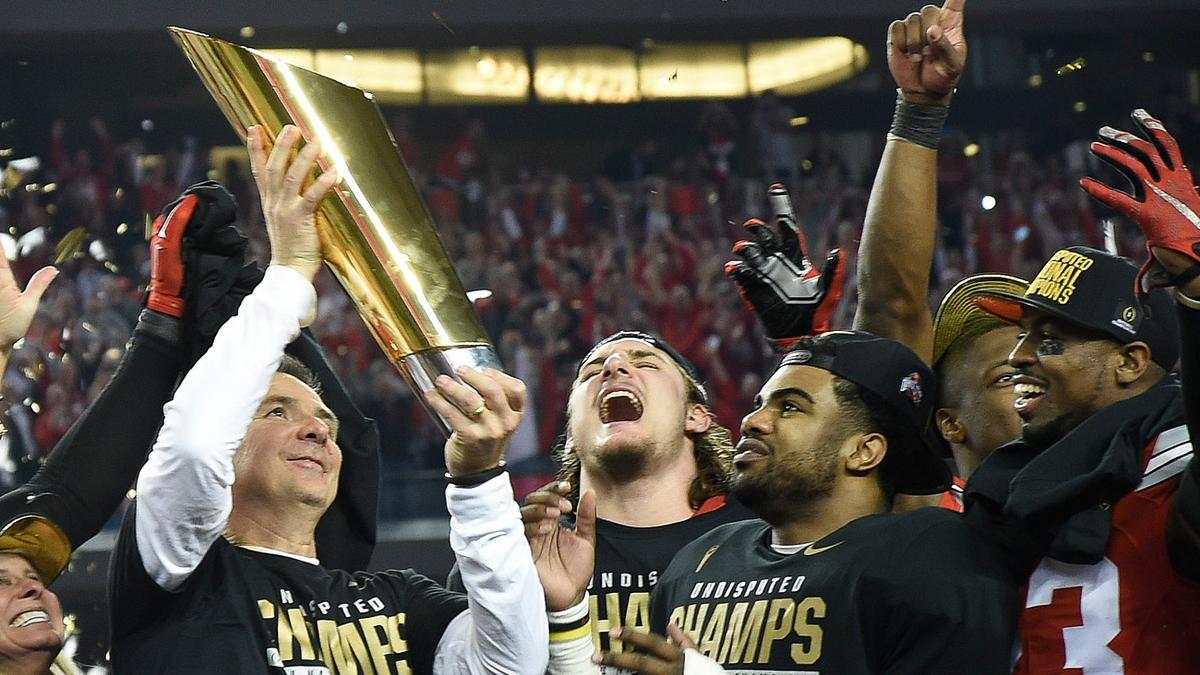 That 2006 "run" was akin to running full speed at a glass sliding door you THOUGHT was actually open.
(no comment on OSU's run that same year...sigh)
if Warinner were to move on after this upcoming season
Noooooooooooooooooooooooo
Buckeye Nation I can assure you that we will be back at the top, and furthermore we will destroy that team up north and we are going to do it in a classy way.
The man delivered. Indeed he did.
Pay it forward! That's what being a Buckeye is all about!
congrats
Pay it forward! That's what being a Buckeye is all about!
congrats