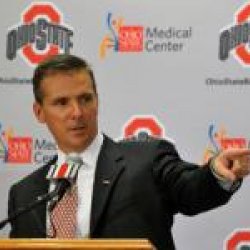 BuckToAsT
---
from Columbus, OH
Member since 30 July 2013 | Blog
Helmet Stickers: 876 | Leaderboard
Favorites
COLLEGE FOOTBALL PLAYER: James Richard Laurinaitis
COLLEGE BASKETBALL PLAYER: Aaron Craft; Mike Conley, Jr.
NFL TEAM: Cincinnati Bengals
NHL TEAM: Columbus Blue Jackets
NBA TEAM: Chicago Bulls
MLB TEAM: Cincinnati Reds
SOCCER TEAM: Columbus Crew; USMNT
Recent Activity
Laurinaitis v. Shazier.
I think those two would split a series.
My expectations are simple: make your extra points and kick it deep on kick-offs. Let's be realistic, UFM ain't kickin' no stinkin' field goals!
If UFM wants 100K+ in attendance for the Spring Game, then tOSU really needs to consider going back to its roots and bringing back the burlesque co-eds game.
I'd pay $20 for that.
If football players are "employees" because they receive "grants in aid," then I was also an employee of both my undergraduate and graduate universities. I too received "grants in aid;" I too had restrictions on what I could and could not do in order to maintain my "grants in aid;" I too had less liberties than other students; I too had to spend countless hours working towards keeping my "grants in aid."
Guess I should've unionized.
From the Treaty of Treason (currently pending before the Ohio General Assembly):
In penance for their uprising, the Board of Trustees of the University of Dayton shall offer up five males between the ages of 18-22 at a public "Reaping."
These Tributes will unite to form a "team," which shall be delivered to the custody of The Capitol (i.e, THE Ohio State University). And then transferred to a public arena known as The Value City Arena at the Jerome Schottenstein Center, where they will play one game of "basketball" versus The Capitol's squad, assembled by Thad Matta, until a lone victor remains.
Henceforth and forever more this pagent shall be known as The Hunger Games--a yearly beatdown of the Dayton Flyers that will serve to remind the people of Dayton who the people of this State root for.
I knew we wouldn't lose to Syracuse. I just knew it.
If you can't make free throws, you're going to have a bad time . . .
The Punter from Down Under getting involved in the action. Love that he has fully embraced his role as a Buckeye!
This is why I can't turn a game off. You never know what this team will do.
I felt better about myself once I threw away all the corn salsa in my Chipotle burrito bowl. I'm boycotting corn.
Watching on bt2go and listening to the Fan. It's weird. Paul Keels KNOWS the future...
Alright. All I want is a 10-game run, begining tonight. Is that too much to ask?
LETS GO BUCKS!
At least this loss was to Penn State and not one of our Rivals...
That's NOT Snoop Dogg.
That's Snoop LION!
McDonald's sponsoring the Olympics is like Marlboro sponsoring the American Lung Association.

I'm just a poor boy, I need no sympathy,

Hopefully the 2015 class bonds early enough to come up with their own nickname. It worked like a charm with the Dream14. Maybe we'll get some friendly inter-class competition happening.
Maybe we should have "co-Presidents."
Is it just me, or do all the 97.1 radio hosts sound alike? Other than Bobby or Craig, I can't tell whether I'm listening to Bishop, Rothman, Tbone, etc, I guess I recognize the Common Man's douchey voice, but other than that. I swear it's all the same guy!
Hear Urban passed on the job because he couldn't afford the big pay cut.
Also heard Clarette wasn't seriously considered because he didn't know how to tie a bow tie...
C'mon man, gather yourselves!
This Defense is RIDICULOUS!!!! Wow.
Does Thad have an endless supply of gum, or is he just always chewing on his tongue?
Announcers really talking about "man crushes" on Craft?