BuckToAsT
---
from Columbus, OH
Member since 30 July 2013 | Blog
Helmet Stickers: 1,606 | Leaderboard
Favorites
COLLEGE FOOTBALL PLAYER: James Richard Laurinaitis and Braxton Miller
COLLEGE BASKETBALL PLAYER: Aaron Craft; Mike Conley, Jr.
NFL TEAM: Cincinnati Bengals
NHL TEAM: Columbus Blue Jackets
NBA TEAM: Chicago Bulls
MLB TEAM: Cincinnati Reds
SOCCER TEAM: Columbus Crew; USMNT
Recent Activity
Best of luck #5! Get well soon.
So, we ARE wearing black unis?
I think you're thinking of the Fashion Police--not the NCAA. The former did indeed ban the crop tops in the late 90s.
When an OSU RB is asked why he does something a certain way, an ALWAYS acceptable answer is "Because that's how Eddie George used to do it."
"It feels good, but we're never satisfied," linebacker Darron Lee said. "I was talking to some guys [in the locker room]. We just beat this team pretty badly, and it almost felt like a loss. That just shows the hunger we have on the defense, and that's why we're going to continue to improve."
Pretty sure you guys will be alright against the Hoosiers.
Buy one and put it in the dryer for 2 days!
Have to like where we sit.
A month ago, I thought we had no chance to make the playoff. Now, I think we have a good chance.
Beat a top 5 MSU, a (hopefully) ranked Minnesota, and a top 15 Nebraska for the title to end the season.
have to like our chances.
1. Apple Cinnamon Cheerios
2. Golden Grahams
3. Peanut Butter Cap'n Crunch / Reese's PB Pufs
4. Oreo-Os (RIP - unless you buy online from S. Korea)
5. Oops! All Berries. Only because it turns your poo turquoise!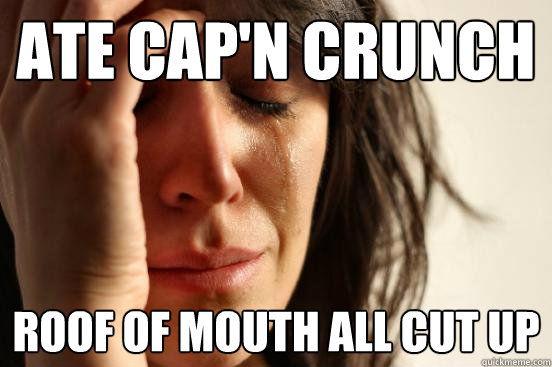 People would wonder how the Browns keep getting votes
Mediocre?
Was wondering the same. Did he even play on Saturday?
He meant to say "Dunn would have suffered an undisclosed injury or would have violated an undisclosed team rule."
Not after the 2006 Game--the deputies formed a protective triangle around the posts. Pretty sure last time it happened was before 2004.
Except Mother Earth ate part of the corvette museum:
http://www.wdrb.com/story/24702432/sinkhole-damages-six-cars-at-corvette-museum
Something, something, something.....Braxton Miller....
My aging body can no longer digest Taco Bell.
Im not kidding--I'll spare you the details.
Qdoba for the win!
I heard Urban had Taco Bell planned for a loss...