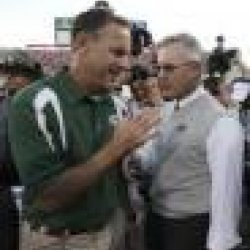 BucksfanXC
TStateUN
Member since 30 August 2010 | Blog
Helmet Stickers: 3,725 | Leaderboard
Favorites
COLLEGE FOOTBALL PLAYER: Eddie
NFL TEAM: Cowboys
NHL TEAM: Red Wings
MLB TEAM: Reds
Recent Activity
That can't be accidental. Nobody just says creep creep
I believe this was in 05-06 and MSU beat OSU in Columbus in double OT earlier in the season, so I was sure that home court would mean MSU would beat them that night, but I do think OSU won. (Checked, OSU did win)
I do remember I mumbled something about being an Opie Taylor looking Mother Fer under my breath as he walked away proud that he had just threatened and intimidated someone on the street wearing a Buckeye hat that was half his size.
I went to MSU but was always reppin' my Buckeye fandom. So the day MSU is hosting OSU in basketball, I'm walking down the street wearing an OSU hat and I run into Drew Naymick, the 6'10" red-headed center for MSU.
Me: Hey man, good luck tonight.
Drew: Thanks. (notices my hat) What's up with the hat?!
Me: Oh. I'm a Buckeye fan, but you guys are probably gonna beat 'em tonight.
Drew (towering over me and pointing down at me): As long as you know that.
All it takes is for one kid's parent to sue OSU. OSU can't let this type of behavior continue and permeate a culture or else it is negligent. Waters had to go if he couldn't step up and stop this kind of stuff from continuing.
Just waiting for "a good picture" again?

Damn, wish I still wore XXL. Got down to a Large now myself, so congrats fellow weight loser and sorry I can't help take them off your hands.
That is not Nick Saban's daughter. I don't know how that image got attached on Google searches to "Nick Saban's Daughter" but THIS is his daughter...
EDIT: Ha, we are clearly passionate about this. Beat to the punch, multiple times
Old turf certainly caused a fair share of knee injuries. New turf is supposed to be like grass, that is just more durable so it doesn't get torn up, uneven, lumpy, etc.
I just want the red in the endzone to be a more team official scarlet hue. I'll go with turf over grass because it's safer, cleaner looking on TV, easier to maintain, etc.
Wifi would be huge so I can call and text people to meet up afterwards or at halftime, Tweet/Facebook/Instagram/etc pics and comments during the games.
Better concessions, which apparently they are working on.
You getting any sleep buddy? How are the kids?
You need to sell this hard, seriously. There is a lot of fun things to do in downtown Indianapolis. Get some brochures, find some hotels and price it all out. Broad Ripple is a fun bar and restaurant filled area. They have museums, aquarium, zoo, etc. You can still make this happen buddy, I believe in you!
Nailed it. Just when I was about to say, out loud as I read, "But what happens when your Friday Fall Wedding turns into a Saturday Fall Anniversary?"
I got engaged in September, dude's tweet up above was exactly right, too late to get married this fall, too far away to get married next fall, June wedding it is.

Pro Tip: make sure you browse for flights in private browsing mode. They track your cookies and if you visit checking flight prices a bunch, the price will increase. They do this to create urgency and make you stop shopping and buy the tickets now. Seriously. Don't believe me? Try it.
Ashley's is great and they are opening a HopCat in the fall right downtown where Border's used to be. 100+ beers on tap puts any bar on good standing IMHO.
Maryland has, hands down, the best WR corp in the B1G. If they can stay healthy, it doesn't matter who is lobbing them the football, they are all burners with great hands. Several we missed out on, remember Stefon Diggs?
*Checks channel line-up* ...Shit
Let's start a charity heal those wounded by AJ spearing them at charity events. AJ's not invited.
Birm, you don't let James Franklin steal you away from us buddy.
I like how the other day Jason says, "Can't put the hats up for sale again cuz I gotta get a better picture for the website." Translation - booking a model.
I don't think ALWAYS is what I meant. I remember that 06 was 3:30 but that's an exception, not the rule kind of thing. It's has been noon every other time in my memory, which is granted, not long. But noon has been "tradition" for both the schools and the TV contract people, because of what others have said, the big games all being on that day needing to be spaced out.
It has always been noon. It will likely stay noon. I won a bet on here last year with Hodge that it would be noon. I'd make the same bet again to all comers, it will be noon this year, book it.
I live far enough way that I should be safe.
You guys will love campus in November, it's really beautiful. Very much like OSU in that it's a landgrant, huge school. Not quite as big as OSU and Lansing isn't as big as C-bus, but similar in a lot of ways. Spartan Stadium just got some "upgrades" in that it added scoreboard/jumbotron and a ribbon of LEDs around the stadium. It's very 80s industrial, no real discerning features, but the view from the upper deck out over north campus is cool. Could be chilly and the wind isn't Illinois bad, but there aren't overhangs to shield you.
I'm adding more on that I've thought about, especially hotels since the near campus ones are apparently full:
West Side hotels are all gonna be nice, newer and in very nice areas surrounded by mall/strip mall/chain restaurant type stuff. Short drive to campus down the highway or you can take surface streets and avoid traffic, but coming from the west will have a lot less traffic than coming in from the east. Cab ride back would probably be too expensive and I'm not sure cabbies would be thrilled to drive that far away from campus for one fare, but they will.
Okemos has a lot of hotels and is very close. It's like the upscale richer neighborhood that borders EL. Lots of nice restaurants and stuff around there too. If you stay in Okemos, just take surface streets to campus, don't even get back on the highway or else you'll be in stand still traffic. It will be different I'm sure with the late game start time, but still lots of people come in from SE MI and they take that Okemos exit to get to the south campus, commuter lot tailgates. You'll pass right by a liquor store on the corner of Jolly Road and Hagadorn, Big Ten Liquor.
If you stay in Okemos, try Backyard BBQ for great pita wrap sandwhichs, pulled pork, Gyros.
And I can't believe I forgot to mention Mennas! Everyone, after you are drunk, stumble to one of the Menna's locations -- one on the east side just off campus, and one in downtown EL near all the bars. It's grilled burritos, but with standard sanwhich filings instead of Mexican burritos. Soooo good drunk. It's open til like 4am, line out the door at 2:01am of all the drunks emptying from the bars and getting Menna's. Don't get in a fight in the line by screaming O-H too much cuz the Menna's Dub is worth it. I always go Cordon Bleu with Honey Mustard instead of Ranch dressing, but you can't go wrong and who cares you'll be drunk.
Few more bars worth mentioning:
Harper's Brewpub is next door to the Menna's and it has it's own brewed beer, but the food is overpriced and small portion sized and the beer isn't that great IMHO. I just avoid it, but I'll mention that. Just go on down to HopCat instead. Or around the corner to Crunchy's
Dublin Square is also a nice campus bar. Upper scale college kids, this is where the law school kids always hang out. Irish pub; food is very good, definitely try the Blue Crab and Brie Dip and get the homemade chips instead of or in addition to the bread to dip.
Peanut Barrel - great burgers, best burgers in EL. Get the Long Island Ice Tea as they are cheap and strong. Small bar so space is limited and the tiny patio is packed on a nice day.
There's a Bagger Dave's just north of campus now too, which has a good beer menu and good burgers, but it's a chain place you can get elsewhere, but still good.
Grand Traverse Pie Company if it's cold out has good warm soups and sanwhiches. Local grown stuff, good pies which they sell whole, by the slice or in little two/three person sizes.