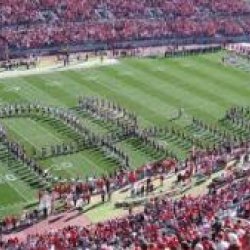 bucks_4_life
---
Member since 29 August 2013 | Blog
Helmet Stickers: 211 | Leaderboard
Favorites
SPORTS MOMENT: Going to my first OSU vs. TTUN game in 1992... The game ended in a tie but the smell of Ohio Stadium in November will stay with me for a lifetime!
NFL TEAM: Pittsburgh Steelers
NHL TEAM: Columbus Blue Jackets
MLB TEAM: Cincinnati Reds
SOCCER TEAM: Columbus Crew
Recent Activity
Let's just blame urban!
I like it!
The last 2 paragraphs gave me goose bumps! Can't wait for him to have his chance to expand the legacy of linebacker u!!
He also didn't get to compete the entire week. Had to leave for a family emergency. I don't put too much stock in those rankings. Just wait until LJS gets his hands on him!!
I don't think anyone can catch George Campbell.
More. I want more!
Everyone can hang em up, D'fresh just won the Internet today!
He must be practicing...
Anyone out there ever have smash burger? I know it's relatively new to the Columbus area but not sure how far it stretches. I personally think it's better than five guys. I recommend the avocado burger!!
Signed football from the entire 2006 ohio state team!
My top 3: C. Kirk, j. Cornell and t. Settle
Irresponsible? Really? We're talking about hockey! When the jackets are playing their best hockey they have a shut down d and an elite goalie. The kings had no business beating the teams they beat. They won because they were gritty, unselfish and great coaching. We have a lot of those same attributes. Don't tell me I'm irresponsible because I have an opinion. Use better words next time, you come off as a douche.
Anything can happen in the playoffs, its a whole new season now. What happened in the past is irrelevant. Look at the L.A Kings from a few seasons ago. Our squad reminds me a lot of them right now. Gritty, unselfish... they have the players that aren't afraid to do the dirty work that wins games. It's going to be a fun run I think!!
Does it really matter?
Really happy for Eli. He was one of my favorite players in the 2013 class. I hope he keeps it up and earns quality playing time this year.
"But luckily the season is a long way away." This line has ruined my day... I'm just gonna go back to bed.
I was going to say the same thing. I'll add one thing, just because a kid is from Ohio doesn't mean they want to play for Ohio State.
This guy has to have a speech impediment. I feel bad that he's had to live his whole life like that.
Carlos Hyde is one of my all time favorite Buckeyes!! I'm going to miss seeing him smash defenders in the mouth as he runs through them! I doubt he reads any of this stuff but if he does, my message to you El Guapo: Thank You!! Thank you for time in Scarlet and Gray!!
I used my first upvote for this!
I had a dream last night that Roby intercepted a pass and zig zagged 40 yards for a touchdown. Didn't think too much of it till I woke up and read this article.
The :49 _ark had _e ju_ping out of _y seat! Can't wait to see RDS lay so_eone out today!! Go Bucks!! O-H!!
If I didn't know any better I'd say the TPD is trying to blow this case. Even if it goes to trial, Winston's attorney is going to have a mistrial argument.