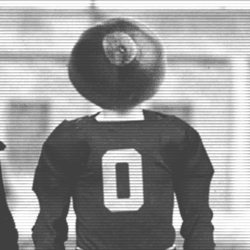 Bucks
---
Member since 02 January 2011 | Blog
Helmet Stickers: 1,008 | Leaderboard
Recent Activity
And by not many, I meant too many :)
There aren't many UM fan/alumni on this board. The ppl who are, tend to be respectful & intelligent. Appreciate your insight and decorum here, something I hope translates from this site, there.
3 years of trolling? Oh my. "I'll teach 'em. I shall devote idiotic amounts of time to new names/emails!" This is kinda hilarious (and disturbing). Look forward to your next endeavor @ the library with a new ip.
I see Coach around once a week. A few points:
1) That punchline you gave hime is rated g, compared to some of the things said to him.
2) He doesn't shy away from knowing there are a few games in the series we should have won & puts it on himself.
3) He and around 30 other former coaches have tried to get to a playoff/edit the BCS since its inception. Those guys absolutely have a hand in the final push.
4) One of the more thoughtful person(s) I have ever met.
5) I run a construction division. There are 20 year old guys who couldn't hold a candle to the level of activity this man has. He never stops.
6) He handed the Pitt job to Luke on a silver platter. The story on how Fick screwed that up is hilarious.
I actually do remember this from some of my Michigan friends when he was hired. There was absolutely nothing spectacular about his resume and there still isn't.
Awesome. This takes me back to a very lucky time in my youth. Got to be on that field for the 97 season, go to movies with the team (before carriage place became the dollar movies) & get to know these guys a little. Its unfortunate no title came out of these years. More than 15 years has passed and that team is still the most impressive specimen of talent I have ever seen.
Just talked to Coop the other day and Joe came up. Would be interested to know if he keeps in contact with Walt still.
Great read.
I've been told Tress is preparing/working on a tell all book, in regards to his time @ OSU. Wasn't described to me as flattering & hope it isn't the case.
Hope we extend that offer real soon. On a unrelated note, congrats and well ... condolences to Fickell on the news of twins incoming. Oh my.
Was hoping for another but tip of the hat to this team and the fan support. Pretty entertaining series!
Understand your reaction/viewpoint. To a certain extent, I share the same.
We diverge on role model though. These aren't 'young men' anymore. These are grown men. What and who they choose to allocate their time to, is their own business. Just my opinion & you are welcome to yours.
Don't know about the writer, but I've read your thoughts on this. You certainly have a view on the situation and a firm belief. Let me ask you though... Is there anything that will change your mind?
Stone is my staple, two hearted when out. I do enjoy ruination and working my local to keep in.
As the staff has said, the upgrade will allow them to do much more and that is a great thing. Overall, I love the new site. Being unable to force desktop view is going to be hard to get used to but I'm going to give it time and adjust.
I'm going to bribe Mr. Priestas and get yours changed.
Love the new streamline design and good to know the updates allows staff to do more. I'm hoping that I'll be able to bypass the mobile view at some point but oh well if not. I'm so used to using desktop view for every single site I use that not being able to just zoom in and out is going to have me cursing for quite some time.
Yep, found that. Thank you. Anything I'm missing to get the above format/font/insert picture bar to show on my mobile commenting?
Both to differing degrees. On landscape, I get more on the display but the buckshots/voting/forum is cut off. Can zoom in but cannot zoom out or scroll over to see. Going to try another browser to eliminate that part.
Had to send the pic to you direct, couldn't get the upload to function on here.
Loving the new site. Looks incredible on my desktop. On my G2, the display is cut in half and won't let me zoom out to display the full page. Edit: Also have no format bar to insert my screen capture. Will send it over to my desktop and add from there.
Agreed. Odd one.
Smh
Craft is lights out. Going to be a sad day when he's not on the court anymore.