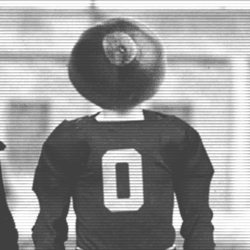 BuckNutzGasMan
---
Member since 22 November 2013 | Blog
Helmet Stickers: 64 | Leaderboard
Favorites
SPORTS MOMENT: 2012 vs Purdue
NFL TEAM: Arizona
NHL TEAM: Really?
NBA TEAM: Suns
MLB TEAM: Dbacks
Recent Activity
Wow!! Sub 4.4 for RDS?!?! Gangsta
Omar from The Wire is hands down the best character ever.
Cmon med student. Ligments all have little to no blood supply. LOL. Now get back to studying.
No surgery needed for MCL sprain. Must of had tear. He will be good to go.
Ooops. Someone above already posted. Sorry
Dogs Sic'Em. Not sure that Bears do.
I have been Tressel for halloween 9 year in a row
Now this is good. Glad to see a sense of humor.
Honestly what? Go where? Too serious. You probably hate Herby too.
So funny. I thought id throw one troll out there just to be funny and it got me a minus 21. I think my biggest up is a +8. And it was right when i reached 100 stickers. Oh well. Back to square 1.
My real thoughts are that Im just glad we are taking players that are 100% BUCKEYE.
Although I think we have a legit shot at MM now. His heart is not S&G.
This kid seems legit. Welcome to the fold young man.
We don't need 3 stars. He Will never play with Smith and Bell in his spot for the next 3 years...
I met charity hope and faith at the strip joint last weekend.
I think i got 2823984 downvotes for saying the same thing 2 days ago.
i missed Noah Brown and Holmes
thanks man. just found your site a few months ago. AWESOME!!! this is my first year of recruiting. didnt realize it was so stressful.
is it strange no rbs in this class?
uhmmm... i feel bad slade is not in picture
So I woke up this AM at 4 (PHX AZ)(baby actually woke me up). Turned on the signing day preview... The first graphic that ESPN puts up is how all 14 SEC schools recruiting classes are in the top 40. Buckeyes #6. I guess I dont really have a point besides the fact that ESPN sucks.
I think it would be crushing not to get Jones. MM on the other hand doesn't seem to have the attitude to succeed at this level. I wish then both the best.
Panache?? LOL. One millions upvotes.
Can Njoku be the NJoker if we get him? The Chef and the Njoker? That would be sick.
Braxton should also steal Swaggy P from Nick Young.
I wish the best to all these guys in their careers no matter where they go. Not that they care but ill only cheer for them if they are in the scarlet and grey (or playing against the sec).
I wish he would talk to Jamarco Jones