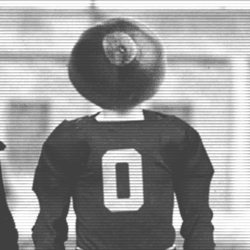 bucknutz18
---
Member since 07 March 2012 | Blog
Helmet Stickers: 250 | Leaderboard
Favorites
SPORTS MOMENT: 2002
COLLEGE FOOTBALL PLAYER: TPeezy
COLLEGE BASKETBALL PLAYER: WB44
NFL TEAM: Clowns
NHL TEAM: Crosby and Geno
NBA TEAM: Kyrie Irving
MLB TEAM: Wahoos
SOCCER TEAM: LOLZ
Recent Activity
LB situation is begininng to make me a bit uneasy...
Johnson was easy to spot. Did most 1-1s on the far side of the field. Wore longer blue sleaves under his top. really wish i had a roster and number guide to look at while watching
25-1 excluding the loss to PSU in 2011 which was vacated ;)
Why did it look like it was snowing hahah. Dude has shown zero love to OSU in interviews. Seems like he hasn't really been active in the process so far. I also found it funny he couldnt remember what All-Star game he was invited to haha
Toledo is probably the only school to come close to UC...if they can keep up their success.. I would like to see their attendance numbers 6-8 years ago...Almost always a sell out with Gradkowski there.
its a road game so the night time atmosphere is a moot point. The best thing is that eastern time zone recruits will be able to watch this game in prime time.
We might see one possibly two more sneak in depending on their season (Booker is one to look out for) but this is undoubtedly a down year in Ohio for top tier talent.
Are UMass and UNLV that bad? Yikes
This is the year to unseat the Trojans.
Defnitely a potential kid. Big solid frame with potential to get bigger. Adequate speed for an outside possesion receiver. Almost guranteed to redshirt his first year. This might say more about our chances with Kief and the other x/y receivers than anything else. Solid pickup for sure tho.
yup beat me to it. Granted we have heard that dozens of times.
Jalin did not play. Often times several of the top players in Ohio don't play in this game for a variety of reasons.
No shocker seein Stoney at the bars. Just shocked I didnt run across the rest of the Brew Crew....(Adams and Shugarts)
Agreed. Plus by conference play I am willing to predict our front 7 is equal to, if not better than what we put out on the field last year.
Last years class makes up for any big time misses we may experience this year. I think when Raekwon finally pulls the trigger, several dominoes will fall into place those final two months like they aways do
09 Knight here. This kid is a prime example of why Knight athletics are in complete shambles. Can not keep top talent even when they start off at SFS.
multi-colored facemasks====laaaaame
unfortunately it will most likely be just one year...
great acceleration for a big boy
Here's a quick one.
http://msn.foxsports.com/video?vid=a508fc6b-9453-e181-9af3-7404f230a505
Call me crazy but if I was a contender I wouldn't be opposed to drafting Thomas because you know what your going to get. Fact is the vast majority of picks 20+ end up in the d-league or leaving to play outside the US. Thomas can play a role on an NBA team.
DB, at least one OL, and possibly a rb/te will transfer out. I could see us lose 4 guys easily before the end of fall camp...
Nationally Mike is prolly the best since he is literally paid on a full tim basis for his services. When it comes to Buckeye recruiting, I would take Alex in a heartbeat. Definitely is closer to the situation when it comes to Buckeye recrutiing.