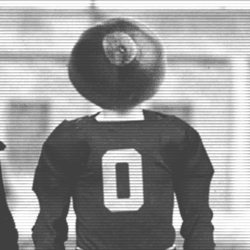 bucknutfern4
---
Member since 04 January 2014 | Blog
Helmet Stickers: -51 | Leaderboard
Recent Activity
Ugly little episode hopefully put behind us all thanks guys and you hovenaut
OH!
Bro you dont even have to worry about being to big or too slow to not have excelled at futbol at a young age. I was never in any sort of physical condition to play it either but I grew up watching soccer and I saw why it is the most popular sport in the world. And it wasnt much your lack of a fanhood it was more the backlash I got for stating my love for my heritage and my second home. Getting downvoted for loving my country I was dissappointed that even something like that would get a negative reception. That irked me and it got under my skin. I Love my bucks every day of the year and i know you all feel the same way so i thought if a fellow buckeye would show his love for his team maybe you guys would undestand it. Plus it wasnt like I was bashing anyone in my original post. I realize i was out of hand in my response to your post(sorry) but seeing how others responded to my first post was a bit to much for me and i might have taken it out on you.
Damn I just saw the highlight of his one handed catch the other day. Sad news way to young.
Lets see Olympic gold medal youth WC's championships...... Yea those countries do. they know that once Mexico gets into a WC they are not a team taken lightly.
if you feel like th US is better than Mexico at "soccer" than damnn you are sad and obviously should stick to your domestic sporting events.
Wow round of applause for the guy who turned a "soccer" convo to something completely different. hahahaha and the sad thing is you probably feel great about that comment.
Nice to see US make it this far again and two WC's in a row, wow the WORLD is shocked. Atleast other countries recognize Mexico as a football Power.
That's all you people ever talk about and can talk about and it's funny to all Of us because we are aware that you all know that once Mexico got in they were gonna perform well AS USUAL. Be more respected at a global level AS USUAL.
Who said I was denying it??? You need to read it over again.
Completely right you might be in that 10% but you know it's true. But that's because I the plethora of sports that are offered here.
Mexico fan rude????? Yes of course some fans are rude it's futbol dude get real. Don Act like the US fans are a class act bro thry are just as bad.
Yet when we got here we clearly outplayed the team that gave us entrance into the tourney. Get real doesn't matter how you get here as long as you produce and guess what 6 final 16s in a row. All the hate is hilarious clearly inferiority complex is at play
I'm not lying 90 % of all people here will stop watching this sport after July.
Can't wait till the US get bucked out of this tourney I cant wait for Belgium to smash em. So that you can go back to being completely unaware of this sport and wait til 2018 to think you're a "FAN" of futbol. THIS COMMENT IS SOLELY FOR 703 not to offend everyone.
Shout out to my 2nd homeland Mexico for showing the world that they are still deserve the respect at a global level. They deserved much more to be honest but this is futbol and this is just how things go. Not many teams can battle like this team can. This team played like a top8 team for 3 games and 88 minutes of the fourth. 6 final 16 in a row only Germany and Brazil can say the same. Love my land love my people and the joy this team brought this country is incredible. Till 2018 my friends we will surely be ready to cheer you on once more.
Cantalo curleros!!!!!!!'
goooooooooooooooooool hijos de su puta madre!!!!!!!!!!!!
This is how you dominate the first 45 minutes. Take notes everyone and all this hate for Mexico I like it I mean look at them playing like a bunch of studs out there. This team is playing like a top 8 team in the world.
That logic does not apply to this sport. If it did then it could look like this.
Germany>>Portugal
USA=Portugal
Germany>>USA
Probably not. Germany thrives in this tournament! The US best chance is for Ghana-Portugal to tie. If Ghana wins it wont just be by one goal it will be by multiple goals. And Germany will look to completely demoralize this team, especially with Joachim Low being Jurgen's right and man in 2006. Where many people said the only reason Germany made it that far was because of Jogi and not Klinsmann. He will have his team ready to show that he is in fact better than his predecessor.
What's the music playlist gonna look like to get things started!?
6 round of 16 in a row!!!
But Matta is closer to being a top ten coach than Miller.
Wish we could add Tavarus McFadden and roundtree
JAMESSSSS!!!! Been saying since his days in Banfield James Rodriguez is the truthhhhhhh. And JuanFer is going to be worth a lot of dough in the near future. The last two U20 WC captains for Colombia scored and showed their class
Mexico needs to thank the US and zusi forever and ever. The US definitely gave them the opportunity to show that with a proper coach and proper goalie this team is very underrated