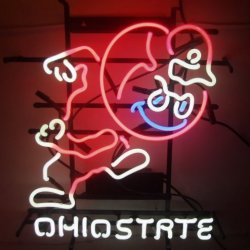 bucknut94
---
from Findlay, OH
Member since 04 January 2014 | Blog
Helmet Stickers: 251 | Leaderboard
1994 Graduate of OSU, Master of Social Work. Buckeye fan forever.
Favorites
SPORTS MOMENT: 2002 Ohio State Buckeyes National Championship
COLLEGE FOOTBALL PLAYER: Ohio State Buckeyes
Recent Activity
I have a feeling we have nothing to fear with the tOSU 2015 class.
1.Family: They are the only folks I can trust to put up with me :-)
2. Working out and eating healthy: I can forget other passions if I don't workout and I don't eat right.
3. Buckeye Football: My favorite addiction
Earl Bruce didn't get much better treatment than Cooper. Bruce was called 9 and 3 Bruce during his tenure as coach. I don't believe he should have been fired.
Ash is confident the Secondary will be great this year. I'm excited to see it happen.
You become who you hang out with.
The bad news is we lost a defensive lineman, the good news is it gives Urban room for another recruit. This is sometimes what is needed for a teen to turn his life around and head In the right direction.
Sprinkle may use the old "I was keeping the cocaine for someone else" trick.
I need to rephrase my comment. The large majority of Buckeye football players do not get in trouble. Those few who get into trouble is from going to bars.
Bars and tOSU football players don't mix. Most Buckeye Football players have gotten in trouble while in bars.
If the girlfriend isn't happy, nobody's happy. :-)
Great job Braxton, I wish you the best of success. Practice, perseverance, and patience.
His shoulder must be healing. That is good news.
Best wishes in your personal and professional endeavors Aaron. Go Bucks!!!
I would like to see it in action.
Good for him and wish him the best of success.
If they offer me, I'll commit on the spot. The only problem is they time me in the 40 with the calendar instead of a stopwatch.
Aren't cut blocks illegal?
Who was it that said "Nothing good happens after 10 o'clock at night?
Go Bucks!! great get. It is looking better all the time. I hope he gets a waiver. That would be sweet.
I thought the Bucks looked good for a sprig scrimmage. I've seen worse. They should be good to go by the Navy game.
I don't need an alcoholic beverage to have fun watching the Buckeyes play football. What fun is it getting drunk, blacking out or passing out and missing the game? I've seen drunks in C deck carried out on stretchers from passing out or getting sick.
For me it is a wait and see. I am a social scientist so I need to see measureable evidence of improvement. Looking at the new assistants gives me some renewed confidence the defense especially defensive backs will get better.
Are the banners on the Eleven Warriors website advertising Excedrin and Catheters trying to tell me something? I know watching the Buckeyes can causes me some stress but not that serious.
I'm all for it. Whatever works. From what I've read, Darron would be a great fit defensively as a linebacker or defensive back.