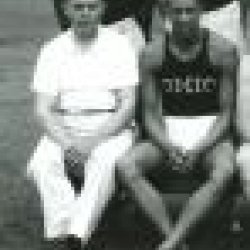 Bucknut-in-the-South
---
Sylva, NC
Member since 30 August 2010 | Blog
Helmet Stickers: 243 | Leaderboard
Favorites
SPORTS MOMENT: Pitching a one-hit game, still losing 4-2.
COLLEGE FOOTBALL PLAYER: Owens, Hondo, Spielman, Tatum, Cleamons, Snouffer (my cousin-basketball)
NFL TEAM: Browns
NHL TEAM: national hormone league?
NBA TEAM: does cleveland still have a team?
MLB TEAM: Yankees
Recent Activity
If you leave Screamin' Jay Hawkins off your list, he'll put a spell on you...
The whole football-as-an-analogue-to-the-military-thing has been around for a while, promulgated by a generation of coaches (Woody, Bo, etc.) who actually served as soldiers in WWII. As a veteran and a former football player, I see the similarities, but I also understand that having Navy Seals at your camp in the leafy Wisconsin countryside in no way equates to the live-bullet, sand-in-every-crevice-of-your-body, preparing-not-to-get-your-ass-shot-off training which the military provides. Kain Colter has no clue what military training is like, nor do the vast majority of his generation of athletes. Perhaps Mr. Colter was employing the time-honored rhetorical device, hyperbole, to drive home a point. I see no problem with that.
I am in complete agreement with you, Nick, though I do understand Nutinpa's angst as well. I am old enough to have been present in the seventies, post-Hornyak, Witte, and Cleamons, when OSU basketball was synonymous with Nickleback, and the great hope for the program was Eldon "Smiling is for Losers" Miller. This year, both Kentucky and North Carolina, who have McDonalds All Americans sweeping up discarded Four Loko cans in the locker room, are bad. Just as bad as our brave boys in scarlet and gray. As head-scratching as this recent tailspin might be, it is clear to any objective observer that Thad Matta is the best thing to happen to OSU basketball since Fred Taylor rode off into the sunset. Though it is painful to watch this team right now, it is still my team, and, for good or for ill, I still believe better days are ahead.
Any Skull Session which includes a reference to Donnie Baseball is a great Skull Session.
Here I go again, playing the old-guy card. I matriculated at the greatest university in the universe in 1971. That was the year that Woody tore up his first yard marker and Fred Taylor placed an ad in the Lantern imploring anyone who could dribble a basketball and walk at the same time to try out for the team. Gone were the days of Lucas, Bradds, Hoskett, Hornyak, and Cleamons. The star of the team was Wardell Jackson, a decent player and better person who, in the current era, would have been Mark Titus's partner in hilarity. In less than two years, Taylor would be gone, replaced by the dour Eldon Miller, who, in spite of his sour pickle of a face, did elevate the level of player, though not necessarily the success of the team. I was spoiled by the great teams of the sixties, laughed and cried at the ineptitude of the seventies, slept through the early eighties, rejoiced when Gary Williams kicked the program into gear again, and blah blah blah... I love Thad Matta and his teams. He is a great coach who does things the right way, overcoming debilitating physical pain to do so. Do I get frustrated when Z jacks a 35-footer with 24 seconds left on the shot clock? or when Amir fumbles his tenth pass in the paint? or when Q tries to dribble through 12 guys and throws up a prayer? Yes, by God, I do. But I am seasoned enough to know, after raising two amazing and frustrating kids of my own, that these are good young men who are working their asses off, both on and off the court, led by a once-in-a-generation coach. Personally, I am thanking God every day for the excellence we see on the court 90% of the time. I look forward to great things in the future, and I am well-satisfied that we have the two best major-sport coaches in the country. Thanks, Johnny, for a funny and well-aimed article.
I had tickets to this year's ETB, but a family emergency prevented me from attending, much to my chagrin. Trust me when I say that I will try again. The cause you espouse is very dear to my heart, having known two families intimately who deal with Down Syndrome children, both of whom are loving, funny, and, thank God, productive human beings. But the path has not been easy. Great writing, funny gifs, interesting posters, and much lamented cute-girl writers aside, the thing that keeps me coming back to 11W every day is the quality of you folks who work so hard to make this the best college sports site in the galaxy. Thanks for all you do every day, and for your manifest compassion and humor. It is a distinct pleasure to be a member of such a great site.
And, hey, maybe next year I will have the chance to meet Ramzy, the living legend!
Let's not be too hard on Flipper, DJ. If you had spent an entire television season listening to Andy Devine, you'd be confused, too.
If you will allow me, I would like to compare Mr. Craft to another great in the annals of Ohio State basketball, one who is, in my view, the only player to compare favorably to the Ninja Heartbreaker. I was seven years old the first time I heard Jimmy Crum yell the word "Hondo," and I had no clue what he was talking about. I soon came to understand that he was re-naming a skinny young kid from Martin's Ferry, Ohio, to wit: one John Havlicek. Like the Crafty One, Hondo was all-out, all the time. No plays off, no loafing up and down the court. He was taller, so he not only harassed guards to the point of turning in their high-top chucks, but also forwards and occasionally a center or two. He, too, was a great football player, like Aaron, and could have played in the NFL had he chosen to. He was, like 95% of Fred Taylor's players, an excellent student, a great teammate, and a model of decorum off the court. Players like him, and like #Swoon only come along once in a generation. It is a privilege for me to have seen two such players in my lifetime. One day, when all of you youngsters are grey and creaky in the joints as I am now, you will look back fondly on the days when Aaron Craft stole the hearts of his enemies and his admirers alike. Savor every moment of the remarkable career of this outstanding young man. I know I am.
I knew Fred Taylor during and after his heyday and thought he was a remarkable coach and a better person. Thad Matta deserves the same kind of credit in an era when consistent excellence is much more difficult to achieve.
I get what you are saying, Oyster, but, if I'm Braxton, I'm thinking that getting two million bucks or so to take a pounding is preferable to twenty grand and a bowl of ramen noodles. Cautionary tales, like that of the noticeably beat up RGIII, are largely wasted on the young, especially when there is a family element in play.
Lived in Franklin for 18 years and still own a home there. I now live on the banks of the beautiful Tuckaseegee River in Cullowhee.
I work at Western Carolina, and this year the Catamounts (who would give FAMU a run for being the worst FCS team in the land) are playing two BCS teams. They already got their obligatory whipping from Va Tech and will travel to the Plains to take on the War Eagles/Tigers/Fighting Rednecks of Auburn shortly. Filling the coffers and embarrassing student athletes is a way of life in the FCS.
Not to put too fine a point on it, Route4, but, last time I checked, NC State is still an FBS team. Not that defending Clemson is anything I am in the habit of doing. They looked more like the usual Clemson in beating the Wolfpack, and had a couple of very friendly calls along the way.
I am ambivalent about Manziel. On the one hand, when I was JM's age, I was one of the two "Richwood Rebels" along with my best friend CVT in the late sixties-early seventies. We were suspected of everything from selling heroin to being *gasp* socialists, and derived great pleasure from our bad-boy-hippie status. So, there's that. As a geezer now myself, I am more inclined to fall on the propriety is good side of the debate, though I do like it when someone, as the great Tom Wolfe put it, excels at "mau-mauing the flak-catchers."
I don't know Maurice Clarett, but what I know about him makes me proud. He has taken a throw-away life, turned it into a cautionary tale, and used that tale to help others. Well done, young man.
In other news, I am with Poison Nuts on the Arizona face mask thing. A bit much for a geezer like me to take. In fact I would prefer to do away with face masks entirely. A Play-Doh nose is much cooler than a plastic A any day. #notforsissies
A gem of an article, Ramzy, about a gem of a man. It is a very sad day for the Ohio State Community; losing a man of Gee's stature and abilities will doubtless hurt the university in numerous ways, many of them undetectable to the hyper-sensitive among us who believe that a few unguarded, ill-chosen remarks among "friends" and peers will make the universe implode. He will be missed in so many ways, not least of which are his unbridled enthusiasm for all things Ohio State and his goofy, bow-tied grin. May God give you a peaceful and interesting retirement, President Gee. You are that beast which society cannot tolerate - a true individual.
Mr. Powell,
In my 50 years plus of following Buckeye athletics, I have been exposed to a large number of very impressive people, both on and off the field. I knew Fred Taylor, met John Havlicek, taped Archie Griffin's ankles, had class with Randy Gradishar, and was regularly punked on the basketball court by Corny Greene, Bubba France, and Doug Plank. All of them, off the field or the court, were thoughtful, intelligent gentlemen. As of this writing, I am adding your name to the list of scholar-athletes who fully understand the gift they have been given and the responsibility that entails. If you never start a game in your career, you have already contributed much to the Buckeye family through your attitude, your dedication, and your humility. As of this moment, you are officially my current favorite Buckeye footballer. I am ordering a jersey with your number on it, which I will wear proudly in the Shoe on September 28th, the night when you and your teammates show the Badgers what football is all about. Stay grounded, young man, and remember that there is one old man in the mountains of North Carolina who will always have your back.
GO BUCKS!!!
Buffet had some good songs early on, then became a caricature of himself, complete with grody flip-flops, bad margaritas, and an zinc-oxided nose. However, that caricature is now enjoying unlimited cheeseburgers in paradise.
Thank you Sarah for two years of smart (and smart-ass) commentary, slightly obscure but dead-on cultural references, incisive editing and much-needed-female-sensibility. This guy is grateful. Good luck, God-speed, and Go Bucks!
Correction accepted. Wardell Jackson wan't bad, but you are largely correct. Fred never did feel at home working with me and the rest of the ragtag intramural student entourage, but he made the best of a difficult situation. Minnesota fans have always had to be content with the equivalent of Eldon Miller, at least as it pertains to results. Kelvin Ransey was a badass with a 'fro for the ages.
Amen, sir. Hopefully, Henderson will disappear into the mists and mosses of Mississippi. Permanently.
He did in fact despise that incident and engaged in frequent excoriation of Bill Musselman, the Minnesota coach at the time. What really induced him to go quietly into that good night, though, was his perception that basketball had become a sport with no connection to academics. He refused to recruit a player who was not serious about school, and lost several high profile recruits as a result (Eddie Ratleff and Dwight Lamar of Columbus East being two of the most prominent examples). He was used to star players who also starred in the classroom, and believed that the two were inseparable.
Much as I admire your posts andyvance, I feel compelled to correct one item in this one. Though Fred Taylor did resign, he was forced to by Earl Weaver, the athletic director. He was also asked to work out his contract in the intramural sports department, which he did, and which is where I met and grew to admire him as a man as much as I had as a basketball coach. He was funny, cynical, and could not wait until his contract ended and he could begin his job at the then brand new Columbus Country Club. During his stint in the intramural department, he had some interesting visitors, most notably Bobby Knight, John Havlicek, and Jerry Lucas, all of whom were fodder for a wide-eyed 21-year-old's name dropping.
Even knowing that a 2-seed is a sure thing, win or lose today, I would like nothing better than making Bo Ryan and his "plucky band of overachievers" (excuse me while I barf) cry into their towels today.
Well said, Mr. Ginter! I have been a loooooong suffering fan of OSU basketball since, as a mere sprout of 7 years old, I watched Big Luke, Hondo, Nowell, Siegfried, and Roberts dismantle Cal for the Buckeyes' first, last, and only hoops championship. I have been dreaming of the day when that particular moment in history repeats itself, and, pie-eyed optimist that I am, I don't think I'll have to wait much longer. I sure as hell hope I don't, or I'll be watching it on CosmosVision with Fred and Woody, listening to them argue about whether basketball is really a sport or not.