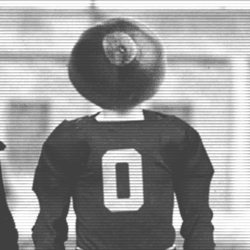 BuckNKY
---
Florence, KY (via Cincinnati, OH)
Member since 15 December 2011 | Blog
Helmet Stickers: 174 | Leaderboard
Born and raised in Cincinnati. OSU Class of '98 Electrical and Computing Engineering. After graduation moved back to Cincinnati and have been an IT professional and consultant since. Married, three kids all learning the importance of the Buckeyes in this world.
Favorites
SPORTS MOMENT: Ohio State - Michigan 2002. Seats in the open end of the bleachers. Won the (right to purchase the) tickets in the Alumni Association lottery that year.
COLLEGE FOOTBALL PLAYER: Orlando Pace
COLLEGE BASKETBALL PLAYER: Michael Redd
NFL TEAM: Cincinnati Bengals
NHL TEAM: What's an NHL?
NBA TEAM: Meh
MLB TEAM: Cincinnati Reds
Recent Activity
Who-hoo! Successful embed!!!
Dave Grohl is one talented dude. Nirvana and Foo Fighters - an incredible bad ass.
On a side note, Dave and Tyler's induction speech for Rush into the Rock n Roll Hall of Fame is incredible!!! Rush + Foo Fighters - two of my all time favorite bands.
Can't go wrong with Def Leppard. Hysteria is a bad ass album!
Awwww dammit. Feeble attempt at sarcastic font is feeble.
The fact that there is only one SEC team on that list (twice) proves how loaded the SEC is from Top to Bottom.
Crack open your favorite brew.
Place cast iron pan on the grill to get rippin' hot (technical term). Sear steaks 2 min per side in the pan. Remove steaks from the pan and place on the grill to finish according to your preferred doneness.
Don't drain the pan. Add diced shallots and garlic for 30 seconds. Then add 8 oz chopped shitake and 8 oz baby portobello mushrooms. Saute. At very end, add dry red wine and allow to reduce.
Let steaks rest for 5-10 mins. Crack open more favorite brews. Enjoy.
G@dd@mn it. Can't not hit play on this one, no matter how often it get's embedded.
Holy camel toe Batman!
Some (including me) have wondered in recent years whether Ohio State fans would rather beat Michigan ten years in a row or the SEC ten years in a row.
And I say, why set the bar low. I want both!
Checking calendar now. Hmmm. Looks like I am free!
Both points above are valid arguments for their respective side. The problem I have is Shangheyed's points are well documented throughout sports and general media, while the other points are not (that I know of). Athletes get tremendous opportunity and benefits above and beyond the general student population, even those with academic full ride scholarships. And with the cost of higher education skyrocketing, the value of those benefits rise as well. Again, a point that I feel is lost in the argument.
Now - I do like what the B1G had to say - guaranteed four year scholarships covering the full cost of that education, plus the health insurance would be a great improvement. I am just afraid that it is too late for this, especially given the latest media deals to come out of 'Bama and UK.
I am curious - a part of the APR is retention. What effect does the one-and-done in basketball have on APR? Where did Kentucky hoops place in the SEC?
Not a knock on KY or the one-and-done recruiting strategy - can save that for a different forum. Just wondering if there is extra APR pressure on those teams than the ones that consistently get two, three or four year players.
Upvote just because you seem to be speaking from experience. And if not - count yourself lucky!!!
Good post. And thank you for linking to Spencer's write-up of OSU-UM. One of my favorite of his, and not just because OSU.
Is it just me, or does anyone else hear Eddie Murphy's laugh when you see this gif?
Various legislators doing O-H-I-O in the background. Love it.
or a bathroom visit that lasted more than 45 seconds
I have experienced this, not at all pleasant until the first post narcotic bathroom trip. Ahhhh. Also - potty humor never fails!
The surgeon had recauterized my leaky left tonsil pillar and for good measure decided to cauterize just about everything else while he was in there, like a drunk Ghostbuster wildly zapping everything that looked suspect.
Automatic upvote for Ghostbuster reference. Even if I can't upvote Ramzy.
Another one out of the park - great read. Get well soon!
The KG shot stuck out to me as well. Gotta be the most popular backup quarterback at OSU ever. Godspeed and good luck to Kenny. We will miss you although we will always have your BBBBBBBBB gif.
Congrats Chime! Welcome to the next class of tOSU graduates, and the real world!
Today was my third CBJ (and NHL) in-person experience. What an amazing game. First 10 mins and thought the Blue Jackets were done. Very sloppy. Then they sucked it up and played a complete game the rest of the way. AMAZING!!
Playoff hockey is incredible...
Interesting. I just went there, and there is a footer that says "powered by ESPN"!
Honestly - not making that up. F5'd just to make sure it wasn't an add.
I recall a GameDay visit to Columbus a while back where Nick Lachay and Desmond stood on in the top row of Ohio Stadium and sang the Michigan fight song. I was pretty pissed that they did this. I think even Herbie walked off set prior to the disgrace - probably to keep from getting jumped by the fan base after the show.
Had this on my 11w home page as well. It's a travesty I tell ya.
<F5>
Whew, it's gone. Don't ever do that to me again, internets.
Very accurate. Born and raised west side. Graduated HS in a class of 612 in 1993 (for the other west-siders, Oak Hills High School), of which I was one of about 5 to go on to OSU. Very Notre Dame, very UC over there.
BT - which bar? Florence resident here...
IT'S BEAUTIFULLLLL!!! Seriously, one of my all time favorite photos.