bucknasty13
---
Member since 02 April 2012 | Blog
Recent Activity
I'm a bit surprised Noah Brown is not on the list.
Touche'. About as often as Ohio has tornados.
As someone who lives in Florida, I would like to hear more about the assorted problems. We do have more insects. Poisonous snakes aren't really a problem, I've killed 3 or 4 snakes (all black racers) in my 8 years here and I do kill them when I see them. I also lived in Ohio most of my life and I know that winter is about 5 months of overcast dreariness... And there snow. I'll gladly take my extra bugs and hot humid days over Ohio winters.
What is your reasoning for msu winning instead of Iowa. If we are 4,5,6, in my mind, we move up after the game.
I think that Stanford will be ahead of us when it is all over. They are likely to be #7 after this week, if we are 6. Since we are idle and Stanford is playing in a championship game, I think we get jumped. I have very little doubt about this.
You may be right... It was during the spring and they did lose their scholarships. I thought there was a suspension, but it looks line I may be wrong.
It has to be more than one game suspension. I think Stoneburner and Mewhort got a couple for peeing on the side of a building.
It was the university of Minnesotas fault clearly... Think about it... What do you think of on Halloween? Pumpkins! Pumpkins grow on farms, there are quite a few farms in where else... Minnesota. Who teaches the farmers to grow crops... The university of Minnesota! I rest my case.
That's crazy talk, Bledsoe is wayyyy too old to play quarterback now
377
The silver bullets will have the last word tonight... Fixed that for ya.
81 because every plausible number is taken
81 because every plausible number is taken
I was just looking at our future schedule in 2023. We have home games with Boston College and Texas, and we go to Notre Dame. That's going to be a fun year.
I don't think there is any question that I log in the most...Sorry for the delay in responding though, I wasn't logged in.
Now if we just talk Cardale into playing fullback we can have all 3 on the field at the same time.
This pic freaked me out a bit. When I look at homer it's like I see a camera slowly zooming in on him or the cell bars are moving back. My eyes are playing tricks on me.
I'm just going to tweet Joey bosa about Nick until he commits
You misspelled Terrell in the title, kind of funny since you said it seemed like it was a typo correctly spelled.
I love this...
You in here 'cuz of 50 Helmet Stickers? Man, this is some bullshit! Boo this man!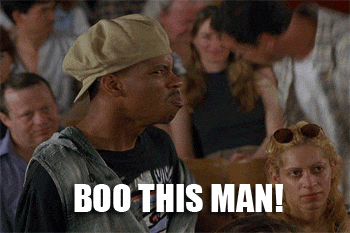 Michigan stayed off this list by giving 2 tickets away for buying 2 cokes.