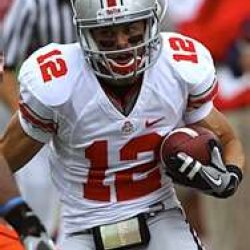 BuckInNashville
---
Member since 15 March 2014 | Blog
Helmet Stickers: 118 | Leaderboard
Born and raised in the Hall of Fame City, and now living in Nashville where it's all Alabama all the time. Played WR at D3 Ohio Wesleyan where we used to practice in the shoe to prepare for artificial surface games back in the 80's. My QB was Jeff Long, AD at Arkansas, and head of the NCAA playoff selection committee. So I've got that going for me, which is nice.
Favorites
SPORTS MOMENT: 2002 National Championship : First OT Miami 24 OSU 17. 4th and 14 from the Miami 29, and Krenzel completes a 17 yarder to Michael Jenkins on the right side.
COLLEGE FOOTBALL PLAYER: Dane Sanzenbacher
NFL TEAM: Whoever I draft on my fantasy team
Recent Activity
Comcast Xfinity is carrying the game in Nashville. Channel 1271 in HD
My son broke his tibia his jr season and had 6 screws and a plate implanted. It looks like a carpenter's workbench on an X-ray - no kidding !
Btw, speaking of arm strength, no one would have accused Kenny G of having a strong arm, but he was perfect for this offense. Don't worry about it, this offense is designed for misdirection and quick release anyway.
For two years Miller and Hyde enabled an offense to score 35 pts a game with their legs and covered a horrible defensive scheme. Now the defense has a real coordinator (see Wisconsin defenses) , and I hear they even meet in the same room. Now Tom Herman will have to use his play book and execute a gameplan with it, the way we expected two years ago. So here we go gentlemen, coach 'em up and build the swagger back up.
Does Brazton look right to you ?
Hey Mike, there seem to be a lot of readers that know way more about these recruits than me. One thing that I always find myself asking, but that is not consistently mentioned, is where these guys are from. You mentioned SEC country - where about , and from what high school ?
I'm glad you wrote this Patrick. Because when a 3* commits, I usually feel - "meh". And when a 5* goes north, I'm wondering why we didn't get him. The numbers of 5*s that don't make it, and 3*s that do ,are evidence that I should just have faith in UFM and staff. Thanks
There's no doubt that the play calling focused on the tight zone read with Braxton or Carlos toting the ball. Heuerman could have seen 10 touches a game like Jimmy Graham. If all the preseason talk is for real, Braxton will benefit from a diversified offense featuring about 5 guys who can run 4.3
OSU is a great academic institution. But to say that " OSU is a better school than Akron" across the board ? Not so fast, as Lee Corso would say. As a leader at a top tire company, I can tell you that Akron's school of Polymer Science is tops, and we have a pipeline of chemists and engineers from there. Fantastic program. Plus, who knows how home plays into the picture? See Mike Mitchell at Texas A&M
Gentlemen - speaking as a man living in SEC country, the fat Brady jokes sound eerily similar to Alabama fans. The only difference is that you're not ending your sentences with "roll tide". How about criticizing his recruiting, his coaching hires, and his game plans? We already get the point about his weight.
Angry, you are absolutely right. How much rocket science did it take to figure out that they might benefit from meeting in the same room? That's asinine.
5 years ago we had a mediocre line. T Pryor overshadowed the gaps left by a slower, less conditioned group in anunimaginative offensive gameplan. Now we have three advantages over that period. 1. Warriner has proven that he can quickly form an inexperienced group. 2. The offensive scheme takes advantages of numerical mismatches. And 3. The overall team speed enables success plays with Olinemen having to hold blocks for a shorter time. We're goid
Larry Johnson's hockey rotation mentality will keep fast and energized DE's in the game on a hot humid August afternoon in Baltimore. They may be scored on early , but that size and speed will contain the triple option in the second half.
Ytownbuck. You really don't understand why Michigan should be good ? Let me ask you this, why do you think that Ford , GM and Chrysler quality has improved so dramatically over the past 30 years ? I'll answer for ya, Toyota kicked their ass within one inch of extinction and they will never go back to their cheap ways of the 70's. if OSU plays a top 20 MSU and Penn State , then tops it off with a win over a top 10 M, we are not only in the play off, but actually ready for it. Clemson may not have been better than OSU , but they knew how to finish a tight game against tougb competition. We clearly did not.
Tressesvest I think Chad Lindsay is the center who came from Alabama. It's one of those situations where a guy graduates with eligibility, like Russell Wilson.
Amazing that he had such a work ethic and academic dedication coming from a home he constantly escaped from - a tribute to his mom and coaches it sounds like.
I wonder if his TV contract enables him to be a mentor to kids at his alma mater. Guys with a similar background could see how he beat the odds.
Guys, go back and read the first line of the article. It says Lorain police told 11W that heroin was NOT one of the charges.
Guys, my family was away so I watched the UM , Wisconsin and MSU games on BTW last month. Our D wasn't bad - it was non-existent. There were two first rounders and one of the best collections of OSU D line talent I can remember. It wasn't the players. An overhaul in coaching and strategy is needed. Are you all hearing that Chris Ash can bring that?
Hey Kyle, probably a spellcheck "correction", but both Urban and Tress hail from Northeast Ohio, not Northwest. Tress was born in Mentor, (incidetally, his dad Lee coached Baldwin Wallace from '52-'80). Urban was born and raised in Ashtabula.
Hey I survived Coop, if you're going to have to sell Va Tech, it might as well be to an avid Buckeye Brother. Send 'em this way my man if you can't go !
Gentlemen, going to show my age here. 2 questions :
1. What does "gif" mean ?
2. How can these players be on Rivals top 100 , (Hilliard being #2 LB in all the land), and still not be listed as 5 stars on their site ?
I went to Ohio Wesleyan with Jeff Long. He was the QB and I was his WR. We invented the back shouldr fade in 1979 because I was too slow and he was too weak to beat guys deep. A very good man whose MO is education and integrity. He's just leading a cheer here. I guarantee you he will not enable SECism.
Jax, I did not know Heuerman had more yards, but be honest with yourself. Is it myth or fact when the coaching staff commits every year to utilizing the TE more ?
Citrus you are right on. If I had a son who was a top rated TE, why would I encourage him to come to OSU to be the #3 Tackle in this offense and have 3 balls thrown to him per game ? He would absolutely be looking at TTUN, USC, ND, and Oklahoma.
Slow news day. So where are you guys finding tickets ? $110 big game variable price (like Va Tech and UM) is jacking street price up .