BuckGnome
---
Member since 22 January 2012 | Blog
Helmet Stickers: 1,245 | Leaderboard
Favorites
SPORTS MOMENT: The 2003 Fiesta Bowl, everything else pales in comparison. That season and especially the way it ended was incredible. I had an awesome rush for two to three weeks after that game, and it was far and away the greatest sports-related moment of my life.
COLLEGE FOOTBALL PLAYER: Chris Spielman
COLLEGE BASKETBALL PLAYER: Jimmy Jackson
NFL TEAM: Steelers
NHL TEAM: Blue Jackets?
NBA TEAM: Cavs
MLB TEAM: Indians
SOCCER TEAM: umm ...... soccer, really???
Recent Activity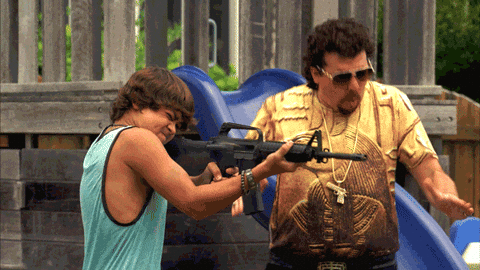 Probably not realistic to expect Joey to stay for his senior year, but I have dreams of the Bosa brothers playing together on the same line in scarlet and gray.
The Ohio State defensive line, now with double the Bosa. Just the thought puts a smile on my face!
Roosters all the way for me! Wings Over Columbus, meh.
Agree totally. Yeah it sucked in 2010 when he left, but the way he did made it 10X worse. He gave so many hints he was staying, and then went on the Lebron James Grand Narcissism Tour that ended with 'The Decision' and a WWE like pep rally in Miami.
As bad as that was, it's really been the biggest blemish on an otherwise impeccable career. Given the scope of the things high profile things pro athletes often get themselves caught up in, its not so bad in that light. It's a forgivable mistake. For Lebron, the choice to go to the Heat in was not a bad one. The Cavs front office had let him down and couldn't get him help. 4 NBA Finals appearances, 2 NBA championships, and a pile of MVP trophies in his 4 seasons in Miami. Can't argue with that.
Whether its Miami, Cleveland, or some other team, I do appreciate the way he's handling himself this time around.
Same here. I've had a few conversations with MeatChicken fans and they were so desperate they actually bring this up. It's funny. In their pathetic attempts to come to grips with the Tressel era at OSU, they reach for that easy gotcha, "We have two wins over the Bucks during the reign of The Vest, OSU's 2010 win was was vacated for tats and shit!!!" And my response, 'Ok shitbirds, 8-2 is so much more palatable than 9-1.'
And, then since they want to get all Ecclesiastical with the NCAA, I have the pleasure of informing them that, while tOSU's 2010 win over TTUN was indeed vacated, MeatChicken's loss was not. Besides, we all saw the game, it wasn't pretty from their perspective. TatGate or no, MeatChicken remains 1 - 9 vs The Good Guys when The Vested One roamed the sidelines.
At that point, they usually retreat to their fetal position.
Washington actually committed before Meyer was officially announced as HC. Diesel said at his presser he chose OSU because he wanted to play for UFM, which was funny, because despite the rumors wasn't the HC yet.
I wish him nothing but success at TT.
Yeah, Sterling has been a blight on the NBA for a couple of decades. In some ways, this is a convenient way for the usually week-kneed NBA to get rid of him. Still, this is a move they had to made, and good on them for doing it.
Nice on the 6mm! I got a Ruger M77 6mm as a highschool graduation gift long ago. It's sent MANY groundhogs to the Great bean field in the sky. It's only every fired hand loads.
That sucks, man. At times, life can seem like an ongoing and repetitive kick in the nuts.
Kirk Herbstreit thinks emphasis on "The" in the university's name is arrogant. I think Kirk Herbstreit is a douche.
All you like to do on your ELEVEN WARRIORS site is tell each other how wonderful yall are!
LOL that's pretty rich given the crapton of continuous sanctimonious drivel emanating from Penn St. blogs.
Freaking nuts, man. Thought Wisky played well enough to win. Harrison tho is no fluke. Money in the clutch!
LOL equivocating punching an opposing player vs. overseeing an environment that facilitated child rape. Has it come to that, Penn St. fans???
Tremendous.
This is just a symptom of a larger phenomenon. For better or worse, more and more $$$ is being pumped into college football. It is a growing multibillion dollar industry. This is 2014, and sooner or later, the players are going to get theirs. Be it this, the Ed O'bannon case, or something else, big changes are in store for the NCAA's model of 'amateurism.'
Penn State being Penn State.
Steelers fan. Not sure why I gravitated toward the Steelers at a young age. By the time I was old enough to get into football, the Steelers glory years of the 70's were long past. No other NFL fans were in the household at the time to influence me one way or the other. For whatever reason though, the Steelers became my team. The 80's were not exactly a good decade for the franchise, yet this is when I became a fan and stuck with them.
Always preferred the college game, and with having a family with multiple Buckeye alums growing up, the Buckeyes have been in my blood.
So, did DJ's spoiler end up being on target, or was it just gibberish on the interwebs?
Santonio is the man. He was a beast as a Buckeye, and hopefully he can make it back to the top in the Sunday league. That game winner he snagged in the Superbowl is one of the best catches you will ever see.