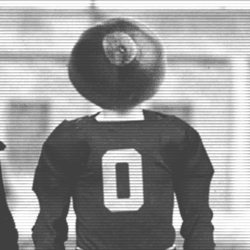 Buckeytrips
---
Member since 13 February 2013 | Blog
Helmet Stickers: 243 | Leaderboard
Favorites
SPORTS MOMENT: 2002 Season
COLLEGE FOOTBALL PLAYER: Bosa
COLLEGE BASKETBALL PLAYER: Craft
NFL TEAM: Browns
NHL TEAM: Blue Jackets
NBA TEAM: Cavs
MLB TEAM: Indians
SOCCER TEAM: Crew
Recent Activity
Do you think UFM would have worded it any differently? NO. if it hits a nerves with some maybe you need to take a look in the mirror. I sucks to get called out but if it is needed then so be it.
Your right, Bama never used the shotgun at all????????????
He is trying to figure out Fickell's explanation on why we did not cover their tightends.
Reverend Jim Ignatowski - Taxi
Hawkeye Pierce - MASH
Dwight Schrute - Office
Red Forman - 70's Show
Larry David - Curb Your Enthusiasm
i take him at #24 their 2nd pick in 1st round.
I was screaming that all night. So much for the imagination of our OC. It was like watching the B10 CG all over again.
and the game. he has been terrible all year on punt returns. How many times has he caught the ball above his head while back peddling, too many. Can not take away is play at wide receiver but should never have been on punt returns especially when you have wilson on the team.
With the bullshit play calling it is not hard to believe at all.
No they trade trash for long snappers!!
He should have had a min of 30 carries. If he does we win. Not sure what game Herman was watching!!!
I agree with the play calling on offense. Not sure what Herman was thinking at times but you can not give up 34 points to msu, 41 to scum 35 to Ill. unacceptable. LF needs to find another employer.
Hovenaut gets credit for this. It looks like 35 is the magic #.
Ohio State 279-0-1 all-time when scoring at least 35 points. MSU hasn't allowed 35 since 2011 B1G title game
fickell/Withers/combs v bollman - We know what Herman brings to the table. I have no idea what the trio is going to do for us and that scares the shit out of me. Hopefully they will have their heads out of their asses for this game so they can see what is going on and make adjustments unlike last saturday.
I wonder how they graded out in the film room. Champs or Chumps.
The ONLY thing that could make this any better is if a Florida player made the tackle.
I think my kids have a winter hat that looks something like that.
One thing I noticed about that game was when scum scored the first td in OT how much they celebrated like they were shocked they scored. Something you didn't see from their teams in the past. It just shows how far they have fallen.
is this what they mean by "The Elephant in the room".
I was thinking the same thing as I saw him laying on the field. Never should have been in at that point