Buckeyevstheworld
---
from Columbus, OH
Member since 22 December 2011 | Blog
Helmet Stickers: 56,219 | Leaderboard
Voting Record: 9209 / 272
I'd give my entire story, but you'd die from the sheer awesomeness of it. So i'll keep it basic:

Christian(need to work on being a better one)
January baby
Capricorn
I has dimples(on my face you pervs).
Don't drink or smoke
No Facebook account(though I do stalk a few people...)

I'm pretty easy to get along with. I like to joke around most of the time, so try not to get insulted by things I say. The only people I have a problem with are those who are conceited, tauruses(they forget that Capricorns are the best), and LeBron apologist. I tend to avoid writing long comments on here since I mostly use my mobile device or gaming system to get online.

This came off like a Match.com profile.....
Favorites
SPORTS MOMENT: 2003 National Championship.

Troy Smith to Gonzo '05 M*chigan game.

Braxton to Devin '11 Wisconsin.
COLLEGE FOOTBALL PLAYER: Troy Smith/Pryor/Braxton/Eddie George
COLLEGE BASKETBALL PLAYER: Sullinger
NFL TEAM: Beng...:/
NHL TEAM: Pffft
NBA TEAM: Lakers(been a fan since the day Shaq was traded)
MLB TEAM: Yanke.......none. lol
Recent Activity
Arkansaw will play the Vols at Neyland.
Lets go "Not Tennessee".
Arkansas? That would mean beating Bama in Tuscaloosa. Good luck with that.
Cat Wars
I was expecting this:
I think something is wrong with that TCU fan. I responded to him with this:
TCU's best win was over a 4 loss KSU team. lol
He responded with:
No it was over Texas Tech 77 scored by TCU
XD
the SEC's been a one-division conference. And that division has two, sometimes three, actual good teams.
Indiana, Mizzou, and maybe Georgia.
Braxton vs Bosa threads. DX
But this isn't MSU basketball. XD
Brian Kelly?
Did you miss Kelly's quote that same day?
Smith's quote said great players thrive in competition, not in mediocrity, we hope you remember this.
Have you ignored ND the last decade? They're the definition of mediocrity. No one would call Tennessee mediocre. They flat out suck.
Hopefully there isn't another debate about her age.
It will always be Urban's fault, CB...
Brian Kelly? A day or two later isn't immediately...
I can see the annoyance of getting a downvote. The rules say dv people that are being a jerk. So basically when you downvote someone, you're calling the a jerk. If you feel like you haven't done anything to warrant a downvote, it can be annoying.
If he's lucky.
What is that from?
How do you know it was about JG?
They hit him so hard that he turned into a red x.
Over 15,000 dummies, amirite?
"any top recruit that does not pick TOSU is dumb
Dumb? No. Misguided? Yes. Besides, it's was that way before the National Championship.
LeBron fan downvoting any MJ support. XD
Ricky Davis would be proud. XD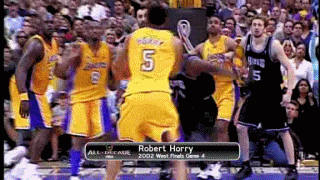 Though based on the number, it could be Braxton. XD
Better question is how can a big man never shoot over 50%?
At least you said Russell instead of Robert Horry.
Watching the NFL on tv, it seems like 50 percent freakin' commercials.
To be fair, it 's that way with every sport these days.