Buckeyevstheworld
---
from Columbus, OH
Member since 22 December 2011 | Blog
Helmet Stickers: 47,345 | Leaderboard
Voting Record: 6656 / 247
I'd give my entire story, but you'd die from the sheer awesomeness of it. So i'll keep it basic:

Christian(need to work on being a better one)
January baby
Capricorn
I has dimples(on my face you pervs).
Don't drink or smoke
No Facebook account(though I do stalk a few people...)

I'm pretty easy to get along with. I like to joke around most of the time, so try not to get insulted by things I say. The only people I have a problem with are those who are conceited, tauruses(they forget that Capricorns are the best), and LeBron apologist. I tend to avoid writing long comments on here since I mostly use my mobile device or gaming system to get online.

This came off like a Match.com profile.....
Favorites
SPORTS MOMENT: 2003 National Championship.

Troy Smith to Gonzo '05 M*chigan game.

Braxton to Devin '11 Wisconsin.
COLLEGE FOOTBALL PLAYER: Troy Smith/Pryor/Braxton/Eddie George
COLLEGE BASKETBALL PLAYER: Sullinger
NFL TEAM: Beng...:/
NHL TEAM: Pffft
NBA TEAM: Lakers(been a fan since the day Shaq was traded)
MLB TEAM: Yanke.......none. lol
Recent Activity
Marvel Zombies would be an interesting short film.
Kittens are pretty awesome.
Chanting overrated during a game you end up losing is so penn state. 
Their rival Maryland did that during warm ups last year. We all know how that ended.
But I heard that she mentioned how many seats the stadium holds.
What Urb is going to do to Harbaugh.
1-4. Ohio State Football. 5. Women's Tennis, volleyball, and crossFit 6. Ohio State Basketball.
My mother and I both want to have your baby!"
So MMan is a girl? :o
But they're making it sound like he brought them back to life!
I know, right? They act like he's Peppers.
and this sluggish rivalry has new life.
I've been hearing this since '07. M*chigan fans when Rich Rod was hired: "HIS SPREAD OFFENSE IS GONNA DESTROY TRESSEL" Rich Rod's team scored 24pts total in 3 years against Ohio State. ---- M*chigan fans when after the 2011 season about Hoke: HE'S A M*CHIGAN MAN! THIS WILL BE THE NEW TEN YEAR WARRRR!!!!!" Urb went 3-0. -------- Now Harbaugh: "HE MADE ANDREW LUCK GREAT AND SAVED TWO WOMEN FROM DYING IN AN ACCIDENT!!! NEW TEN YEAR WARRRR!!!!!"
For $10,000 a day, i'd move in the shower.
Maybe he was going to buy one before the gif ended.
Probably the same guy that thought Cage's wig looked good.
Kittens aren't lame. How rude. :/
I wonder if they'll add Sentry in the future.
The CGI was the only part that didn't suck.
What is this from?
What if they have to pee?
Besides, it didn't "warm up" until after 12pm. School is nearly over by then.
We hadn't seen that type of cold since Earle was a kid.
-10(not including wind chill), is a little more than just "cold".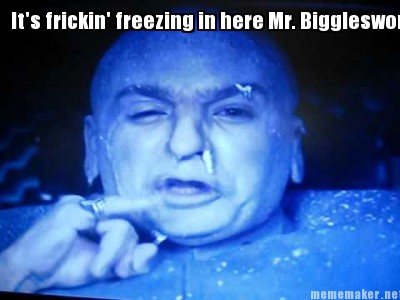 They're still celebrating their 1918 NC.
Not Columbus Public. A nuke has to go off before they even think about closing school.
Should have went 10-0 against M*chigan, and won back-to-back National Championships. If only MoC hadn't gotten in trouble...
(another good man wrongfully nailed to the wall)
It's funny because everything he said about Bert, and the SEC was true.
She's alright.
My love for Tressel will never fade. He's a great man.
All of those states are good, and none of those states are lorded over by Urban Meyer. 
Yet.
I'd rather Ohio State beat their school 4 years in a row. That option won't land anyone in jail.