BuckeyeVet
---
Worthington, Ohio
Member since 17 February 2012 | Blog
Helmet Stickers: 6,064 | Leaderboard
Voting Record: 1603 / 38
Favorites
SPORTS MOMENT: Viewing - OSU beating Miami for the NC;
Live - OSU and scUM 42 - 39;
Participant - Beating Cincinnati Anderson on penalty kicks after 120 min of play in 1976 at the state tournament. Showing my age with that one...

COLLEGE FOOTBALL PLAYER: Archie
COLLEGE BASKETBALL PLAYER: Aaron Craft
NFL TEAM: Browns
NHL TEAM: What's the NHL?
NBA TEAM: Umm.....
MLB TEAM: Reds
SOCCER TEAM: Columbus Crew & Fulham
Recent Activity
Note. That was a NOTE. Not a letter.
@ActionStanleyJackson - You might want to read JDBucknuts' comments from above, which were:
My son works with Timmy B and yes he is a big time SEC homer, but for good reason. He tells it like it is (until now the SEC has been on top).Timmy has eaten a lot of crow for his predictions against the Bucks, but he has taken it well and admitted when he was wrong. He's really a good guy and a good mentor for my son. Far from MM, who bolted immediately after the NC game and went into hiding in a cave somewhere in the middle east. I wonder how much we would have heard from MM after the NC if we had lost. You can't put Timmy B in the same basket as MM. That pinhead would never admit he was wrong even if he was paid a bonus to do so. I hope that "Daffy Duck" has a field day with him when he comes back in the fall (and Rece Davis for that matter too,,,MM's biggest supporter).
That girl has some anger management issues!
@ Toad1024
So as I understand it theses threads discourage downvotes or 11wer's to not downvote to keep ones % as high as possible. Is this correct?
I think that's the general premise. But I don't think there are multiple theses about it. ;-)
How about 42 - 14? I never want to see 41 -14 again, even if we're the 41!
I think you're right, Earle. I'll go to look for an image or meme, and I'm always drawn to the animal related ones.
P.S. That's picture of a real class of future police dogs in France. The Academy's cat gets to stroll down the walk & the dogs are in a "stay". If they break, they don't pass & have to go back for more training.
It reads as if it was writen by a lawyer & a media firm. The "mean Fondren streets"?
How's this:
@ Wargor - Please, now. This is THE Buckeye site. It's Friday afternoon. It's our job to find any little thing about our opponents (particularly our rivals) and find some way to twist & mis-use it to smear, cast aspersions, taunt, heckle, needle, insult, deride and abuse them. Why give up a perfectly good time to do just that by using reasoned arguments to take away that opportunity?
Remember, this is us talking to UM/Harbaugh:
And this is us talking to Alabama & Oregon:
Hmmm...... blue van & piss yellow......where have I seen that color combo before?
I just got you over the top. You can vote now!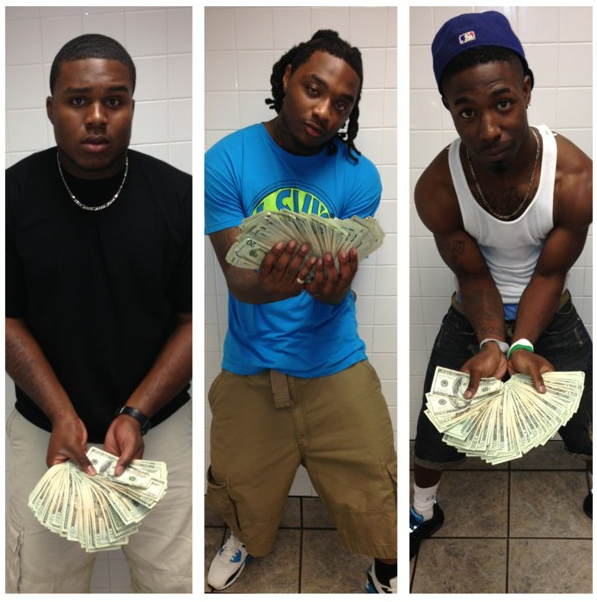 I should qualify this - this is one of the pictures that I always see popping up, but I have no knowledge of the context in which they're flashing the cash. Don't know who, what, where - but as I said this is one of the pictures constantly showing up when Auburn - commits - cash is mentioned or searched.
Yes, he's officially decommittedd.
@ Boxley - Totally agree with your comments about being classy concerning the young man. Auburn, on the other hand, is part of the blowhard SEC West. The gloves are off.
Best of luck in life & football. Next man up!
I think it will really hurt. But he'll have a solid recruiting year under his belt by 2016, so I expect them to rebound. I expect them to improve significantly on the field this year, which will be the real bellwhether for how their 2016 class winds up.
Still, all my Michigan friends aquaintances believe that Michigan is about to enter a new golden era of football.
There, got that fixed for ya.....
(jk)
It's ok Brent. Post again someday!
Actually, I think Shamgod's brother was a guy named Lucifer.
Well, you can tell it's both hump day & post-season at 11W after reading this thread.
Damn straight it never happened: