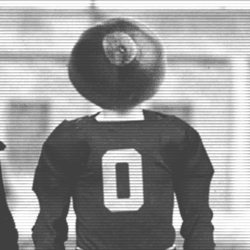 buckeyestu
---
from tiffin,ohio
Member since 27 June 2012 | Blog
Helmet Stickers: 1,924 | Leaderboard
buckeye fan all my life. favorite coach woody. favorite players, a.j.hawk, archie, chris carter, maurice clarette, germaine, krenzel, spileman, vrabel, finkell, mike doss, tatum, eddie george, beanie wells, santonio holmes, too many to name them all.
Favorites
SPORTS MOMENT: the championship game against the hurricanes
COLLEGE FOOTBALL PLAYER: eddie george
COLLEGE BASKETBALL PLAYER: aaron craft
NFL TEAM: cleveland browns
NBA TEAM: cleveland cavaliars
MLB TEAM: cleveland indians
Recent Activity
Thought the first practice was Tuesday?
I agree osu07. This is the year that Fickell needs to put a quality defense on the field. I am a Fickell defender myself, and he is a great buckeye. I think he now has the talent at linebacker that is needed to get the silver bullets back to what they use to be.
Undefeated season and National title, if Chris Ash fixes the defense, and if Braxton stays relatively healthy.
Who among us fellow Buckeyes have never lied? Who among us has never made a bad judgement, a mistake intentional or otherwise? Based on Coach Tressels' accomplishment, he belongs in the HOF, immediately. I will admit I am not happy with Coach Tressel lying, but so be it. I have moved on from the incident. Love ya Coach Tressel. GO BUCKEYES!!!!!!!!!!!!!!!!
There seems to have been a talent upgrade at linebacker, I am willing to see what Coach Luke does now. Whatever happens I will not turn on Luke. He is 100% Buckeye.
I do not like Verne Lundquist, Gary Danielson, and DickieV.
I also hope to see this offense open up. There is a tremendous amount of talent to be used. Herman definitely needs to open things up. I also hope Braxton runs less this year, with all this talent available he should not have to run as much.
I am glad to see the Bert/Nick rule die. However, I do think there should be a study done to see if Bert/Nick have a valid point. I suspect the real reason why Bert and Nick hate the up tempo offenses, is because they have trouble defending them. In the meantime I hope the Buckeyes new offensive line gets their wishes and the offense goes faster. I hope the young receivers are able to follow in the footsteps of Galloway, Sanders, Boston, Glenn, Jenkins, Santonio, Gonzalez, and others. I hope to see the football in the air more this year. I love the power running game, but I just did not think the Buckeyes threw the ball enough last year. GO BUCKEYES!!!!!
I will not be surprised that Kwon starts the first game. He is my favorite player.
Brax will be just fine. He has room for improvement and is one the top quarterbacks playing ball next year. I am hoping he takes enough time off to let his shoulder heal, if he starts throwing too soon, I fear he has shoulder trouble the entire season.
I never watch the Oscars or Academy awards either, nor the Grammys', but I do like Rich Rod. Too bad scum forced him out. Screw Bert and Nick.
Anything is possible and the fat lady has not sung yet, however, if I was a betting man, I say this team is not going far. Lack of a decent post game, and a lack of 3 point shooting will prevent this team from going far at all. They may be able to win two in the big dance, but I would not bet on that at all. I will be rooting hard for the boys, especially Aaron Craft, who is my favorite player on the team. I will miss him not playing once this season is over.
If Tatum was still alive I want him for the defensive backfield. Archie for rb coach, Spielman for linebackers. Jenkins to coach wr. Krenzel to coach qb. Defensive line coach Vrable. Offensive line the pancake man.
Well this did not exactly pump me up, but it was a nice video. It beats what I just finished doing, shoveling my driveway out and cleaning off 4 cars. When is winter going to end, I wonder?
Gibson
Richmond
Settle
Harris
Nick
Watkins, but if he is not available, then i like Clowney, and if both Watkins and Clowney are gone, then i would have to take Teddy. Then my second pick has to be a rb, hopefully Hyde.
Thank God Smith is a senior. I know he tries hard, but i will not miss him donning the Scarlet and Gray next year. I sure hope next year Amir gets a clue. This team has nearly driven me back to the whiskey.
I think I am on here as much as I was last year at this time. Kind of the slow time of the year football wise. As for this new site, I do like it. Still getting use to checking in using my smart phone, but I am getting a new phone in days, so I will get to start over and get use to the new site again. The new site works fine on my pc.
Alabama is a long way from crumbling. I am looking forward to Urban and TOSU getting to the level of Bama, and I am confident that will happen. I hope that all this 4 and 5 star talent get on the field this year, especially on the defense side. Kwon is already my favorite player and I expect him to be the starter at middle linebacker. Hopefully Coach Ash rejuvenates the Silver Bullets.
I have been wondering where this feature has been. I am glad to see it back. Thanks.
Well this little bit of news, just brightened my day up. I doubt much will come from this investigation, but if the young lady was indeed raped, I hope scum pays a price even heavier than ped u, oops I meant psu. It is another cold day here and geez scum still sucks at 12:56 p.m., and they will suck even more at 12:57 p.m.
One of my favorite hoops player of all time. I will miss him not wearing the scarlet and gray after this year. This season has gone by too fast.

Coming back to finish his education is the most important thing.
That last second shot by Evan will be one of my favorite Buckeye moments forever, and that it came against scum, makes that shot much better. I do not follow the NBA much until playoff time, even though I am not a Pacers fan, hopefully they will win the title this year.
Bert is a pig! Oh wait, maybe that is why he wanted to coach at pig sooie nation.