BuckeyeSki
---
Albany NY
Member since 30 August 2010 | Blog
Favorites
SPORTS MOMENT: 06 scUM game...enough said
COLLEGE FOOTBALL PLAYER: Chris Spielman
NFL TEAM: Giants
NHL TEAM: Slappitypuck?
NBA TEAM: Lebron? Hes a team right?
MLB TEAM: Yankees
Recent Activity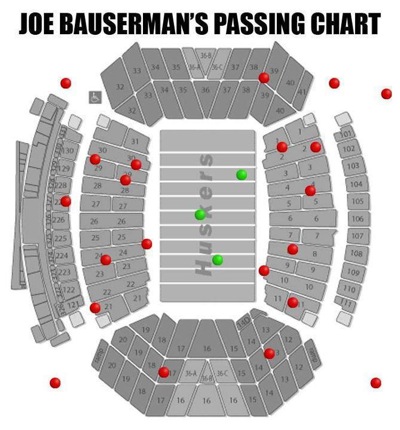 Ask and ye shall receive
Looks like they need to start drinking more water....
Why don't we just let Buck-I-Guy lead the crowd in a 2-gun salute? He totally needs more camera time
The upper deck of his mouth stadium is about 11/12th's empty....must be a blowout
If your gonna sit in B Deck make sure you scout the seats first, because I went for the Miami (FL) game, and had a huge pillar right in front of me the whole game. Otherwise, B Deck isn't so bad. That pillar robbed me of about 10 yards of sight during Cam Heywards Big-Man INT return
Side Note: Jacory Harris threw A LOT of completions...to the other team
That's a nice hat you got there....How You Doin'?!?!
It cost DJ $10 in 11W office petty cash to post that pic of Buck-I-Guy on the site
BURN!!! (Something Peppers is pretty familiar with from what I understand....)
You may know him from the What's going down episode of That's My Mama!! Go on and put yo hands together for-a mista Randy Watson!!!!!
Yeah I'm not allowed into too many bars nowaydays.....
I suppose "Air Stunner" would be more appropriate
I like to drop the overly excited "stone cold stunner" when tOSU scores TD's or makes big defensive plays. I was EXHAUSTED by the end of this game. I had no stunners left to give by the end of the 3rd qtr
"I don't know about you guys....but Josh Groban really Lifts Me Up"
Other than wife and daughter, and obviously tOSU football, I would have to say live Metal music
Nothing like being at a hole in the wall club, drinking whisky and seeing a killer band play a bone crushing riff that starts a pit that is so intense even the paid bouncers want nothing to do with it. Gets all your frustrations out in a way I haven't found since actually playing football years ago. Horns up metal-heads \m/
That was the most bogus ejection I've seen since the rule came into effect. Roby made solid contact with the TE's shoulder and any helmet contact was incidental. He laid a solid football hit and due to the violent collision that occurred, the refs made a hasty call in the interest of "safety". Just my opinion of course
I have the exact same policy and am SERIOUSLY considering wagering the over on this line
Logged in just to upvote this comment Hove! Well done