BuckeyesFTW
Gahanna, OH (via Buffalo, NY)
Member since 19 August 2014 | Blog
Helmet Stickers: 577 | Leaderboard
Voting Record: 68 / 4
Serenity Now. Insanity Later. Have one parental unit from Cleveland, OH, another from Buffalo, NY. Needless to say, I've lead a tortured sports life. But grew up a passionate and loyal sports fan just like both sides of my family. Confused as a child, my parents would often alternate jammies between the Bills, Browns, and Buckeyes. Love my teams, love my family, love living in Columbus, OH.
Favorites
SPORTS MOMENT: Other than 2002 National Championship, they have been few and far between! Probably my favorite was the 1986 AFC Divisional Playoff, Jets at Browns. It looked like a dire situation, Browns down 10 with just over 2 minutes to play. But Bernie Kosar (greatest QB ever, next to Otto Graham), pulled out a miracle to tie it and send it to OT. In one of the longest playoff games in NFL history, the Browns secured a win in second OT via straight on field kicker Mark Mosely's FG. Bernie threw an NFL playoff record 489 yards. The following week in the AFC Championship vs Denver in Cleveland....we all know what happened there. Was it worth even winning vs the Jets to have to suffer the moment the following week? You bet it was.
COLLEGE FOOTBALL PLAYER: Current: J.T. Barrett. Past: Chris Spielman
COLLEGE BASKETBALL PLAYER: Past: Jay Burson/Aaron Craft. Current: Undecided
NFL TEAM: Cleveland Browns, Buffalo Bills
NHL TEAM: Columbus Blue Jackets, Buffalo Sabres
NBA TEAM: Cleveland Cavaliers
MLB TEAM: Cleveland Indians, Chicago Cubs
SOCCER TEAM: Columbus Crew, Germany
Recent Activity
Ummm...that's not Leroy Kelly. That's Earnest Byner....
Great points. Trump's lawyer's will definitely note these discrepancies...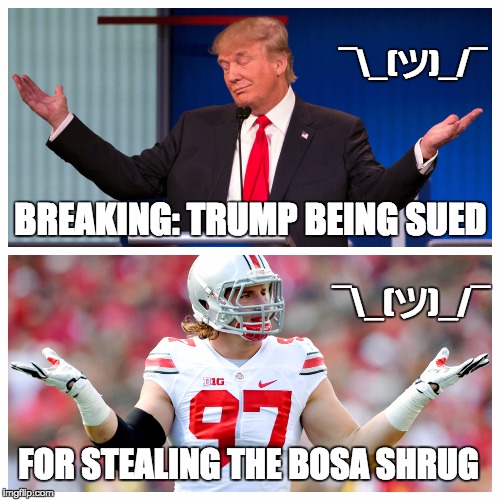 Great pic! But sorry, I have you beat. One thing to troll the irrelevant state of Alabama, but trolling up north....priceless.
Sweet mother of God, WTF?
Chick is eating a banana? I barely noticed. King Kong reference I'm assuming...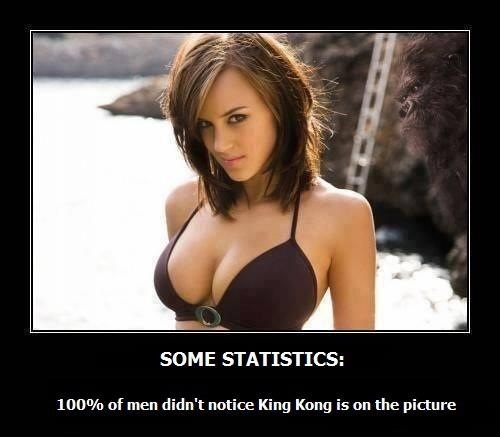 Please change your signature to "I hate _ichigan" The way it stands now, disgusts me.
You bastard beat me to it. As I was scrolling down was just about to post the same shiiiiteeeee! Good job.
And my apologies to those in the thread who already caught this gem as I just observed....but, I did catch this brilliant screen shot and made a brilliant meme out of it with a Yogi quote...."so I got that goin' for me, which is nice" Cheers Buckeye Nation, I'm several in...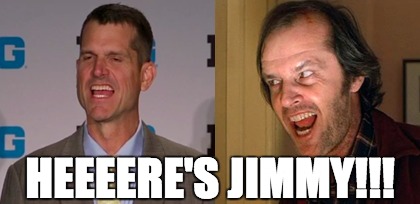 Best line for sure - "you can observe a lot by just watching" - had no idea he was related to Yogi Berra.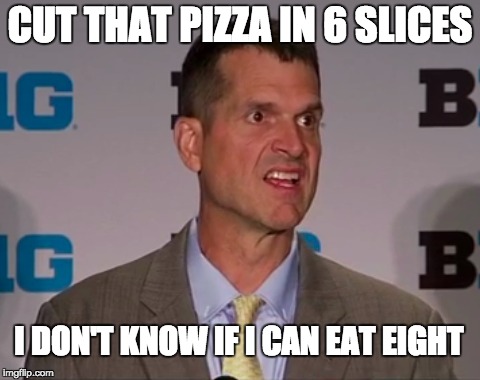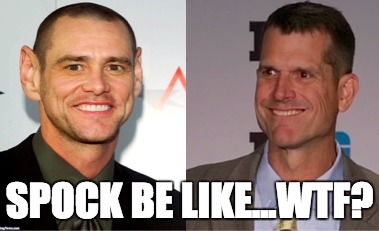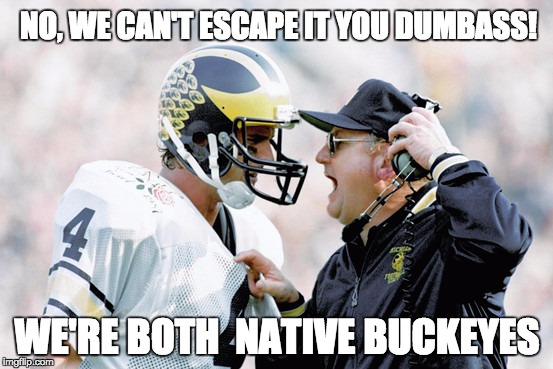 Bizarre gif. Looks like Sal Pal is completely frozen still but has a second face emerging from his cranium.
I would hope you are, as we all should be.
Tongue-in-cheek comment brother. Simply focusing on the glass half-full. Cheers, here's to going back-to-back.
I won't down vote this, but tempted. Reality check is the trophy I just posted right above you.
I don't recall seeing one of these in1994. So not too concerned.
Don't worry, you won't be the only one in Buckeyes gear that day - plan on probably 20K additional Buckeyes by your side.