BuckeyesFTW
Gahanna, OH (via Buffalo, NY)
Member since 19 August 2014 | Blog
Helmet Stickers: 249 | Leaderboard
Serenity Now. Insanity Later. Have one parental unit from Cleveland, OH, another from Buffalo, NY. Needless to say, I've lead a tortured sports life. But grew up a passionate and loyal sports fan just like both sides of my family. Confused as a child, my parents would often alternate jammies between the Bills, Browns, and Buckeyes. Love my teams, love my family, love living in Columbus, OH.
Favorites
SPORTS MOMENT: Other than 2002 National Championship, they have been few and far between! Probably my favorite was the 1986 AFC Divisional Playoff, Jets at Browns. It looked like a dire situation, Browns down 10 with just over 2 minutes to play. But Bernie Kosar (greatest QB ever, next to Otto Graham), pulled out a miracle to tie it and send it to OT. In one of the longest playoff games in NFL history, the Browns secured a win in second OT via straight on field kicker Mark Mosely's FG. Bernie threw an NFL playoff record 489 yards. The following week in the AFC Championship vs Denver in Cleveland....we all know what happened there. Was it worth even winning vs the Jets to have to suffer the moment the following week? You bet it was.
COLLEGE FOOTBALL PLAYER: Current: Braxton Miller. Past: Chris Speilman
COLLEGE BASKETBALL PLAYER: Past: Jay Burson/Aaron Craft. Current: Undecided
NFL TEAM: Cleveland Browns, Buffalo Bills
NHL TEAM: Columbus Blue Jackets, Buffalo Sabres
NBA TEAM: Cleveland Cavaliers
MLB TEAM: Cleveland Indians, Chicago Cubs
SOCCER TEAM: Columbus Crew, Germany
Recent Activity
Every _ichigan fan has this link book_arked.
Did someone say sacked?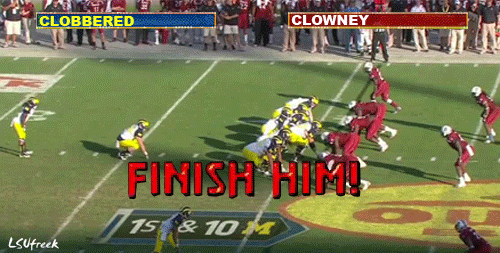 Benny Hill theme song. Good for multiple situations.
Good catch, I noticed this as well. SEC is still way over-hyped. Bucks can ROLL with anybody, and the TIDE will get a taste of some Buckeye Nuts soon.
Racing toward the FINAL FOUR!! Just win baby, and we will be in.
Or, in real time...cue the Benny Hill theme...
Let's slow it down, set the mood....
He deserves credit for doing the right thing here. And, I for one, hope this saves his job.
I thought it couldn't get any worse than the Stooler Bandwagon Nation jailbird bumblebee uni's. I was wrong.
So what is the "jiggling" policy anyway? I posted a gif of Adreinne Barbeau from Cannonball run (real boobs!) and it got deleted. Seemed pretty harmless!
"Favour?" Are you sure you're not "Canadiantown Buckeye?"
No way Baylor, Arizona State, Florida State, or TCU beats us on a neutral field. Hell...on their own damn home fields. But, I think things are going to play out very nicely....
Personally, I'm all in favor of the noon kick. Can get the blowout in early, and enjoy watching all the other pieces fall into place all day long. Plus, what's better than day drinking?