BuckeyeSaab
---
Member since 30 August 2010 | Blog
Helmet Stickers: 341 | Leaderboard
Voting Record: 108 / 5
Favorites
SPORTS MOMENT: I used to live in NYC and would watch games at the alumni gathering. After a lack luster win over YSU the bar flipped the TV's over to what would become Michigan's infamy, the App State game. After watching Michigan fail and wrapped in the ensuing warm glow I then made my way back to Grand Central, dressed in full regalia as always for the games. As I crossed 6th I saw, headed my direction, a utterly dejected Michigan fan, also in full tailgate dress, head down, oblivious to me as he trudged west on 46th. I stopped to watch his slow shuffle, a wide grin growing on my face. About 10 feet away looked up and our eyes met, my grin turned to laughter. I laughed, not a polite chuckle, but a deep cathartic howl that exercised all the Cooper demons from my soul. The look of anger, pain and confusion welling up on his face was a dish I had never tasted from a Michigan fan and I reveled in it. In a city of 9 million, our paths crossed at exactly, from my view, the right time. No words were exchanged. We passed, never to see each other again. But I feel safe in saying neither of us will forget those few seconds at 46th and 6th Ave in Midtown, and that is my best sports moment.
Recent Activity
Mullets like that aren't made, they are earned.
Stuff like this makes me mad I can only up vote it once.
Donning the scarlet and gray. Don is to wear, not dawn.
I would never, in a berjillion years, think to send something to a player for them to sign and send back. People are weird.
That wiki link appears to have included a link to a wiki article on Penn State fans.
That 1954 picture is interesting in that the people in the stands are all wearing dark muted colors. There is almost no red in the stands. It's not something you can see on the B&W photos but really stands out to me in this one.
I LOL'ed real hard when Herbie said, "fuck you guys!" in response to that tweet cause you could tell he meant it.
I lived in NYC for a while and everyone I knew that had run into him (not on the street but as servers and stuff like that) all pretty much described him as an insufferable prick.
Yeah, ESPN was using some unknown criteria that resulted in lower numbers than what those schools claim. I have no idea why they would do this or what their criteria was since they never acknowledged the discrepancy however it is hypocritical. The NCAA has never awarded championship in FBS. Prior to 1998 there was no organizing body that schools belonged to that awarded a championship. If you want to talk official championships Bama has 3, and Ohio State 2, etc. Any number other than that means you are arbitrarily deciding that in year X this team was "champ" and in doing so are doing the exact same things the schools do, only your arbitrary standards are a little more restrictive. Where they counting just AP? I saw they only have Woody 3 championships. WTF is so special about sports writers that publish through the Associated Press that give them any damn authority over who is the Champion? Not one damn thing. But ESPN has got to be an ass hat to drive page views so Boom, they are apparently now only recognizing some claimed Championships. Whatever. We claim 8 and 8 is what it is. ESPN's graphic showing 6 isn't worth the pixels it was printed on.
Objectively, without the power to hire and fire staff (all he was allowed to do was back fill one opening) he wasn't a "head coach". I'm not saying he's the next Paul Brown but the guy gets a mulligan for that year.
You mind is trying so hard to block that cold night you've forgotten it was '98. Sparty wasn't on the menu in '96.
DJ, it dawned on you. Don is to put on an article of clothing. Dawn is to being to understand.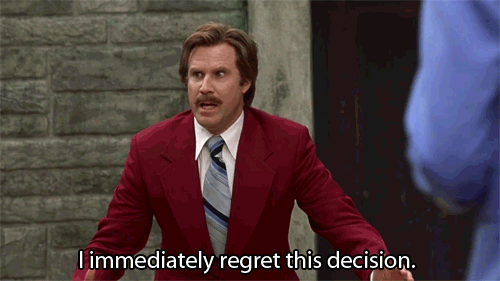 Yes, but only if you are sitting in the Yum! Brands, Incorporated Taco Bell Live Mas Student Section.
You don't determine an "MNC" with a playoff. Playoffs give you an actual NC.
But the eighth wagon made it across and someday that wagon will be yours son.
Forde is grotesquely biased. In the wake of championship Saturday he wrote an article that gushed over TCU's 55-3 win over a terrible Cyclones team and laid the claim that after a performance so strong there's no way they can be left out of the playoffs and then, after gushing barely acknowledges Ohio States win and fails to even mention the score, "meanwhile Ohio State came out on top of a down Big Ten". And we all know why he didn't mention the score, because you can't say 55-3 over the #114 team is somehow more impressive than 59-0 over the #14 team and be taken seriously by anyone other than a TCU grad.
This is clear bias. This is the shit lawyers pull when trying to sway a jury and while perfectly acceptable there (the lawyer is being paid to sway the jury after all) it represents a complete and utter hackery when found in an "analyst". Pat Forde does not analyze, he simply writes stories that try to confirm whatever it is he already thought.
There is so much money on these super high profile games it's hard for even a "respected" gambler to make a dent unless they are laying on 7 figures.
And to think it wasn't that long ago joe bauserman was our starting QB. We are exploding QBs right now.
Ah yes, right right. Reading is new.
Also, Cooper had a history of failure in rivalry games. For all his good solid abilities he just had a problem with these games and his tightness rubbed off on everyone else in his program at Ohio State and as his earlier stops as well.
46? Try 58-45-6. We have a ways to got yet before we square things up. Although I say we are 58-46-6 because that win in 2010 doesn't magically disappear just because some rich old white dudes get puckered sphincters when a young college student trades their personal property for a tattoo. Those tears m@chigan fans shed that day happened. They don't get put back.