buckeyerose
---
Member since 27 November 2013 | Blog
Helmet Stickers: 2,482 | Leaderboard
Voting Record: 3889 / 13
Favorites
SPORTS MOMENT: Winning the NC in 2002! Winning the B1G title vs Wisconsin in 2014!
COLLEGE FOOTBALL PLAYER: Archie Griffin-Eddie George-Troy Smith-Maurice Clarett-Craig Krenzel
COLLEGE BASKETBALL PLAYER: Slam Thompson-Aaron Craft
NFL TEAM: Browns
NHL TEAM: Penquins
NBA TEAM: Cavs
MLB TEAM: Indians
SOCCER TEAM: Manchester United
Recent Activity
That one handed catch is jaw dropping. Finally there's a reason to watch the Browns.
Our coaches are amazing, so glad that Penn State lost Larry Johnson to us.
Also it's going to be awesome watching Washington on the D line another year.
Yeah that! Embrace the hate, love it, it's well earned!
How the heck do you grow up in Columbus and root for Blue? That's just wrong.
Well it appears there will be little talk about the QB battle at Media Days. Who would have guessed this?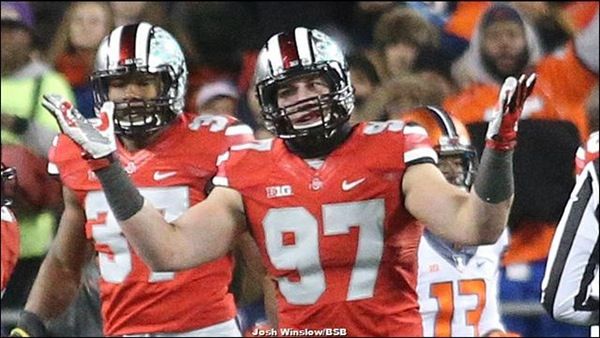 OMG, your comment made me laugh and this thread is not made for laughs buy hey I have to upvote that last comment. We all wish Cardale could play DE!
At least the raccoon is cute.
Houston, or Toledo. Farther down the list would be MSU.
Is that dePriest saying "I can't touch this!" and, indeed he couldn't.
Honda Civic but also would add the Subaru Outback all wheel drive is a great family car and if you drive in Ohio where it snows lots you want this car not the Civic. The civic is not so good on snow, the outback on the other hand is like driving a snowplow through a blizzard. I drove one up 77 to Brecksville this winter during one of our 8 inch snow storms and the Outback was incredible. The Outback not only drove like a tank it also warned of traffic jams ahead in plenty of time to take an alternate route. I'm not sure the Civic would have made it. OTOH my civic doesn't use much gas.
I was shocked, SHOCKED I say to see TTSUN on that list....what with all their academics and such. Shocked! Guess a 4**** means you can go there.
Seriously I hope the kid gets a legit offer.
Excited beyond rational thought. Just wow!
I was thinking it was the old Hairball himself.
Hasen pheffer.....I think must be like double Euchre. We called it Hassenfeffer and played it alot, it's a bit more challeneging than Euchre. It was exciting shooting a moon or trying to shoot one. http://freepages.nostalgia.rootsweb.ancestry.com/~padutchlife/Content/Hasenpfeffer.html
Pinochle was another card game we played.
Also enjoyed monopoly, battleship, sorry, score four and softball. Sorry I couldn't sit still for long as a youngster, so anything with a ball worked for me.
Another low life recruit by Jimbo.......surprise...NOT!
We are so lucky! It's a great time to be a Buckeye fan.
Only 7 more Saturdays until it begins. OH
..........ah, which is really not going to work well without a QB, just saying.
Does Mr. Sibley eat here instead? http://www.yelp.com/biz/el-rincon-mexican-restaurant-akron-2
I've never bothered with chipotle either because we have 3 other Mexican Restaurants in my hometown. Instead I can eat here here or here
Although I like Del Rio the best.
My other fav Mexican Restaurant all got sent back to Mexico unfortunately. They made the best pitcher of Margarita's on the planet.
I was kinda thinking the same thing as I read through those odds. Thanks for the link.
My x SIL was at one time a test pilot for the Air Force and had some fairly high clearance and he said noone ever got near those hangers or whatever was stored in them. Between Right Pat and Area 51 there's a whole lot of secrecy going on.
Hey! I'll take the upvote and double up?. ¯\_(ツ)_/¯
As long as we're talking about Michigan, I had a pure Michigan moment today. The grandson's were both playing in a huge soccer tournament this weekend. There were teams from all over the world, and I mean we played a Bermuda team yesterday and today. After our first game was over at about noon, we decided to drive over to the TA since I needed a baseball hat and had forgotten mine.
Mind you we were parked down a long, winding, twisting dirt drive and we come around a narrow corner and there in front of us stopping traffic was a big go blue Michigan canopy. Dust flying everywhere and they're tailgating? Seriously, the dirt road went from 2 lanes to one for this group to have their party right in the middle of it. Pure Michigan, once again eating Ohio's dust. SMH
Simply put, Cardale is a winner! I would be delighted if he stayed at tOSU for life. I know he'll end up with a damn lucky NFL team.
I saw one once........it was a spooky, especially when upon turning on the car radio, the dj was talking about seeing it also. And that's all I'm saying.
I also think that thinking we are the only planet with life forms is almost as ridiculous as thinking man lived with the dinosaurs unless of course it happened on another planet far, far away.