buckeyerose
---
Member since 27 November 2013 | Blog
Helmet Stickers: 2,378 | Leaderboard
Voting Record: 3740 / 13
Favorites
SPORTS MOMENT: Winning the NC in 2002! Winning the B1G title vs Wisconsin in 2014!
COLLEGE FOOTBALL PLAYER: Archie Griffin-Eddie George-Troy Smith-Maurice Clarett-Craig Krenzel
COLLEGE BASKETBALL PLAYER: Slam Thompson-Aaron Craft
NFL TEAM: Browns
NHL TEAM: Penquins
NBA TEAM: Cavs
MLB TEAM: Indians
SOCCER TEAM: Manchester United
Recent Activity
Spot on use of the PS bling there.
Oh yeah after getting your pizza stop by Lerch's Donuts and try the cinnamon sugar ones warm.
I hear that's the best around. Haven't made it there yet, my cousins keep promising.
Around here we have Marie's Pizza and they will do a half baked pizza for you to take on the road and finish baking later. Wonder if Coccia House does the same thing?
Years ago there was this pizza place here in town called Franco's Pizzeria, best roast beef sandwiches ever. Then Franco sold the place and moved to Florida. Never have found a better one anywhere since. Sad.....
Around here though we have to ship Swenson's burgers out to friends and relatives. Best burger joint in NE Ohio.
From this year's seniors, after much consideration, Devin Smith.
Any other year just pick one, any one, Spielman, Orlando Pace, Eddie George. You know what I'd just take any of them. Jack Tatum, Archie Griffin, Troy Smith........
Does it rain this much in Ireland?
We are hurting without Rapinoe. We need a lot of luck to beat China not sure we can do that without Rapinoe. She's been a real spark in the games this year. Holiday not so much so not sure how much she will be missed. The mid other than Rapinoe have had some really lack luster play.
This sec bull is really old. Didn't the BIG neuter those guys last year?
LMAO! Someone has some mad photoshop skills there!
Happy Father's Day to all of you!
I think one of the secrets behind Cardale is that his heart is as big as the whole state of Ohio.
Actually if you dressed those mice in uni's with a bridge on front you'd be closer to the real refs.
I've been saying Cavs in 6 so this little bit of info is oh so sweet!
All in!
Go Cavs!
Not only do we have the BEST coaches in college football but, damn, they show off their bling well!
Proud to be a Buckeye!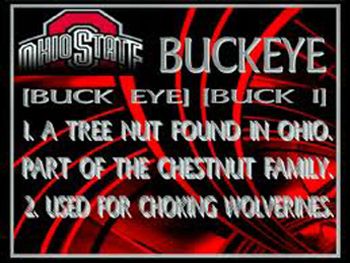 The whole state of *ichigan just turned pale and crapped on a cracker!
Braxton in beastmode!
omg do they really think that is going to help??????????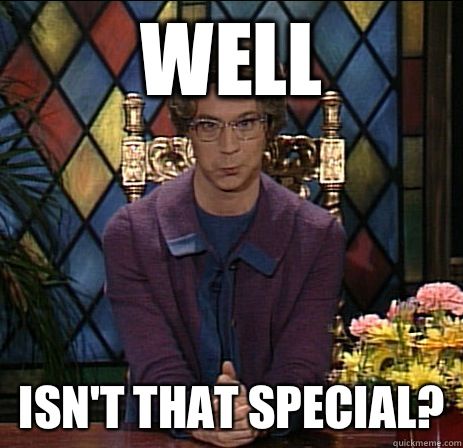 Love this one, it makes me smile everytime I see it. His initial hit on that 300 lb dude knocks him back almost on his ass. Cardale clearly won that battle. Oh and he's also being tackled by one of their defensive 290 lb ends.
Isn't that spelled Kaitlyn?
Award should have gone to Lauren Hill, instead of the current entertainment tonight storyline.
Heck, this doesn't even account for his hurdling ability. How bout we add that in?
It doesn't matter both of them lost before they could meet. I think a game between the 2 would produce the most boring football of all time and a tie score. Or, maybe in the end the Tide would drown the Ducks but that's a guess. I know I wouldn't bother to watch and I sure as hell wouldn't buy a ticket for this game.
Which all points to lax coaching IMO and poor choices.
Sad, we beat the color right out of them.