BuckeyeRick
---
Pataskala, OH
Member since 27 August 2012 | Blog
Helmet Stickers: 1,298 | Leaderboard
Recent Activity
Week 11 is going to be a big week!
It won't be football wins that will make Damien Harris' mind up. It's important, but he has said on several occasions that a quality education is very important to him.
Astronomy will be the reason he ends up at Ohio State. An top notch astronomy program and a top notch football program will be the key.
I was expecting several Kiffin's Krimson Korner signs after the Tosh.0 show this week. I haven't seen a single one. Disappointed.
Meanwhile on High Street...a jaywalking ticket will cost you $129.

WayCraKen 11 HOURS AGO

VT and Navy there is no good explanation other than JT was developing...
You realize that we beat Navy, right? And we beat the point spread, right? Yeah, there is no good explanation for that one.
Yes.
Chapter 1: Whiskey then beer = never fear. Beer then whiskey = mighty risky.
Is Strategic Drinking a thing? I've been doing that for a long time. I might need to write a book.
I caught that too! Subtle, but hilarious!
Does it taste like Elf pee? Seriously, though, what does Christmas Ale taste like?
But UK did steal Marcelys Jones, Eric Smith, and Marshon Lattimore...
The Tat on the guy with the bong certainly looks like his tattoo. Notice the distinct skin tone variation by the hand, the large arcs on his shoulder, and the small bare-ish spot next to the elbow.
You can see it in the background on #5 here: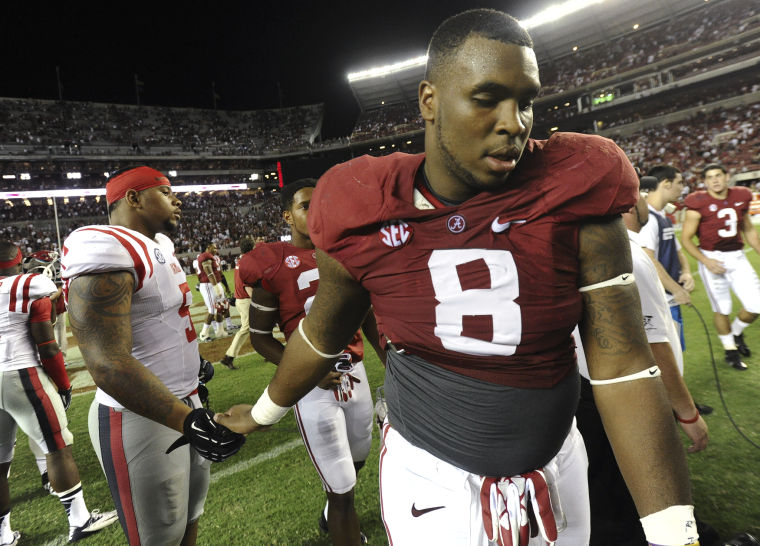 It's a hell of a thing though...
The poster is WayCraKen, a frequent poster here and a "supposed" OSU fan. That's the worse part of what he said.
It'll be a meltdown on the scale of Chernobyl.
The first time Mark Stoops ever set foot in Lexington was at his introduction press conference. He took an opportunity sight unseen. True Story. I hope UK fans don't believe he has some strong tie to the University. He's gone as soon as he gets a better opportunity.
There have been several people here, not just me, pointing out that WayCracKen is a UK troll. This just offers further proof. Half of his posts are trolling us about UK, the other half are meaningless posts trying to get the helmet stickers back he lost in the troll posts.
It's only a few pages. Not much of it is writing, mostly circling numbers.
Did anyone click the link to the assistant coach evaluations? There are some interesting tidbits that caught my eye. Tom Herman's review lists as a positive, "Loyalty - Texas situation". I don't recall seeing anything about him even being considered at Texas. Does anyone have an idea what the "Texas situation" would be?
The environment at UK football with a $20 ticket promotion:
UK spokesman says tickets out for Vandy game "nearing 52,000." Capacity during construction is 62,093. Surprised at that number.

— Kyle Tucker (@KyleTucker_CJ) September 26, 2014

WayCraKen 19 HOURS AGO

There schedule so far includes beating teams that are much better than Navy and better than VT.
Yeah, UT-Martin, La-Monroe, Ohio, and Vanderbilt are so much better than Virginia Tech and Navy. (Sarcasm font intended).
Keep in mind he only lives about 20-30 minutes away from UK, which could be why he visited 4 times in one month. When you can get football tickets for $20 (face value), or less, I'd go to the games too.
I'm still shocked Hoke had the word, clavicle, in his vocabulary.
I tend to agree. UK has beaten a horrible Vandy team (worst team in SEC) and now South Carolina, that's had 1 good game and a couple horrible games. It's hard to get a gauge on SCAR, but they are certainly not elite, as people thought in the preseason.
Damien said in an interview a couple weeks ago that he prefers traditional offenses, that academics are very important to him, and he will major in Astronomy.
In my opinion:
1. Our spread is closer to a traditional offense than UKs gimmicky air raid hybrid.
2. US News and World Report's University Rankings lists Ohio State at 54 and UK at 129.
3. Ohio State has a nationally recognized Astronomy program on par with some Ivy League programs. UK puts astronomy as part of its physics curriculum and not a stand alone program.
I think emotionally he wants to select UK, but logically we are a better fit.
Damien left the game midway through the 2nd quarter with 12 carriers for 120 yards and 2 rushing TDs. Damien also had a 94 yard kickoff return for another TD.
Damien is out of the locker room. Has ice on his shin (not knee), but his night is done.