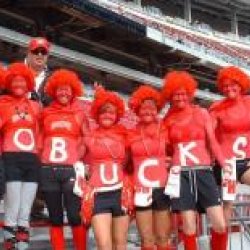 buckeyeradar
---
Member since 12 March 2013 | Blog
Helmet Stickers: 1,900 | Leaderboard
Voting Record: 377 / 62
I was an usher at the Shoe from 1997 to 2009. When I retired I moved to Allen, Texas (5A football state champs the last two years in a row - ask D. Wilson, M. Mitchell and the future soon to be one of the best linemen to put on tOSU uniform, Mr. Knox about Allen, Texas football). Love the Buckeyes and follow them throughout the year. Shout out to all my friends in section 23A - 25A Radar is alive and well.
Favorites
SPORTS MOMENT: 13 years as an usher in the shoe.
The whole 2002 season. I had to be at the games early and I met every Tuba Player that year before the game who dotted the i.
COLLEGE FOOTBALL PLAYER: Archie Griffin
COLLEGE BASKETBALL PLAYER: Aaron Craft
NFL TEAM: Cowboys
NHL TEAM: Penquins
NBA TEAM: Mavs
MLB TEAM: Indians/Rangers
Recent Activity
RRRRRRRRRRRR........... X marks the intersection.
Something Big is coming to the Ohio State University.
Always the best Birm. You sure give us a lot of info. You are one busy guy.
May will probably get hired by the Big Ten Network.
I agree with Woodshed, y'all need to relax and take a breath of air. He's just a kid that I sure would love on the team. I think Hill will give him the competition he needs to mature and get ready for the next level.
No loss of scholarships. Each person involved gets their ass tattooed with NCAA inside a heart.
It's like a sprint drill. Line up two guys and blow the whistle. Quickly lining up two more and more and more. Thank you Coach Meyer.
What you need is to build toughness, cold pizza and warm beer from all the emptys from the night before.
...... don't worry be happy!
Welcome to the Ohio State University and as a fellow North Dallas area man it's great to see a local kid becoming a Buckeye. Do you feel comfortable with Coach Meyer's offense? And are you in contact with JT, Wilson and Knox? Let your family know I've only missed one live game in five years down here thanks to Direct TV.
Josh Perry is a class act. There is no better example of leading by example.
Yes and the shit between his ears at times will help to fertilizer the artificial turf. The Cowboys and the Browns (Modell) have both had owners problems.
I think it's John Jimbo Cooper. Wanted by police for impersonating a football coach.
AND the ice cream truck is actually a music truck. And if you stop the truck it will change it's music to the _ ichigan fight song. And that's why you can't chase after the truck like other kids.
I remember as an usher having a nice buzz before a few games, well maybe all of them. But having to be in place two hours before the game started was sobering.
I've been in Texas since 2009, has Columbus allowed beer at tailgating yet or do you still have to put in your coffee cup? Do you still have the "Beer Nazis"?
I would like to see EGW get a chance to return kicks. I'm not that impressed with Marshall catching the ball. Marshall has enough to do.
McMillan is a force. Warning do not dare to disturb the FORCE!
With targets on our backs nothing is going to be easy. We'll get everyone's best shot so to turn the tide (pun intended) it needs to be all business on the field. We need to put fifty on everyone, using all our people. We can celebrate after the game in the locker room. GRIND start to finish.
Nice read Birm. Well said about the youth.
I think the problem with DJ is that he knows Jeter would never be seen in a Waffle House.