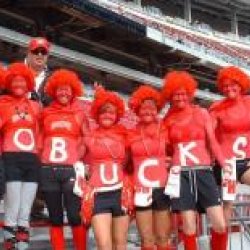 buckeyeradar
---
Member since 12 March 2013 | Blog
Helmet Stickers: 468 | Leaderboard
I was an usher at the Shoe from 1997 to 2009. When I retired I moved to Allen, Texas (5A football state champs the last two years in a row - ask D. Wilson, M. Mitchell and the future soon to be one of the best linemen to put on tOSU uniform, Mr. Knox about Allen, Texas football). Love the Buckeyes and follow them throughout the year. Shout out to all my friends in section 23A - 25A Radar is alive and well.
Favorites
SPORTS MOMENT: 13 years as an usher in the shoe.
The whole 2002 season. I had to be at the games early and I met every Tuba Player that year before the game who dotted the i.
COLLEGE FOOTBALL PLAYER: Archie Griffin
COLLEGE BASKETBALL PLAYER: Aaron Craft
NFL TEAM: Cowboys
NHL TEAM: Penquins
NBA TEAM: Mavs
MLB TEAM: Indians/Rangers
Recent Activity
That's a nice tall target. He's on my wish list.
I'm 65 and feel like putting on the pads and hitting someone.......... BOOM! Put me in coach!
Welcome Josh. You're not in Kansas anymore but we hope it feels like home.
Thanks Jordan. Enjoy the event. I hope the great fan base will be present to enjoy a great show. Remember Buckeye Nation these are high school kids with a lot of decisions to make, this is their event be good hosts.
This whole thing is a ship wreck. I heard a rummer, and normally I don't have a Torrence for rummers but I heard he's coming up with a kid named Gilligan and they may be late getting here because they stopped and picked up some girls named Ginger and Mary Ann. They may never make it here.
Disgusting or just pissed off.
Mitchell is going to be another coach on the floor for Thad.
There's nothing more maddening to a coach then to have your high school kids forget everything you told them in the huddle during a timeout after saying "On three - DEFENSE!"
Thanks Birm again you're right on it. I haven't heard much about Eric Glover-Williams lately, I didn't dig into the scuttlebutt so I really don't know. Is he going to be eligible for football in the Fall? Is he working is way out of Coach Meyer's dog house?
I'd love to see Jameis lead his team out for warm up and the entire team crab walk the last ten yards before calisthenics.
Nice article Kyle. Do you see the bucks lineing up quicker for more plays this year and will that effect the tight end play? A couple of throws to the tight ends over the middle and the running backs could have a field day.
Maybe MV wasn't that good of a coach. He was a great recruiter and a very close friend of LF but there was a problem in the coaches room and on the field. LF is still here. MV will always be a great and well loved buckeye. UM makes the final decisions but when Mike left things settled down. We haven't played a down since he's (MV) gone and the country thinks we have a better defense already. I wish it could have been different because Mike was one of my favorite players. Maybe he'll do better coaching pros and not having to coach and defend a close friend at the same time.
Thanks for your hard work. Best of luck and get that degree.
Good work ethic, good attitude will put you on the road to success. Good job Mr. Ohio State.
If Ash says he has talent and is excited about the defensive backs, then he is putting it all on the line. Not bad for his first year. That's a lot of trust in our young men.
We all wish we could get to 2nd base with Jeter' s lineup.
Welcome Patrick. My advice is play nice, be nice and most of us will do the same.
We have a quarterback who can run. The coaching staff doesn't want him to run so I really don't have a clue what they want. We have backs, receivers and an offensive line that is going to be super. I think they want a Qb that will fit with most of their talent. I don't have a clue.
Hilliard and Cornell are working it. Even if they don't succeed they are learning great leadership skills for their future team. Give them some juice.
Wing! Wing! Hello! Wings over Columbus!
Nice kid. Good athlete with an even better attitude who wants to be a Buckeye.
I think I want to see the world burn... I think that's one of the dumbest statements I've ever heard. To bad I can't down vote you.
Thanks Birm. How did Kyler Murray look?