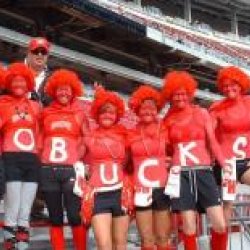 buckeyeradar
---
Member since 12 March 2013 | Blog
Helmet Stickers: 223 | Leaderboard
I was an usher at the Shoe from 1997 to 2009. When I retired I moved to Allen, Texas (5A football state champs the last two years in a row - ask D. Wilson, M. Mitchell and the future soon to be one of the best linemen to put on tOSU uniform, Mr. Knox about Allen, Texas football). Love the Buckeyes and follow them throughout the year. Shout out to all my friends in section 23A - 25A Radar is alive and well.
Favorites
SPORTS MOMENT: 13 years as an usher in the shoe.
The whole 2002 season. I had to be at the games early and I met every Tuba Player that year before the game who dotted the i.
COLLEGE FOOTBALL PLAYER: Archie Griffin
COLLEGE BASKETBALL PLAYER: Aaron Craft
NFL TEAM: Cowboys
NHL TEAM: Penquins
NBA TEAM: Mavs
MLB TEAM: Indians/Rangers
Recent Activity
9 straight what a racket. Couldn't help myself. Congratulations Tennis Bucks!
If we can get them here and show them what it means to play here (Braxton and Ryan), then they will come. Good coaching, great players past and present and a chance to be a part of something special what more could you want?
Thanks for the update John. What do you think our chances are of getting Chad Lindsay?
Nice to have you in the Buckeye fold.
Urban knows talent. We'll have so many weapons to use I just hope we can use them all. The tough part of coaching is keeping everyone happy.
Ah Mr. Turner you could be a part of something great at The Ohio State University. Come join us.
LOL, that is great. Now seriously how tall is Wet Paper Sack?
Ummm yeah but ummm I'm more comfortable at ummm dinners ummm not ah luncheons. Ummm pass the butter.
I'm a Penguin fan as well. I got to hoist the cup in 92 I think. The team trainer lived in Toronto, Ohio and when it was his turn to have the cup he brought it to my son's American Legion baseball game. Sat it down in the gravel by the refreshment stand and let everybody who wanted to raise it over their head. It's really quite light, the trainer said that it was repaired twice that year before he got it. The playoffs are as good and I think are better than NCAA basketball.
Good to know that Marcus takes the responsibility for his actions. I hope he earns some playing time.
I think a successful coach would have turned in his devious coach to the cops. Then he still would have been coaching and would truly have been successful. A successful coach controls his locker room, it's not all x's & o' s that make a great coach. I'll remember him as a guy who wanted to cover up a crime to protect his record. That's my opinion.
Now we have to wait till August to see if the fix is in. Nice article, the new scheme will make the secondary better.
I don't think it was greed. I think those that head up charities get carried away with the thought of all the money they'll make and forget what the fan is paying to see football first. They think "I'll pay $20 to see Ohio State play. That's a good deal." We've seen spring ball before, we know the value (worth in dollars) of the game.
That's what I thought. I looked down to make sure I was drinking coffee. Ok I'm awake.
ARE Y'ALL READY FOR SOME FOOTBALL!
Great attitude. The tight ends have been waiting for their turn in the offense. This may be the year. Thanks Kyle.
I'm no PR man but I think the whole attendance thing could be turned around by announcing gate tickets only cost $12. Fans think they are getting a good deal and more money is made.
Thanks again Kyle. Looks like LJ is bringing it. Washington should be a force and it sounds like the line will be motoring all the time. I just wish we didn't have to play Navy first, I don't want anyone hurt by the cheap crack back blocks.
I too had an encounter at the shoe but with Jessie's wife. I was an usher and was able to seat her. What a nice person who said her husband loved Ohio State. She wanted to talk so I was able to take it all in. She said she thought Jessie would have loved to out run all the players on the field but worried he was too small to handle the hits. The whole family loved The Ohio State University.
LSU vs. Wis. ESPN will say that their precious SEC team is playing in a neutral site, not so it is in SEC country. I hope the badgers can pull it out but there's going to be a lot of purple there. SEC will not come north of the Mason-Dixon line.
Coach Mick doesn't build characters he builds men.
Thanks Birm, it's hard to be patient when you want the best of the best. Just getting the kids to Columbus and seeing what we have to offer is one of our best recruiting tools.
I know this is late but what I meant by my comment was yes nice to have legs and run. Of all the quarterbacks we have how many can really throw the ball. If you don't have confidence in throwing you run. Panic situation leads to losses and missed chances. In last year's losses to Michigan State and Clemson we had a prevent defense against us and we couldn't take advantage of the situation because no self confidence in the passing game. Panic created happy feet which limited your five and six choices to two, option or run.
I'm a buckeye. I bleed scarlet and gray. I've edited my comment to play nice. I like Meyer's offensive approach, I just thought it would be nice to have one of the five quarterbacks who was a pure passer. Take a hike with your PSU COMMENT.
Good question. I think he wants to be closer to home. I don't know but he is looking at Purdue and Indiana as well.