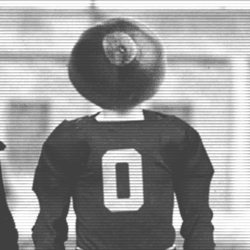 BuckeyeOfTheTiger
---
Clemson, SC (via North Canton, OH)
Member since 15 May 2013 | Blog
Helmet Stickers: 216 | Leaderboard
The Ohio State University, Class of 2012
Clemson University, Class of ~2017
Favorites
NFL TEAM: Cleveland Browns
NHL TEAM: Columbus Blue Jackets
NBA TEAM: Cleveland Cavaliers
MLB TEAM: Cleveland Indians
SOCCER TEAM: Columbus Crew
Recent Activity
Stanford Football(TM) AND SEC Speed(TM)??
...does not compute...
I don't think Frank Gore is going to have to worry too much about paying for meds... this will be his 10th season in the league after all.
http://ohiostatefb.io-media.com/#
Once it loads and you click Start, a view of the stadium will pop up. There is a search bar at the top, type Section 18B, row 3 (row 2 isn't an option), and a view from those seats will appear. Right in the middle of the field, no obstructions of view, and you'd be close enough to the front of the overhanging C-deck that you probably won't even miss much, if any, of punts. Obviously what you're comfortable paying is up to you, but based on the website, they're pretty darn good tickets.
This. Any car that is not trying to turn right on red needs to be behind the white stop bar so people trying to turn right on red can see through the intersection. The fact that it's a truck or SUV with a huge front end makes it even worse.
My old boss parks his car at the far end of a parking row just so there's only one space for someone to potentially park close to him.
They call #3 the Pittsburgh Left. It's something of a courtesy there, where oncoming traffic from the opposite direction will let the person make their left turn before they go on green. I don't do it or expect others to, but maybe those people are from areas where it is common.
Especially when there is no one behind you. They could have waited 5 extra seconds, not cut you off, not wasted your time as you waited for them to turn, and only wasted 5 EXTRA SECONDS of their day....
... inacurate...
I hope this was intentional...
To be fair they were promised donuts but Hoke ate them all. I might have been salty enough to go home after that too.
If MSU beats Oregon I'm fine with them being ahead of us until we beat them in November, after that it won't matter anyway.
For my 4 years of chemical engineering (graduated in 2012) at OSU there were no petroleum engineering courses offered or talked about. That being said, they may be in the process of adding some, I'm not really sure. However, many of my friends in both chemical and mechanical engineering were able to secure internships and full-time jobs with major oil companies. There are several professors in chemE who teach traditional process design and development classes that would be useful in the oil industry, as well as very good transport phenomena, fluid dynamics, rheology, and polymer classes that would also be useful.
TL;DR - OSU is a good place to be for those who desire jobs in the oil industry.
OSU doesn't have a dedicated Petroleum Engineering major or minor, but many of the chemical and mechanical engineering students I know were able to get jobs and internships at major oil companies.
To be fair, only one of those Rose Bowls was really earned, and they lost that one to TCU. Only someone like Bert could ride that wave of success.
Every time I saw UM in the tweets I thought it was talking about _ichigan
i definitely think both methods of determining a champion (playoff vs. the regular season champ) have merit and I guess I don't really have a preference either way, my point was primarily that the OPs logic in arguing against allowing teams who lose in the regular season to advance was inconsistent and that we embrace tournament style championships in American sports. Either way, both methods are used in various soccer leagues and/or tournaments and the OP arguing against the mechanism of advancement in the World Cup is not really a rational argument for his dislike of soccer.
Additionally, based on the logic of the OP, any team that wins their regular season should just be crowned the champ and there would be no need for playoffs of any kind
If this was for the championship, I might agree with some of the things you said. However, given that this is the effective "weed-out" phase and we did what we had to do to not get weeded out, something that we've had a historically hard time doing, it is pretty exciting. Just because the US isn't OMGTHEBESTINTHEWORLD!!!!!!!!!!!!!!!!!!!!!! at something doesn't mean that thing is bad. I'm not traditionally a soccer fan, and I love both American football and basketball, but I do find it exciting to watch a sport where there isn't a minute-long stoppage every 5 seconds of game clock or free throws every time an offensive player breathes in the lane.
All the world cup games so far have been on watchespn.com for free, no cable/satellite login required, so I would imagine that today would be the same