Buckeyeneer
---
Member since 02 January 2012 | Blog
Favorites
SPORTS MOMENT: 2002 National Championship. My senior year in college!!!
COLLEGE FOOTBALL PLAYER: Orlando Pace
COLLEGE BASKETBALL PLAYER: Michael Redd
NFL TEAM: Browns
NHL TEAM: Blue Jackets
NBA TEAM: Cavaliers
MLB TEAM: Indians
SOCCER TEAM: Massive
Recent Activity
Nope. I love in Columbus . . . I just fancy myself as a pirate.
I am a 4 year member of the Mirror Lake Swim Team. I remember talking to my sister-in-law two or three years ago at Thanksgiving and she told me about how she hated the Mirror Lake Jump. She worked in the OSU ER for many years and always had horror stories to share about it. She confirmed that there were no deaths to that point but prophetically she said it was just a matter of time before it would happen and then, only after it was too late, they would shut it down.
Happy Thanksgiving everyone!!! Hopefully I'm the only one who was up all night wrapping up work so they could enjoy the holiday!
After reading some of those comments, I am glad that I avoided 11W for a day or two.
Does anyone know if this will follow the plot of the Civil War comic book or if it will only take bits and pieces like Age of Ultron?
Yikes! Looking at all the things OSU sent Cease and Desist letters too, I am glad I bought my Lamp Apparel 12 Gauge shirt while I had the chance!
You have my support and all the clout I bring from my thousands hundreds dozens of fans mom.
That's where I expected to land.
While showing off a palm civet . . .
Are we sure its not a black serval?
Seems like only yesterday we were worried that Charlie Waugh would scare Bosa from our team.
I'm going to the game. I'll try to see if I can convince my buddy to tag along for this beforehand. He is a lurker on this site.
It ends up being good, but almost never is it the best ever.
Because "the best beer ever" is a myth. With all the different styles and with people having different tastes, there will never be a consensus. For me, its basically bad beer, average beer, and good beer.
One men's hoodie goes up to XXL still.
Agreed. Playing in the game is the reward for all of the hard work. My belief is that the time doesn't matter other than to impress recruits and be on tv in primetime.
A client of mine is out of Des Moines and graduated from Iowa and he said, no one is more surprised than Iowa fans. They, like the miserable OSU fans who can't seem to enjoy this season, have been holding their breathe every week expecting the joyride to come to an end.
I'd say its more of an Owl Fish.
AC, don't let haters get you down. Your brain is easily the size of two peas.
Get your balanced and reasoned opinions out of here!
My point is that we have more data now than we did pre-season so the ranking had to be at least partially earned by play on the field this year. Change is the only constant and we will continue to see the fortunes of all the conferences rise and fall.
Overall, the Big Ten leads the way with six teams in the Top 25. America's second-best conference, the SEC, was next with four teams.
You know what I like about this? The B1G got 6 teams ranked by earning it on the field instead of through ridiculous pre-season polls.
I may get it around Christmas time for myself.
I'm in the same camp as you, though I still get to play on rare occasion. I turned on my PS4 for all of 15 minutes when the kids were napping when on of them woke up and wouldn't go back to sleep. It was a FPS and I didn't think my 4 year old needed to see that so I shut it off and on went Paw Patrol.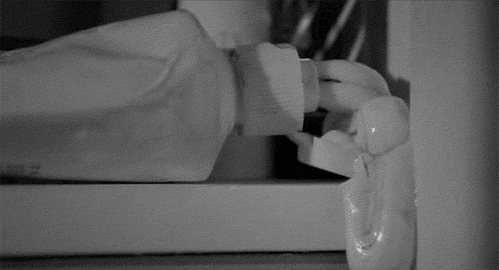 I remember reading her 1st article and thinking, "This is really good!" Then I looked at her picture and I thought, "Cue creepy comments in 3, 2, 1 . . ."
Yup. Best concert I ever saw.
I am partial to this takedown.