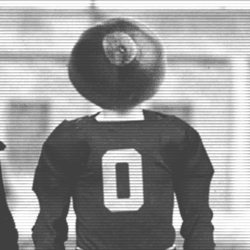 BuckeyeMark
---
Member since 06 January 2011 | Blog
Helmet Stickers: 353 | Leaderboard
Favorites
COLLEGE FOOTBALL PLAYER: Archie Griffin, Troy Smith, Tedd Ginn Jr.
NFL TEAM: Dallas Cowboys
NHL TEAM: Dallas Stars
MLB TEAM: Texas Rangers
SOCCER TEAM: Arsenal
Recent Activity
This was an angry Skull Session!
where is the upvote one million times button when you need it? TR is one of our top Presidents ever, and as a bonus, saved football. A real gamer who gave 110% and was very well spoken.
Please stop with the logica and common sense!
I don't have a tat so don't really know but wouldn't something like that cost a chunk of change? Unbelievable.
I am okay with almost anything in the jersey department (esp if we could get some grey back on the sleeves so we don't look like we borrowed jerseys from Wisky) if we would just LEAVE THE HELMET ALONE. We have the greatest, most recognizable, most amazing helmet in all of college fb. Then we roll out in the biggest game of the year in a helmet that is ... just not as cool as what we wear all the time. LEAVE THE HELMET ALONE. BRING BACK GREY. NEVER WEAR BLACK.
It's not complicated.
where is the upvote "eleventy bazillion" for this post? that is pure genius.
sadly when you turn 40 you learn what Brady means by "I can't see." LASIK did away with glasses for years (oh the joy) and now I'm that guy constantly looking for my reading glasses.
Rapins? Am I the only one who thinks there is an association there with assault that no school should want?
The real question is "who can we kick to the curb to make the B1G better?"

"Hello, ESecPN, do you realize no one in the SEC wears maize and blue? Think of how that helps your screen appeal! No, they aren't Vandy exactly, except kinda worse on the football field but they do play round ball and got really lucky last year if you remember...."
the Cubs just don't get anything right, do they? not sure I'd say he's creepy but it's most definitely lame...
One wonders if that FSU player pulls down Mason there if Aubie doesn't run some more plays/time off the clock before scoring and win the game. Who ever thought that beating a tackle would be a bad thing?! Not trying to get into the whole "take a knee" thing - just noting something kind of ironic. Bad tackling may have served FSU well there!
would upvote this if it had grumpy cat.
"You're only smiling because coach Tressel isn't here and we all know it."
very similar memories. seemed like it was on NY Eve every year.
Anybody else look at that pic of Tress and think "Is he wearing Google Glasses?" Yeah, you know you did. Because Tress would so do that... have an overlay of offensive and defensive schemes playing right before his eyes...
Can remember running into the next room to tell my dad Woody hit a player. He said "He'll be fired by morning." And he was right. Yet I've always thought the losses to scUM had a lot more to do with the dismissal then the punch.
Arguing football with people who have an agenda, won't listen, and are already convinced of their case is pointless and a waste of time. Feinstein & Company don't care what logic or reason says -- they just want to continue the dominance of the SEC by any means possible.
Would love home jerseys for all. Apparently the tradition of white for the visitor started when TV got going and people were watching on black and white TVs so they needed to be able to tell the teams apart.
Newsflash: color television has been invented. Rumors abound about something called "HD."
Let's put on the full colors!
No one seemed to notice (including the refs) all the pandemonium going on over there prior to the snap. There were several guys not set. Pitiful refereeing.
the official website shows pant stripes:
http://www.ohiostatebuckeyes.com/view.gal?id=150604
There's simply no need to mess with the best helmet in college football. That said, this is among the least offensive of the abominations.
I hear you and agree... but how are teams going to get back in the game if they are behind? Fouling is basketball's version of onside kicking. Take that away and you aren't going to see many teams lose a lead.
You can argue that a team doesn't gain an advantage by committing fouls. THEY GET TO SHOOT FREE THROWS. That's a pretty cool "reward" for being fouled, if you just make them.
If this was adopted teams would start learning how to vigorously press the inbounds pass. What else could the team that is behind do? So how long till someone says "you get a free throw, or an inbounds or ... how about a FREE inbound? A team shouldn't gain an advantage by fouling, you know!"
Shoot your free throws and this isn't an issue.
While it is tempting to moan, complain or endlessly speculate about what will happen next (and maybe some of that is kinda fun) the truth we can only control winning the B1G. That may not even be enough through know fault of our own - the B1G just isn't that good this year. So all we can do is win and watch and hope. For me, I've decided to enjoy whatever happens and be happy with Coach Meyer and this awesome run we're on.
He is the best representative a university could ever hope to have. Such class, and that great smile. The only double Heisman winner and he never acts like a primma donna. Can't get enough of Archie!
Absolutely spot on. Just too funny.