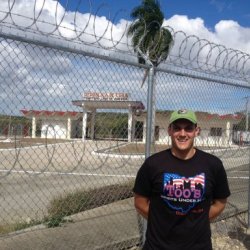 BuckeyeLaw
Toledo (via New Philadelphia)
Member since 07 February 2014 | Blog
Helmet Stickers: 129 | Leaderboard
Favorites
SPORTS MOMENT: 2010 OSU v. TTUN game with my sister and dad
2011 OSU v. Wisconsin game
NFL TEAM: Browns - Broncos
NBA TEAM: Cavs
MLB TEAM: Indians - Cubs
SOCCER TEAM: Crew - Real Madrid - Roma - Hellas Verona
Recent Activity
Baltimore isn't that far away. Take the easy way out and join us at the game.
Anyone have an update on a code for tickets? I purchased tickets last year and still have not heard anything.
I'm in along with 4 friends under the team name "Team Too's"
Cornell is up. Wait for it...
I agree. I spent an hour and a half with Senator Glenn and his sweet wife, Annie, in his office when I was at tOSU and you would not believe the stories he had. For instance his wingman was Ted Williams, the baseball player, and the Senator tells a great story about how Ted Williams almost got him Courts-Martialed.
I am pretty sure Torrance Gibson also tweeted something a while back about wanting to play with Christian Kirk '15 WR from AZ. Could you even imagine...
My 4 tickets are in 552 as well - sounds like we will all have one huge 11W party goin on.
I would love to own a pair of the gold pants, but I would NOT be able to stop judging the player that sold them to me throughout the entire transaction. That should be a sin.
But but but...the SEC.
I'm sure ESPiN could make Bama's schedule look good.
Where I grew up (New Philadelphia/Dover), Friday Night Lights rules supreme. The town essentially shuts down to see the Quakers play in "Woody Hayes Quaker Stadium". Yes that Woody Hayes. A Friday night schedule would be nice in order to get some of the underachieving B1G teams national recognition, but moving tOSU games to Friday night would kill the atmosphere for OHSAA games.
What a great marketing scheme to sell gear. Who doesn't want a cap or shirt with bacon on it, mmmhhhhh.
Mettenburger or Murray would be a great mid round pick that could be the under-study to Dalton.
Bosa's mom told me that Nick is by far the better player and that he has always been the bigger Ohio State fan. Can't wait to see him in the S&G.
Don't forget that Marcus Marriotta will also most likely declare after this year. Overall, Brax is looking like a genius for coming back to school this year - it was in his best interest for the draft and in order to further develop his skills.
What a great trip. My friends go every year and I hope to join them someday. Also, love Dane's shirt in the picture - always reppin' Toledo!
Anyone have a presale code or know how to get one? I am traveling to the game and can't wait for the atmosphere. The last time we played Navy was special and I even think we won some kind of award for how we treated the and greeted the Middies!
Archer should have had a big season last year if it wasn't derailed by an early injury. I mean, the university got an alumni cartoonist to write a comic about him for goodness sakes.
I would love to see Jeff Greene get on the field. Kid has size you can't teach and has really hit the weight room hard since transferring. To see him lined up across from Mike Thomas and some speedsters would be dangerous.
Best of luck to Evan. Now I REALLY want to see the Pacers beat the Heat in the East!
My first year of law school was the first time TTUN beat us in, seemingly 100 years, and boy did they let me hear it. Then again after the basketball game a couple weeks ago they were all vocal. It was nice to let them remember that was the first time they won in Columbus in nearly 13 years and that in football and basketball, combined, we are something ridiculous like 35-15 in the last 15 years against TTUN.
As with any fans of TTUN though, the only thing that matters is who won the most games in the 1800s.
He will be a force this year. I would like to see Bennett be one of the leaders on this defense, both vocal and by example.
I'm in Toledo and it is disgusting how many TTUN fans reside here.
Nikola Volkoff Cerina
I love the Chuck reference!