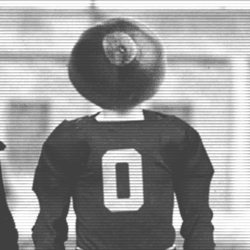 BuckeyeJosh
---
Member since 15 October 2013 | Blog
Helmet Stickers: 196 | Leaderboard
Recent Activity
Is Collier redshirting even an option at this point?
I was hoping they would be playing with the idea of keeping Hoke after an 8 win year...because, you know, progress.
These are great but some of the others are even better...
#AskJameis How do you respond to the allegations that all of your offers were verbal and not written because you can't read?

— Robert Hawk (@robert_hawk14)
#AskJameis did you choose fsu for the acc, their WEAK academic standards, or for their player friendly local PD?

— Patrick Davidson (@callmeDiddy) August 10, 2014

#AskJameis Of all the coaches you have played for over the years, why did you steal those crab legs?

— Fake Bo Pelini (@FauxPelini) August 10, 2014
It's on CBS for me in Columbus.
Whoever down voted this has clearly never tried to get a high schooler to eat even semi-healthy...
I hear he's really excited to see LeBron at the game.
Somehow Purdue has 65k votes...what?
I'm pretty sure Peyton Manning went to Tennessee so I'm not sure how bama would get in trouble.
and MSU has oregon...seems like we're in for quite a show before conference play this year
but we all know he can't.
I definitely read LBJ as Larry Johnson and was assuming you figured out his middle name. oops...
On the three it says "rapins"...not the best part of the mascots name to show, in my opinion.
11/19 from the three...58% while we were 4/18 (22%)
FSU modeled their team after the almighty SEC? Oh dear..
Oh sure, blame it on a cramp.
This is actually good news that Braxton is staying. As ready as I am for a new qb, it gives jt barett (or cardale) some playing time without much pressure, and hopefully he is allowed to throw unlike cardale this year.