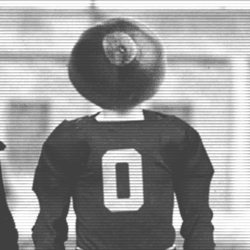 BuckeyeJosh
---
Member since 15 October 2013 | Blog
Helmet Stickers: 178 | Leaderboard
Recent Activity
Somehow Purdue has 65k votes...what?
I'm pretty sure Peyton Manning went to Tennessee so I'm not sure how bama would get in trouble.
and MSU has oregon...seems like we're in for quite a show before conference play this year
but we all know he can't.
I definitely read LBJ as Larry Johnson and was assuming you figured out his middle name. oops...
On the three it says "rapins"...not the best part of the mascots name to show, in my opinion.
11/19 from the three...58% while we were 4/18 (22%)
FSU modeled their team after the almighty SEC? Oh dear..
Oh sure, blame it on a cramp.
This is actually good news that Braxton is staying. As ready as I am for a new qb, it gives jt barett (or cardale) some playing time without much pressure, and hopefully he is allowed to throw unlike cardale this year.
The East team's offense is miserable.
I just hope he thinks he's NFL ready...ready for some JT Barrett.
Haha they said tuba! Morons..
Maybe Tony Brown will decommit and attend tOSU..
McCarron is no Johnny Manziel, and Okie is definitely no Duke.