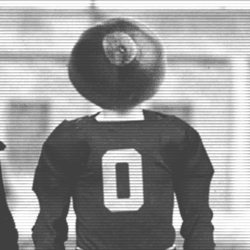 BuckeyeJAK
---
Member since 02 September 2013 | Blog
Helmet Stickers: 36 | Leaderboard
Recent Activity
The Best to you Carlos and Thank You for all of the great memories
Be careful of what you wish for... If its an income its taxable ... so much for a paid for education for the cost of playing.
Is there any update on Mike Mitchell and his possible transfer ?
Glad to see "frozen Fridays" on the BTN.
Was a great game to watch . To Force OT and win the shoot out Job well done !
Being a proud buckeye keeps getting easier Job well done on the recruiting trail.... Nows lets go kick some of TTUN butt !!!!!
How about an imaginary girlfriend ? Oh wait already been done !
Chris Ash 2010 - 2012 top 30 pass Defense Each season at Wisconsin
2013 Arkansas improved from 113th in 2012 to 72nd in 2013
We need improvement on all levels to win the Championship we chase
Wednesday Will be a Scarlet and Gray day !!!!
There is only so much you can do to hide the weak links. Like Roby playing mostly run support. The new highly touted linebackers need to step up and play the way they were recruited to play. This defense needs to get physical and attack. There were D- backs who never turned their heads to look for the ball giving up big plays or penalties they need to use their heads and play smarter.
Cam Johnson is an underrated game changer a serious weapon.
Chris Ash needs to kick in the secondary and get people to play up to their potential .
Thanks for another valuable insight into the man we are fortunate enough to have lead our team
Lace em up, bring on spring, i am looking forward to a fresh start with some new faces !
Welcome to the Buckeye Nation !!!! Looking forward to seeing what you can do on the field.
Friendly Advise: Revisit QB Guru George Whitfield jr.
Looking forward to new LB's and DB's We need to get tougher / smarter and show it .
The real challenge is can Chris Ash teach Armani Reeves to turn his head in coverage