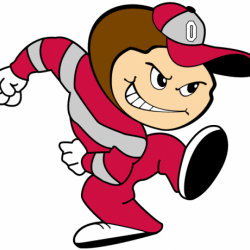 BuckeyeinSavannah
---
Member since 05 November 2012 | Blog
Favorites
SPORTS MOMENT: Watching the 02 Championship while I was stationed in Okinawa Japan
COLLEGE FOOTBALL PLAYER: Too many to list
NFL TEAM: Browns
NHL TEAM: N/A
NBA TEAM: Cavs
MLB TEAM: Indians
SOCCER TEAM: Crew
Recent Activity
Looks a little like McCaffery.
He lost to UM in 07. Between his NCs at Florida.
Came here to say the same thing. Thank you both.
I guess living in Georgia made me cheer for him. He seems like he is a really good kid and he comes from a great family.
Spez, Is that you?
Ghost has 5 letters...so does fired and hired.
Has to be better than Fickell....amiright?
Not that it's been a factor this season, but conditioning can always be better. I remember watching the Bama game and noticing they were all tired and we looked fresh. We'll need it.
Might be a great program, but I wouldn't touch them with a 10 foot pole. They've got way too many problems.
Tight ends are usually much taller and much heavier than your usual receiver.
Tight end
My wife is a teacher and she watches that crap during the summer.
Who ever is down voting these posts is a butt hole. What Devin did was one of the most unselfish and classy things I have ever seen. So take your head out of your butt and grow up.
Why are they watching Genera Hospital in the background?
I'll die laughing if Nick does the same thing.
Depends on how the season plays out. If they do well, they yeah, they are both gone. If not, I think they might stay and try to finish business.
Maybe they meant Boy Scouts.
Is that from a newer version of the game?
29 now
Pretty sure they know that a zero looks like. All those losses in the SEC.
I said it sounded like an insurance scam to me.
Hell, I didn't even write it and I teared up a little bit.