BuckeyeinSavannah
---
Member since 05 November 2012 | Blog
Helmet Stickers: 924 | Leaderboard
Favorites
SPORTS MOMENT: Watching the 02 Championship while I was stationed in Okinawa Japan
COLLEGE FOOTBALL PLAYER: Too many to list
NFL TEAM: Browns
NHL TEAM: N/A
NBA TEAM: Cavs
MLB TEAM: Indians
SOCCER TEAM: Crew
Recent Activity
I bet their sales went way up because of this.
That ball had to be 9-10 feet off the ground.
I think that's why you see a lot of QBs wear them on the bottom instead of the top of their mouth.
I hope the players were watching how he tackled that kid. Wrap up
I've always wondered if players that are from the same state and are visiting the same out of state school, would they carpool? It would make sense to me. Unless they have a small entourage with them.
http://www.arenafootball.com/sports/a-footbl/spec-rel/092514aab.html
Man that's horrible.
Texas will not come because of the Longhorn network. They'd lose money in that deal.
I agree, but I doubt he'd take the job. He's all Buckeye.
Same here.....hours of reddit and 11w
I think VT losing this weekend killed any chance.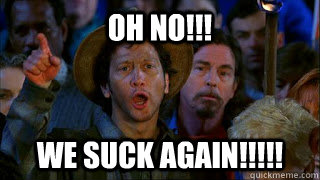 and of course they pick the good guy
It took me longer that it should have to get that.
My new work computer background.
God I hate the Steelers, but I love RDS
If he is smart he won't name the booster. If it is true he has leverage and he can maybe cash in on some of those promises.
My Grandpa (dads side) did this to my mom and we haven't spoken to him since. She made a feast that would have put thanksgiving to shame and he never called or showed up. He called the next morning saying he didn't want to inconvenience anyone so he went to Dennys instead. My dad politely told him to hit the road.
Wow seems like a lot of people are DV happy today.
I missed it. I want to see it now.