BuckeyeFreak4844
Perrysburg (via Castalia Ohio)
Member since 01 February 2012 | Blog
Helmet Stickers: 1,269 | Leaderboard
Voting Record: 2206 / 28
Favorites
SPORTS MOMENT: The 2014 Run Ohio State made has replaced my previous best sports moment.
COLLEGE FOOTBALL PLAYER: ZEKEEEEEEEEEEEEEEEEEEEEEEEEEEEEEEEE
NFL TEAM: Browns
NHL TEAM: dont care
NBA TEAM: Cavs i guess
MLB TEAM: Cubs
SOCCER TEAM: Murica
Recent Activity
Last year we completed like 9 passes and EZE ran for 32 yards on 8 carries. The line is way better and the D is way better we should win this on paper of course, but we all know how that goes. i think we cover the spread and start the season off right.
The first sign of trouble and harbaughs recruits will start bailing on their asshole of a coach. Its all fine if they win just ask the 49ers but once the tides turn so does the crew and they will be putting out more dumpster fires then OSU students can start after another national championship.
I think those odds have something to do with the fact Wisconsin is probably favored to make the title game over MSU. MSU plays in the way tougher side and wiscy basically has to get by the huskers.
She also has the players best interest in mind! It's great to see.
Good ole Earle! He was my moms gym teacher at sandusky high school way back in the day!
I too am worried about that flat game it happens to all great teams. But we got a great team that plays for each other with a great coach who will steer them through.......... Hopefully
Unfortunately the nature of the Beast....
Lets just play the game and see.......... mmmmkay
No way you're in the minority at least i hope not! But he does know how to stir the pot which makes me chuckle.
Has anyone trade marked Harbaugh is a Douche bag yet?
I would be very surprised! Where are you getting they are much improved?
Do not write off any of these guys! They were recruited here for a reason just because they do not play as a freshman and sophomore does not mean they will not be great juniors and seniors.
Only Eight more days until these tears flow again.
Ill back either of them equally do i have my favorite sure, do i know which one should start absolutely not. That is for greater football minds.
Exactly me and a couple buddies "shop" on the 23rd too, but basically just get hammered and use uber to take us home.
I am about 45 minutes from fort wayne and plan on going to see Mack play. I will also watch Toledo CC a couple times. I try to support my town school though which has no future buckeyes the Archbold Blue Streaks.
The comments under the video are hilarious.
Hahahaha i know but i have been waiting to use a dumb and dumber gif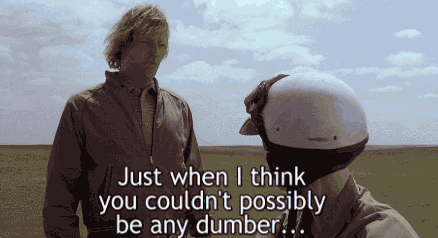 Hahahaha all in good fun i am one of those terrible country fans!
Music to my EARS
Nice try DJ
Go back to Ummm Bop
I am in the Toledo area and do not pretend to know much about hockey but i love going to Walleye games.