buckeyefan333
---
Member since 09 September 2013 | Blog
Helmet Stickers: 247 | Leaderboard
Recent Activity
Eh I don't know about that. Everything is cyclical. I would be more surprised if they won 4 games every year than if they have a great season every once in a while like they're having now. Even if it is bought and paid for, it's not like its giving them an advantage since the same thing is happening everywhere around the $EC.
Also, the shot at 1:14 is pretty magnificent with the ball being just in front of the lights making it glow.
White is not a school color either. By your logic we should wear gray away jerseys. Black jerseys with gray pants have as much school color in them as white jerseys with gray pants.
I'm in favor of a 16 team playoff. There are 10 FBS conferences in the nation, so each conference champion gets in. That way every team technically has something to play for. It's what the do in college basketball and it couldn't have worked out better. Sure the little guys will be underdogs, but will also provide memorable upsets along the way. The other 6 spots are at-large selections which would go to a committee.
I think that approach would protect the integrity of the regular season, since most teams won't have a shot of getting in without winning their conference.
The Middle TN alumni club watches the games at the sports bar in the Embassy Suites in Cool Springs. It's about 15 min south of Nashville on I-65. They have it on a projector and the place is full of Buckeye fans. That's probably your best bet.
Won't happen. Michigan has a turf field which is a deal breaker for him.
This argument is dumb. Let's at least save it for the offseason so we have something to talk about while suffering through baseball.
I think everyone wants for you to denounce your allegiance to Michigan, become a diehard Buckeye fan and ask everyone for forgiveness. I think you'll see some animosity until that happens.
...or this happens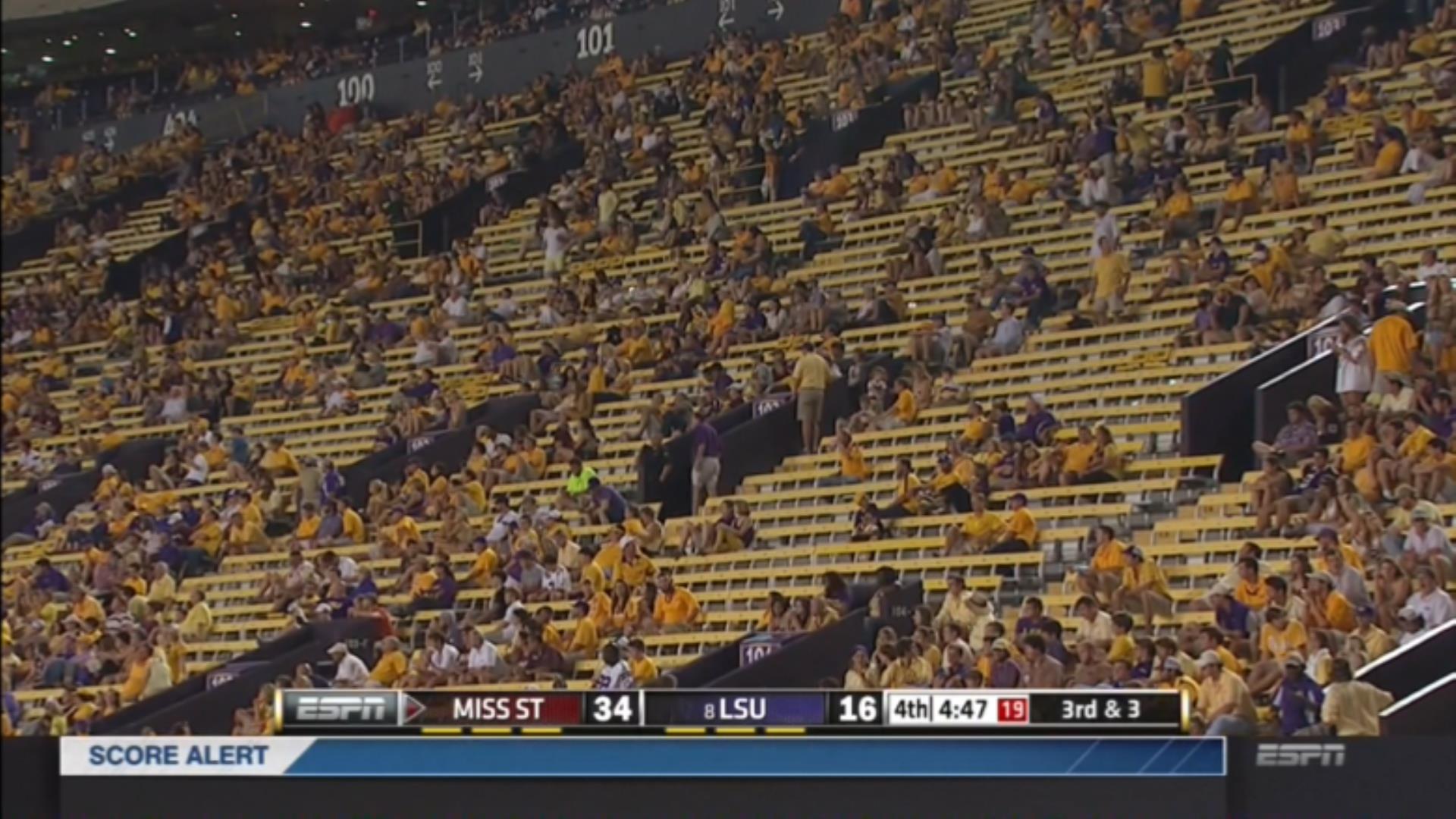 This is off topic, but I think referees' enforcement of ineligible receivers downfield is comical at best. If you look at the screenshot of when Spencer makes the catch, we have 2 linemen 5+ yards from the line of scrimmage who aren't engaged with anybody. Sure it was a screen pass, but Spencer makes the catch after the line of scrimmage technically making the play illegal. Luckily it wasn't called on us this time and hopefully it won't hurt us in the future.
I'll agree it was lackluster, and has been for the past few seasons. From spending a lot of the games on the field in the past, the two loudest games I've ever experienced were the '09 USC game and the '09 Iowa game with the Rose Bowl on the line. Those were deafening.
Eh, I wouldn't have hired him.
While he never played college basketball, Pryor was a highly ranked basketball recruit who had committed to Pitt at one point to play basketball. If he would have been serious about basketball, he probably could have started here
I'll second that. I was there 2 years ago and the week before Braxton had gotten injured and not played a few series or something (surprise) and many of their fans said something to the tune of "I hope your QB is ok for the game".
One of his misses was off the upright, that's more chance than skill. Sure if it bounces off the upright its a miss, but at least he was on target with enough leg to get it there. He will be fine.
Exactly how it should be. John Wooden wrote in one of his books that if an assistant's play or scheme worked, he would publicly praise him, but if it didn't work, he would take the blame himself since ultimately it was his team and his call on what to do.
But Dan Mullen was. I think its definitely worth mentioning that Urban's 2 national titles came with current major program head coaches as his coordinators. I don't think any of our coordinators have that in their future the way things are going now. This doesn't mean I think Urban is a bad coach, but clearly winning titles at this level is more than just a 1 man job.
Right, even if an agreement is made, the fact that Gordon's failed test came during the 2013 league year means he has a small chance of getting his suspension reduced.
First thing I do at my tailgate is shotgun a Foster's Oil Can. A friend got it for me as a joke one game and we haven't lost a home game since.
Parking depends on your pregame plans. If you're going to tailgate at your car, the best thing is to park at any of the red lots on this map:
http://www.campusparc.com/docs/map-pdfs/download-football-parking-map.pdf?sfvrsn=22
If you're going to little bar or out-r-inn, i would try to find street parking east of high st, or pay to park in someone's yard in the area. The good thing is that traffic after games isn't horrible since most roads are only open to go away from the stadium.
Take VA Tech over 7.5, its free money
If he's done for the year then he's going pro. Gotta get paid at this point.