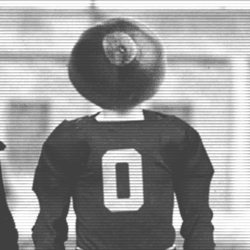 buckeyedexter
---
Member since 05 July 2012 | Blog
Helmet Stickers: 381 | Leaderboard
Recent Activity
Looks more like an armpit bump than a belly bump.
Braxton is going to air it out this year; 3000 yards 30TDs. I blame a lot of the lack of production last year on the receivers plus such a good running game. This year I have a really good feeling about the receivers. I truly think they are so much better now the returning starters wouldn't make my top 3. Plus the receivers are going to break some little 5-10 yard routes for 50-60 yards that Bratxon gets credit for in his stats.
Stephen Collier for 2 reasons, (1) its never been one of the real highly rated players and (2) he got here in Jan so will have an advantage.
Where in the hell did I leave them damn keys!
I wonder what his concerns about the system Meyer runs were. Other coaches saying we don't throw the ball enough of something?
I agree with most of what he's saying. To be the best you have to beat the best, so why not be chasing teams that win national championships instead of teams that go 7-6. The last decade or so it's mostly been the Alabama/SEC, before that it was USC, before that maybe Miami/Florida St.
But where did he get Deep South Buckeye? I never heard that and I read Ohio State stuff everyday; I think he just made that up.
5-foot, 8-inch and 158 pound
Players were small back then.
I think the staff has done a great job recruiting JT Barrett, Stephen Collier and Joe Burrow. They all seem like high character guys who will be good leaders. It will be exciting to see the compete and to see who wins that starting role.
Kirk getting to catch passes from Texas A&M's QB gives me a bad feeling.
I was playing coach. I moved Booker to Sam when Hubbard went to TE and because Hilliard is coming in as a Will. I want Booker on the field asap because he's a great athlete and Sam looks like the best place for that.
Out LB depth without Jerome Baker still looks really good, but I don't get why he would go to a school that only won 4 times last year and seems to be headed down hill.
Sam
Darron Lee (6-2 225, rFr.)
Chris Worley (6-2 218, rFr.)
Dante Booker (6-3 215, Fr.)
Devan Bogard (6-0 210, Jr.)

Mike
Curtis Grant (6-3 240, Sr.)
Raekwon McMillan (6-2 240, Fr.)
Camren Williams (6-1 228, Jr.)
Nick Conner - 2015
Will
Joshua Perry (6-4 250, Jr.)
Trey Johnson (6-1 225, So.)
Kyle Berger (6-2 225, Fr.)
Justin Hilliard - 2015
Pride can get you into a lot of trouble. I think it's tied to low self-esteem, where you feel you need to prove yourself to your friends, a cute girl or even yourself. I know it got me in trouble before I stopped caring what other people think of me.
They have talent on their team. Am I the only one worried if they get the O line straightened out they can be dangerous?

Heroin! WTF even happen to just smoking a little weed? Someone skipped the experimenting phase and went straight to junky.
The news about Grant is outstanding, I've been waiting for his breakout year for a long time now. I bet the simplified defense is allowing him to play fast without over thinking everything.
I waited tables for a couple years, so I know how hard it can be, but I hate that tipping has become mandatory.
It sounds like he genuinely didn't like the service and was insulted by the waitress calling him a boy, and that's why he didn't tip, not because he was being cheap. I'm going to side with Sapp on this one.
Those are some harsh words from his former QB. I hope he does well; once a buckeye always a buckeye.
I love how much he loves the buckeyes!
3000 yards passing and 30 TDs this year! Could be higher, but he'll be coming out early in some of those games.
I need a good show to watch now that game of thrones is over. But the previews didn't really get me excited about it and I forgot it was on. What say those who watched it? Is it must see TV?
Can't wait to see Jalin Marshall, I heard some really go things about him before he got hurt in the spring. He's like Dontre Wilson be bigger and stronger.
Also it will be interesting to see if Vonn Bell gets his starting spot back. He was hurt in the spring too and Cameron Burrows didn't skip a beat when he replaced him. Does Cam hold onto it or does Vonn win it back?
It'll also be good to hear Braxton is back to his old self and not rusty after being hurt in the spring.
I go every year. I like to walk my dog at Goodale park, so during comfest I can do it with a beer in my hand :P
If the pass defensive takes a giant leap forward (like i think it will), the O line comes together (like it think it will), and Braxton isn't hurt during any tough games, then we wont lose to anyone! But that is 3 ifs so...
I see more benefits to rotating than just fresh legs. If a guy gets hurt or when the leave to the NFL/graduates, you already have someone to replace them with plenty of game experience. Also, you reward and motivate the #2 guy, because he knows he'll be playing instead of just sitting behind the #1.