BuckeyeDave
---
Member since 24 July 2012 | Blog
Favorites
SPORTS MOMENT: OSU v Washington. Night game in the 'Shoe. Sat in 24C and watched Big Daddy crush UW with my father.

Close second is having my 4 year old son come up to me and, in an effort to have me get ready to go somewhere, tell me I needed a bath because "you stick like Michigan"
COLLEGE FOOTBALL PLAYER: Eddie George
COLLEGE BASKETBALL PLAYER: Chris Jent
NFL TEAM: Green Bay Packers
NHL TEAM: Philadelphia Flyers
NBA TEAM: Boston Celtics
MLB TEAM: New York Mets
SOCCER TEAM: Arsenal
Recent Activity
Squeaky wheel gets the grease. I know my bosses used to always make sure the complainers were taken care of first just so we could have some peace and quiet. The people that do their jobs don't complain if something is not right or they do not get the best seat...they make it work.
IIRC this should be a time run off since Arky does not have any timeouts left
Toledo for a safety...and now they get to do a real kickoff
It is now. Arky loses!!!!
Could get interesting now. Hope we don't have the SECond escape of the day
Is Goldie going to make pancakes after the game?
Umm...it's Monday :) But otherwise great article.
Come on. Nicky is like 5 foot tall. Calling him a grown anything is pushing it.
Of all the one and done's his NBA career continues to be the most mind blowing. Next thing you know Byron "Don't call me B.J." Mullins will sign a max deal with to leave the D-League
What in the wide wide world of sports is a going on here?
In the "over hyped so much they are just never able to match the word of mouth" group
1. Hangover
2. Any Will Farrell movie
3. Big Lebowski
4. Rush Hour
The "Could not be as good as the first" group
1. Kill Bill Vol 2
2. Any Star Wars "prequel"
3. Indiana Jones and the Temple of Doom - there I said it.
4. Godfather Pt. 2
The "god no, not another _______ movie" group
1. Adam Sandler ... and he gets more down votes for continuing to employ Rob Schnieder
2. Jim Carrey
3. Will Farrell
4. Kristen Stewart
The "more to the story" is simple. He was warned about his benefit by the NCAA and Baylor.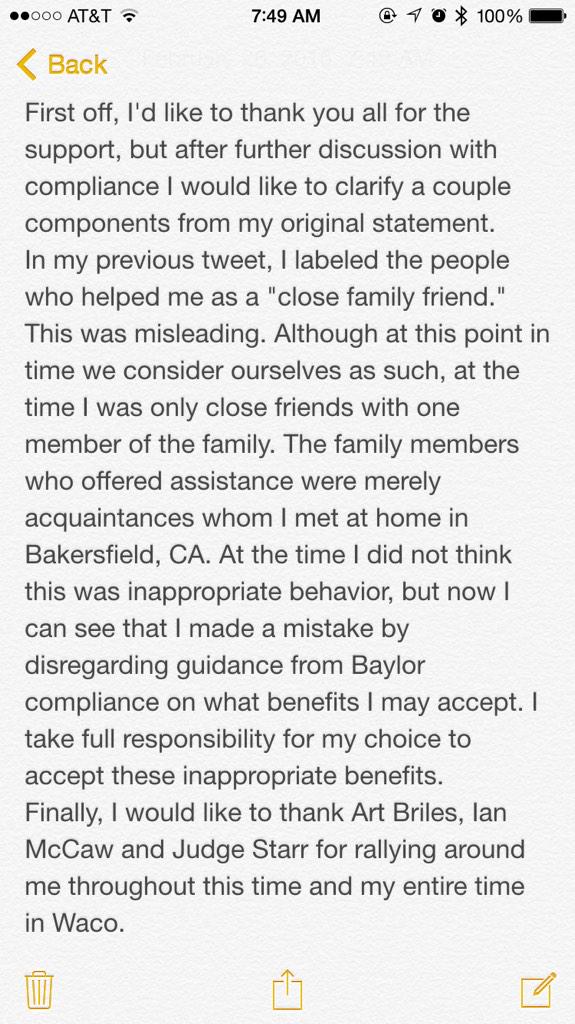 So according to what I read we signed 6 OL this year...and 5 last year. I remember years under Boll-rus that we did not have 10 linemen total, much less 11 F/S. Is our plan to just play one line for a quarter, then roll out the starters and grind down the opponents? Not that I have a problem with this plan mind you.
Weber picks the Good Guys. Nothing but good news
This should work
http://scores.espn.go.com/ncf/video?gameId=400610178&vid=12110292
Poor Andrea Adelson....0-fer the playoffs
This is typical "RTR Bama fan" behavior. I have never met a fan base that basically felt they were entitled to be the champion every year. It does not matter who they are facing, what their record is, nothing. There are only 2 truths in life - 1. We are Bama and 2. It is always our championship.
After living in the state for 13 years I was very happy to leave the mentality. They epitomized the 'if we win, it shows we are better than you. if we lose, well we weren't really up for the game and it did not mean anything' fandom.
I understand the call even if I do not agree with it. Bama stacked the line, we were not getting a first down. He figured surprise them with a pass...if we complete it we can run MORE time off the clock (or score). However, in that situation time is more important than yardage
Problem was not the call, the problem was it did not work.
Shame I can not upvote this even more.
Herbie said the same thing. FSU gave up, and honestly after 5 TO's in a half it is hard to think karma did not catch up with them. I worry about their pace but I do not doubt this team.
Editor Note - We only scored 8 in the 4th. The quarter by quarter scoring above equals out to 46 not 42
Believe Banana was joking - he ended his "sarcasm font" at the end of his post. He was referring to the SI-Cover Jinx...and the general 'Get on the Cover of anything sports related and you are due for an injury' belief.