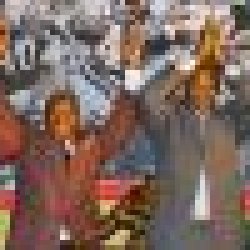 BuckeyeDale
---
Member since 04 June 2011 | Blog
Helmet Stickers: 210 | Leaderboard
Favorites
SPORTS MOMENT: Watching the win over Miami with my grandkids on my lap
COLLEGE FOOTBALL PLAYER: The Ohio State Buckeyes
COLLEGE BASKETBALL PLAYER: Aaron Craft
NFL TEAM: (sort of) Steelers
NHL TEAM: I thought you wanted SPORTS
NBA TEAM: (sort of) Lakers
MLB TEAM: (sort of) Cleveland Indians
SOCCER TEAM: Again, can we stick to sports? & to HEKK with the
Recent Activity
That is a fact...Buckeye Nation, ALWAYS in the hunt.
Welcome aboard; and good luck. One thing you'll know for sure, what your fellow Buckeye-lovers think of your opinions in articles. You can bet no one will be shy in expressing their view of what is right or wrong in tOSU territory.
With the stable of running backs available, and BM's statements about the punishment, (& his history of injuries) we have to believe the called runs will be decreased. I love that he has that ability. But I'd love more if he only used it when there were no other options, and then minimized the hits he takes...I prefer a QB who CAN run Vs a running QB.
~~http://grfx.cstv.com/schools/osu/graphics/pdf/m-footbl/all-time-jersey.pdf
Everyone has their favorites, and if you'd like to give some comparisons, you can find ammunition at the above link...
I really don't have a preference, as Saturday's are all CFB for me anyways. I do dislike away night games for our team, band, & fans as some A-hole drunks, such as PeeA$$U, make the experience worse.
What about Chris Gamble? Going both ways and putting up the numbers he did? The question is best player, and going both ways is something that's been virtually unseen for 50 years.
...AND of course, the Buckeyes playing on that campus later in the day.
I said no, but 'ever' is a long, long time.
I'm not much of a Delany fan, and don't care for the direction he's moved the conference nor the new additions. Support leaving the B1G? HEKK yeah...joining the SoEverybodyCheats? Ehhhh...Being the lead in changing the world of CFB? HEKK yes again.
The NCAA blew their chance to be relevant in the future by not stepping up and really taking charge when all this reshuffling began, and then revamping the rule books so they would make sense. They'll soon be on the scrap heap of history, IMHO, and rightfully so.
Football has always been a game of unmeasurables. Sometimes, ability is trumped by heart, or attitude.
No no....Odin is the father of THOR...
Well said. For the more traditional, custom says today, fly your flag at half staff from sunup till noon. At 3:00 P,M. (local times), we observe a few minutes of silence to commemorate those who gave their all. That said, the sacrifices were for the freedom to do those things or just say blip it, let's go to the lake. Do as you see fit.
Wiscy - Stave & Gordon are back...seems they always have beaucoup Fat Bast***ds to shore up their lines. They beat Iowa & Minney last year, and have the Huskers at home...I'd say it's theirs to lose.
My thoughts as well. MJ was money in the bank. No trouble, good speed, good hands, and got the reach. 4th & 14.
I'm always concerned about ALL of 'em...(on any given Saturday). It's at there house, week 10, so the new guys will be experienced by then. I STILL think we'll win, but I don't know that "Look what they did to us last year" is going to be that much motivation.
Yep, born a Buckeye, coached for Woody, and went on to be successful...Hard to hate him for two FB games at the tail end of his coaching career.
It is going to be a very interesting fall camp. We obviously have some studs, I'd really like to see Smith get the chance, everyone was so excited when he decided to come to Columbus, but it might be too late for him to get his head out and show what could have been. You never know when looking at that stud HS senior which one will be the star, and which one will be the guy to just show up and be just a party animal. And that is what makes CFB so special.
Aw MAN...that is great. First time I've seen it. Who got KOed, and when was this?
When my grandson asked my what NoFunLeague team I root for, I've always said it depends. I count the number of Buckeyes on the roster, and that's who I cheer for...
Yeah, I know...Vrabel may someday turn out to be the better coach, but right now, based strictly on experience and accomplishments, I think you almost HAVE to go with LJ.
~~Johnson's list of coaching accomplishments while at Penn State is also impressive:
• Six of his defensive linemen were first-round NFL draft picks, including No. 1 overall pick Courtney Brown in 2000 and also featuring Jimmy Kennedy (2002), Michael Haynes (2003), Tamba Hali (2006), Jared Odrick (2010) and Aaron Mabin (2009).
• Seven of his defensive linemen achieved first-team All-American status (the six in the first note above and Devon Still).
• PSU defensive linemen have earned 22 Academic All-Big Ten Conference honors.
• Three of his position players have been named Academic All-American (Tim Shaw in 2006 and Pete Massaro in 2010 and 2012).
• Fifteen Nittany Lion defensive linemen have been named first-team all-Big Ten Conference.
• No Big Ten team (since 1996) has had as many players from one position earn Big Ten Defensive Player of the Year honors than the five Nittany Lion honorees hat Johnson mentored.
• And in 2005-06 Rivals.com named Johnson its national college football recruiter of the year. I think he's an improvement at this time. Someday, Vrabel may be better, but this was his first stop, and whether he ends up as a pro or CFB coach is still up in the air. Add LJ's experience, and I think you almost HAVE to consider him to be the better coach. From his bio on the official site:
in early January, Coach Meyer had a hemorrhoid removed. A week later, Ped State named it PeeSUes new head football coach.
Exactly. Big difference between a short playoff for 32 teams and a playoff for 120+. We're allowing the powers that be (BSPiN) destroy the tradition & pageantry that made us love CFB in the first place.
Not to mention, what do you want to call Champion? Tournament Vs season. All this piece of junk did was change the arguments.
COULD be...but really? What was EVERY youth/high school/college football players dream from day 1? And even if that is the final goal, the experience, the credibility, EVERYTHING about even being involved in football at any level is enhanced by just a cup of coffee in the NoFunLeague.