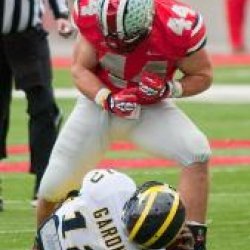 buckeye_chick
---
Member since 29 December 2013 | Blog
Helmet Stickers: 29 | Leaderboard
Favorites
SPORTS MOMENT: Watching us beat OJ and the Trojans in the 1969 Rose Bowl.
COLLEGE FOOTBALL PLAYER: Archie Griffin
COLLEGE BASKETBALL PLAYER: Jim Jackson
NFL TEAM: Bengals
NHL TEAM: Jackets (I guess...)
NBA TEAM: Uh...
MLB TEAM: Reds
SOCCER TEAM: Crew by default
Recent Activity
Aren't there laws about recording someone without telling them?
My dad, an OSU emeritus professor who's also been going to games since the Fifties, always told me as I was growing up: You can marry whoever you want to, as long as he treats you right. But if you want me to be there, don't get married on a football Saturday.
I don't know if he would have actually gone through with not attending my wedding, but I decided not to test him. We got married on September 7, 1985, which was the Saturday before the season started (back in the Stone Age).
Of course, now our anniversary is always on a football Saturday, but how were we to know that football season would start in August in the next millennium?
I've gone to games since the 60s and came really, really close to not renewing this year. It's a combination of reasons, but the main one is the way Ohio State treats its football customers like they're in a prison camp. Once upon a time, you could go visit your friends in other areas of the stadium (after halftime, usually). You could bring a cookie into the stadium. (A security guard confiscated a chocolate-chip cookie from my purse two years ago. Seriously.) You could bring a bota bag in. You could tailgate without hiding what you were doing (always makes me feel like a teenager and my parents could be coming home early, so hide the stuff, man!). I am treated as if I was some sort of enemy. Now, of course, 9/11 changed a lot of things. However, since 9/11 I have been to many away games (Texas, Washington, and most of the B10 schools). Not one place does to their fans what Ohio State does to theirs. Every year they seem to come up with yet another rule or increase in cost to make it less and less pleasant to spend a Saturday afternoon there.
As far as cost, I contend that you can still take your family of four to a game for a reasonable price. You can't do it for a big game, but for your average Indiana game you can park, walk to the stadium, and wait until almost kickoff. The scalpers are practically giving those tickets away...and thatt's another reason I probably won't get tickets next year.
Krenzel had to work within Tressel's system. Tressel thought offense was just something you had to do in between the real football...punting and playing defense. What I appreciate from both Krenzel and Troy was their toughness. God, the two of them took some ferocious hits and bounced back up! Would love to see some of that again. And both usually made the big play when it really counted.
They are only called kids when they do something stupid/illegal. The rest of the time, they're young adults.
As one of the two people left in Buckeye Nation who doesn't think JT should be fitted for his scarlet-and-gray halo, I would like to share some thoughts:
The "mostly disadvantaged kids" were not selling their MVP awards and other memorabilia (which they didn't seem to give two hoots in hell about) so their poor mammas could have food in their stomachs. No, they were selling them for cents on the dollar for scummy tattoos from a weed dealer. Not exactly noble.
JT went around the country for years telling everyone else how to live their lives (e.g., the way he does). He made millions telling everyone else to do the right thing. Yet the first time he has a real moral dilemma, what does he do? Lies, lies, and more lies. Then, for good measure, takes down the football program he claims to care so much about.
Anyone old enough to remember Watergate should surely know that the coverup is ALWAYS worse than the original offense. If he had just come clean, apologized, and took his medicine, everything would have been fine. But no. And please don't give me the crap he tried to sell at the news conference that he "didn't know what to do." He was an AD at YSU for how long? Ohio State has buildings full of lawyers just sitting around waiting for stuff like this to happen. The man's not that dumb.
Let's face it: As long he beats Michigan, a Buckeye football coach could screw a goat on the 50-yard-line during Script Ohio and very few Buckeye fans would care. I do a lot of traveling, and I sometimes wear my Buckeye gear. Even in Europe, I've had people give me the "O-H" and a thumbs-up. But I also have people with bewildered looks on their faces ask me how Buckeye fans could embrace so tightly the person who screwed up their program so willingly. Beats me.
I think the NCAA is an outdated, ridiculous organization that needs to be shut down yesterday. But when you agree to be a head football coach at an NCAA school, you agree to abide by their ridiculous rules.
And please spare me the "But Mom, everybody else does it" defense. Sheesh. Everyone else commits offenses; what everyone else doesn't do is look the NCAA in the face and lie to them. Those jerks really hate it when you do that.
And yes, I am a Buckeye fan. But I want it to be the cleanest program, one we can all be proud of. I don't want to be ashamed of that diploma on my wall.
Let the hating begin! :)
I have been a Matta fan for years. I always thought that no coach in the country got more out of less than him. But this team, and this coaching job, baffles me. I know this isn't the most talented team out there; I think we all knew this was not going to be a championship season. But I didn't expect this team to show this little interest in playing basketball. (It's Craft's senior season, for Woody's sake!) Is this team truly this bad? Is it the coaching? Maybe we miss Chris Jent? Can someone who knows more about basketball than I do tell me why no one on this team seems to learn from their myriad mistakes? Help me out here.
I just don't understand how we *still* cannot defend screen passes. I never played or coached the game, so I can't tell if it's a lack of player talent, a lack of coaching talent, or a lack of execution (which, btw, is what Spielman says the problem is if you listen to his Monday radio shows). All I know is I'm sick of seeing it. You just cannot call yourself an elite program when you give up that many yards and points to anyone (I still shake my head when I think of giving up 600 yards to TTUN!). I really hope Urban gets this figured out...and soon.
Let's just remember that every major program has its idiot fans. How quickly we forget the moron Bama fans who told their placekicker to die via Twitter! I agree with a previous poster: Recipe for lunacy is late weekend game + lots of alcohol + instant social media. I do hope the guys know who the true fans are.
We knew going in that the D was thin at best and was patched together. What disappointed me most was Braxton's two (!) INTs at the end. Even with a lousy D, we still had a chance. I hate to say it, but I will be OK with Braxton going to the NFL if he chooses to do so. I think this team needs a vocal, energetic leader out there, and Braxton just isn't that guy. The thing I remember most about when Troy Smith took over from Justin Zwick is the feeling you got from him in the huddle. Even up in the stands, you could feel the confidence and positive energy flowing from him. I just never got that feeling from Braxton. I think he's a good kid and I wish him well. I just think it's time for a change. (And some good luck for a change!)
As if we needed another issue on defense (sigh). But I think we can still beat Navy without him next year. Hopefully, he will handle this the same way Hyde handled his suspension, and come back with a vengeance.